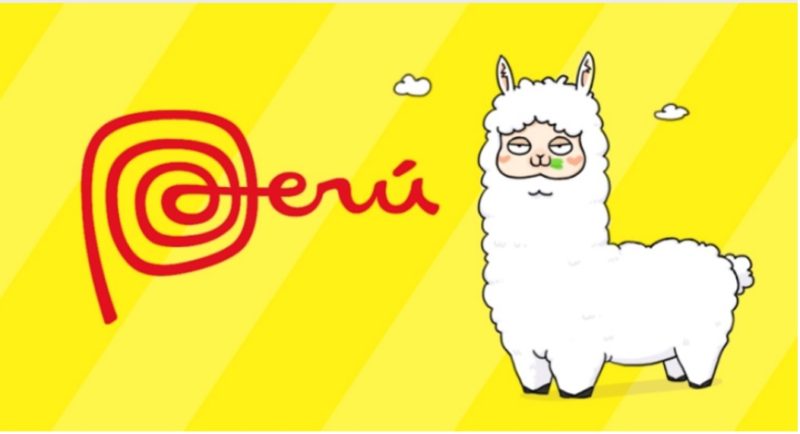 WeChat stickers are a popular way for WeChat users to express themselves using the app's chat function, and a creative method for brands to market themselves and attract engagement from Chinese consumers. Here's how stickers can be used most effectively by travel brands.
What Are WeChat Stickers?
On WeChat, chat conversations are often peppered with animated stickers, in both professional and personal contexts. Stickers are used to express emotions (for example, celebrating good news or expressing sympathy), inject humor into a conversation, and send seasonal holiday wishes.
You can find WeChat stickers by browsing the sticker section of the app, searching for keywords, or saving stickers and sticker packs that have been shared by friends. Some sticker packs cost a nominal amount of money (usually just RMB1), but most of them are free. You can download sticker packs (collections of 16 or 24 stickers) or individual stickers, which are saved to your account so they can be added easily to chats.
How Can Tourism Brands Use Stickers?
For tourism destinations and businesses, WeChat stickers can be used as a branding exercise to create a digital mascot, as well as a way to drive followers to your official account.
Although there aren't many examples of international tourism brands using WeChat stickers, they're widely used by domestic tourism destinations.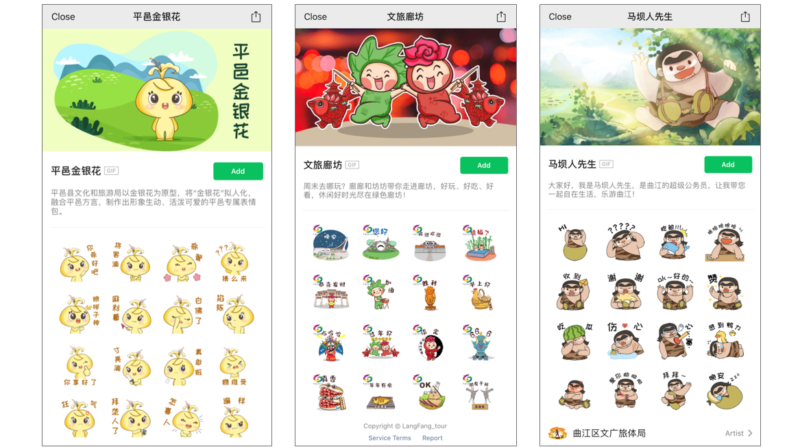 WeChat sticker packs from Chinese tourism destinations: (Left to right) Pingyi County, Langfang Tourism, Qujiang District
Pingyi County in Shandong created a WeChat sticker pack featuring an anthropomorphic honeysuckle flower, expressing sentiments like "Best wishes" and "I can't take it". Langfang Tourism created stickers that feature local foods, famous buildings, and other sightseeing attractions. Qujiang District in Guangdong has a sticker pack featuring a cartoon version of the Maba Man, a Paleolithic Homo Sapien fossil discovered in the area.
How Can WeChat Users Find Your Stickers?
There are two main ways that WeChat users find and add stickers. The first is from seeing them used by a friend – you can hold down a sticker sent to you in a chat to add that specific sticker, or see and download the full sticker pack it comes from. The second way to find stickers is through searching, either in the sticker gallery or through WeChat's main search interface. Here, a user might search for a feeling or expression (something like "working hard!", for example) or a special occasion ("Happy birthday" or "Happy Mid-Autumn Festival"). Since holidays are a peak time of year for messaging and sending stickers, creating related stickers is a good way to make your collection more visible – Langfang Tourism has a number of Chinese New Year-related stickers.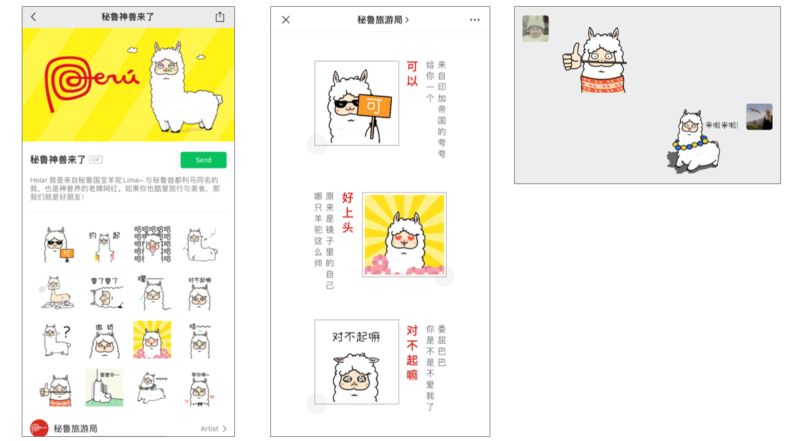 (Left to right) Peru's sticker pack on WeChat, the post promoting the sticker release, and the stickers used in a private chat
Another way to promote your stickers is through an article on your official account. When Peru launched its 2020 sticker collection, the tourism board published a WeChat post showing each sticker as a gif, which could be saved individually, and a link to see the full sticker pack. The post got 4,948 views, making it PromPeru's most-read WeChat article of 2020 as of August.
How Do WeChat Stickers Help You with Marketing?
Stickers are mostly a branding exercise, creating a mascot and introducing or reinforcing a brand image that you want to establish for your destination or attraction. Your sticker pack will show you as the creator, so it's one way to raise awareness and drive new users to your account, if they see the sticker shared by a friend and look it up or add it themselves.
You can also use stickers to attract additional followers in a more direct way. When Peru launched their stickers, they ran a contest where you needed to download the sticker pack, and then send one sticker of your choice to the tourism board's official account. To send the message, users needed to be following the official account. Between August, when the stickers were released, and early October, they've been downloaded more than 1,100 times, and sent in chats nearly 17,700 times.
If you are interested in having WeChat stickers designed for your travel brand by the Dragon Trail Interactive team, please contact us at communications@dragontrail.com