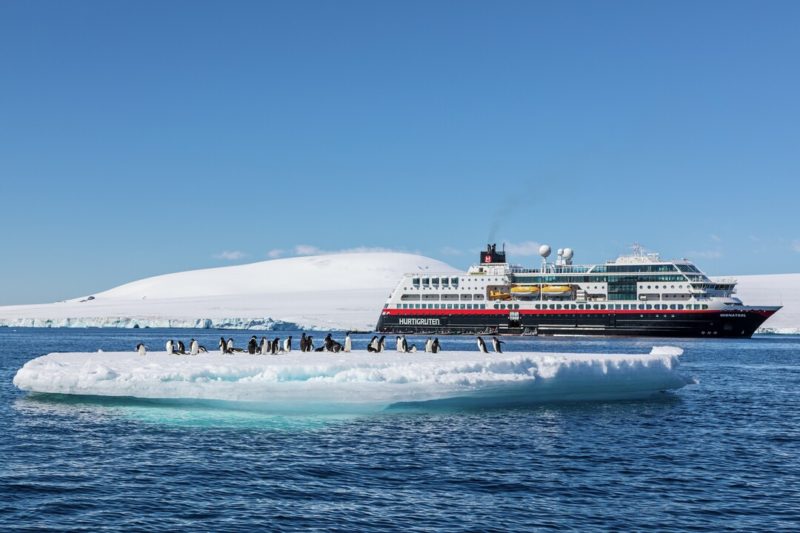 What is adventure cruise operator Hurtigruten's experience with Chinese travelers? We spoke to Damian Perry, Managing Director, VP Sales & Marketing, Asia-Pacific, to learn about inter-generational travel, top destinations, "China Friendly Sailings," and the Chinese luxury travel market's growing desire for sustainability.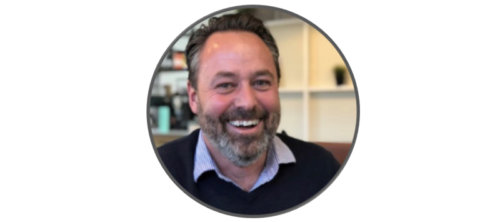 Who is the typical Chinese passenger on a Hurtigruten cruise?
There is no typical passenger as China brings in the broadest client segments from any market. The Chinese travelers do share characteristics that we see elsewhere in that they are global travelers, curious and want to explore further afield. They have mostly been overseas before and many are educated and at times have some international language skills.


An interactive WeChat post on the Olympics for Antarctic animals, created by Dragon Trail for Hurtigruten in August 2021
We find they are educators, business people and government workers that have established careers and they often choose to travel with friends or family. We are seeing more and more inter-generational travelers: grandparents, parents and children exploring together.
The Chinese client is very enthusiastic and wishes to try and participate in every available option. They are thirsty for information and knowledge while sailing and actively like to explore our destinations.
Which Hurtigruten routes or products are most popular with the Chinese market?
At the minute we find the Chinese travelers are most interested in our remote destinations such as Svalbard, Iceland, Greenland and of course Antarctica. All of these destinations are visited by our Hurtigruten Expedition fleet and include our world leading Expedition team and Expedition activities. The Chinese friends also enjoy exploring Norway as it has a rich coastal community and a unique culture, and they are drawn to the winter time and natural phenomena such as the Northern Lights.


A humorous WeChat Channels video about wildlife in the Antarctic, created by Dragon Trail for Hurtigruten in August 2021
What kind of services do you provide especially to Chinese guests, such as Chinese-speaking staff or interpreters, dining options etc.?
Many of our sailings are international sailings, with people from around the globe on board with us. On these sailings we do believe having some English is ideal or a tour leader who speaks English well.
However, we do also offer "China Friendly Sailings". These sailings are staffed with Chinese Expedition staff that are experts in their field, translators and Chinese receptionists, lecturers and chefs. On these sailings we aim to make the journey as comfortable as possible for our Chinese friends that wish to relax and enjoy the journey and not have to be concerned with languages.
We have increased the number of Chinese-speaking Expedition team members who love traveling on the China Friendly Sailings due to the enthusiasm and happiness the Chinese bring to the journey
For the Chinese market you work exclusively on B2B distribution. How has your strategy evolved over time generally and considering the pandemic?
We focus on experts in the field and we have a wide range of Preferred Sales Agents that work directly with Hurtigruten. Hurtigruten has been in the China market for many years and we value the great partnerships and expertise locally. Our aim is to support all of our B2B partners with transparency, honesty and fair pricing by dealing directly with Hurtigruten. These values allow us to help agents to do business direct with the operator, Hurtigruten, and get the right information at the right time. In turn, this makes it easy to do business with and increase profitability for our agent partners.
The pandemic has been difficult for all, yet many partners are now preparing for the bounce back and open borders as we have seen in other regions of the world. We will support our partners and their guests to understand how we sail safely and operate at the highest safety and health protocols on the ocean.
What themes or goals are you focusing on in your current market activities in China? Are you doing anything specifically to communicate what health and safety protocols you have in place?
With our commitment to honesty and transparency, all our health and safety information is shared on WeChat, which has become the main source of information. We also share on our Chinese website, Hurtigruten.cn, and our sales team can share further information with partners and guests.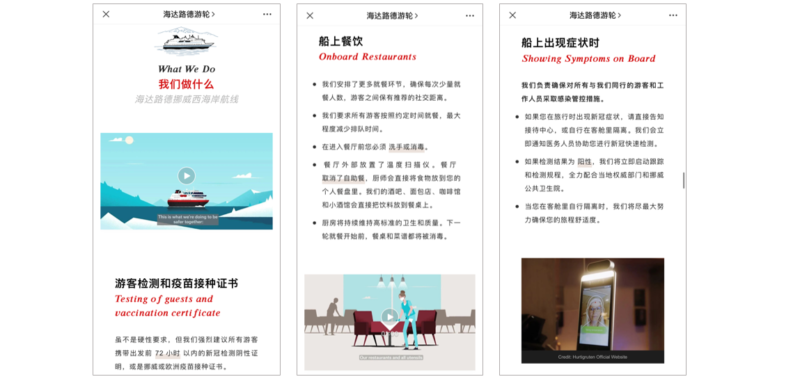 Hurtigruten's August 2021 WeChat post about health and safety onboard
We like to support our partners' groups business as we can help deliver the highest standard experience that can be tailored to meet the guests' expectations. We are also focused on knowledge sharing in all areas of our operation, from the Expedition team's lectures and information activities and even our global menu and international food.
Chinese consumers – especially luxury consumers – are increasingly likely to be looking for eco-friendly, responsible products and services. What steps has Hurtigruten taken to increase sustainability?
Sustainability is at the core of everything we do at Hurtigruten. We are known to be the world leader in sustainable Expedition cruising. No other company can compare the initiatives we have put in across the Expedition cruise segment. Sustainability and eco-friendly products and services is today's luxury for the educated and premium, luxury travelers.
Hurtigruten was first cruise line in the world to ban and remove all single use plastic across our fleet, removing 32 tons of waste in year one. Hurtigruten has three Expedition ships that operate on hybrid battery power, and all of our fleet now operate on battery shore power, and low emission fuels including biofuel. Hurtigruten stopped using heavy fuel oil (HFO) more than 15 years ago and has been fighting for a global ban on heavy fuel oil starting with the Arctic.
Hurtigruten works with leading environmental partners such as Clean Arctic Alliance and European Climate Foundation, and we are spearheading a campaign to ban the use of HFO in Arctic waters. In 2019, the Association of Arctic Expedition Cruise Operators (AECO), the umbrella industry for cruise tourism, embraced this ban.
Our sustainability focus includes scientific research and extensive citizen science programs that involve guests in real research. We have established waste management solutions that purify waste and also reduce food waste on board. At Hurtigruten, we have established training and development programs and apprenticeships for the young emerging workforce from remote communities.
Hurtigruten also conducts and supports environmental initiatives and research in remote destinations such as Svalbard, and we are founding members of both the International Association of Antarctica Tour Operators (IAATO) and AECO.
The new luxury is based on how we behave, and our Chinese guests value the premium-luxe experience onboard supported by our commitment actions and deliveries when it comes to sustainability.
Dragon Trail supports Hurtigruten with WeChat content marketing, including WeChat Channels videos and article content for Hurtigruten's Official Account. Please click here or contact us directly to learn more about our WeChat marketing and video services.