First published September 2019; Updated July 2022
Jay Chou (周杰伦 or Zhou Jielun in Chinese) is arguably the biggest name in Mandopop. The singer has been wildly popular for more than two decades, since releasing his first album in 2000. He's also responsible for a huge number travel trends around the world, thanks to his music, videos, and personal life. We've come up with a list of eight – see if your destination's popularity has been influenced by the singer below.
For tourism brands interested in collaborating with Chinese musicians, but whose budgets might not reach the superstar proportions of Jay Chou, we've also put together a case study on how the Peruvian tourism board has worked together with Chinese hip-hop artist J-fever.
1. Malaysia
In 2003, after performing for 20,000 fans in Kuala Lumpur, Jay Chou became the first-ever foreign national to be given the title of Tourism Ambassador for Malaysia, by the Malaysian Ministry of Tourism, Arts, and Culture.
2. Neuschwanstein Castle
In 2014, Jay Chou and his fiancée, Hannah Quinlivan, took pre-wedding photos in front of Neuschwanstein Castle, turning the German tourist attraction into a hotspot for Chinese wedding photography and tourism. You can find online forums and blogs recommending how to get to the exact location to recreate the couple's photos, and travel diaries on Qyer, Ctrip, and Dealmoon about visiting the castle "made famous" by the Taiwanese celebrity. Unsurprisingly, the fame has created commercial opportunities: there are pre-wedding photography packages available for Neuschwanstein Castle (see here and here for examples), as well as Chinese day-tours of the castle and surrounding area headlined "Jay Chou wedding photography location".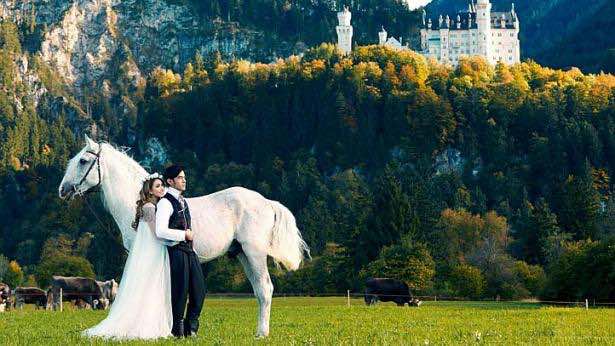 Neuschwanstein Castle was just one of Jay Chou and Hannah Quinlivan's pre-wedding photography locations
3. Prague
Prague has seen a surge in Chinese in visitors in recent years and has become another hotspot for pre-wedding photography. The Los Angeles Times published a story on the phenomenon in September 2019, explaining that the popularity of the city among Chinese couples is thanks to a Jay Chou song, "Prague Square". What they didn't mention – and is probably more important – is that Prague, particularly the Charles Bridge, was another location for Jay Chou's own pre-wedding photography. A travel diary on Qyer, entitled "Jay Chou Pre-Wedding Photography Pilgrimage", visits both Neuschwanstein Castle and Prague.
4. Selby, Yorkshire
After all of the pre-wedding photo shoots, Jay married Hannah Quinlivan in January 2015 in Selby, a town in Yorkshire, England. There are now so many Chinese couples who want to have their pre-wedding photos taken in the same church where Jay Chou got married, the church charges £100 per couple, according to UK-based wedding photographers MEMORY LONDON. Click here to read more about Chinese pre-wedding photography tourism.
The church in Selby, Yorkshire where Jay Chou got married in 2015 is a hotspot for Chinese pre-wedding photography (photo courtesy of MEMORY LONDON)
5. Edinburgh
If you search for Edinburgh on Xiaohongshu or other Chinese social media apps, you will find a lot of photos of Chinese visitors to the city doing the same things – sitting on the edge of a building, standing in front of Calton Hill, overlooking the city from Edinburgh Castle, standing in front of North Bridge (and Forth Bridge). What are they doing? Recreating scenes from Jay's 2012 music video for "Ming Ming Jiu".


A search for "Edinburgh" on social media app Xiaohongshu turns up countless photos of visitors copying scenes from a Jay Chou music video
6. Paris
In 2016, Jay filmed the music video for his song, "Love Confession" in Paris, with scenes in front of the Eiffel Tower and walking along the Seine. This has inspired and been mentioned in travel articles, Mafengwo travel diaries, and vlogs. But our favorite tribute is this video, created by a Jay Chou fan, of himself lip-synching along the same part of the Seine as in the original music video, interspersed with other footage of his trip to Paris.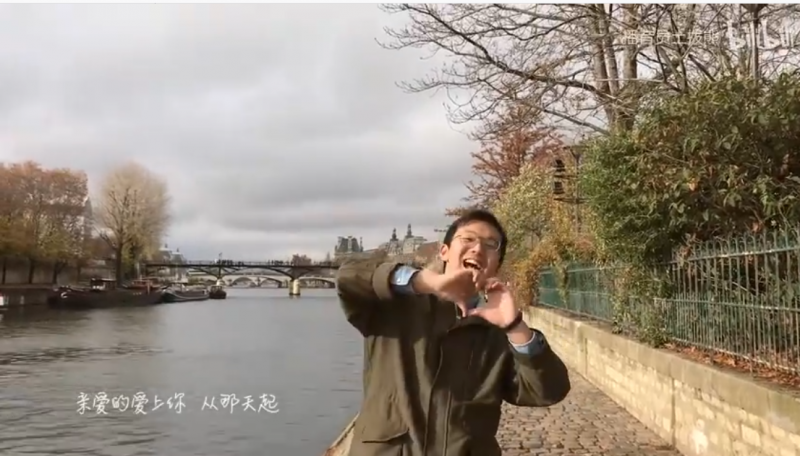 A Jay Chou fan recreated the music video for "Love Confession" in Paris
7. Japan
On September 16, 2019, Jay Chou released a new single, "Won't Cry". It sold more than 2.4 million copies within an hour, and crashed QQ Music. The music video, shot in Japan, also catalyzed a surge in interest in travel. According to Ctrip, searches for Tokyo tourist attractions featured in the video rose by 80% overnight.
8. Cloud Travel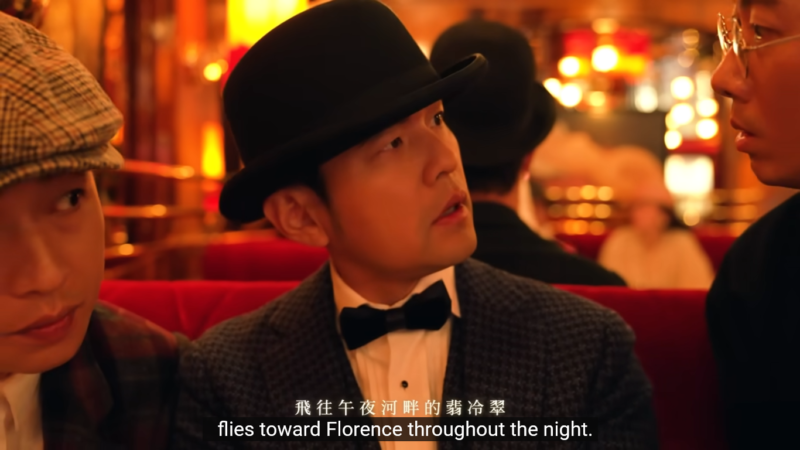 Jay Chou's "Greatest Work of Art" music video takes viewers to Paris. Click here to watch it on YouTube.
While Jay's "Mojito" music video was released near the start of the pandemic in June 2020 and could only raise interest in traveling to Cuba (where it was filmed) rather than spark an actual travel trend, the singer's work has continued to help fans see more of the world. On 6 July 2022, Jay put out a music video for "Greatest Works of Art". The video was shot in Paris, with references to many famous artists in history. On Weibo, the hashtag #谢谢周杰伦带我云旅行 ("Thank you Jay Chou for taking me 'cloud traveling'") was used by 30+ tourism boards around the world and was the 49th top trending hashtag on Weibo that day, with content reaching 4.79 million views. Participating travel brands included tourism boards, airlines, train lines and others who had been featured in some way in Jay's newest or past videos.
For more examples, check out this WeChat article published by travel website Qyer on all of the travel destinations related to Jay's work over the past 19 years. The article has received more than 100,000 views — the highest view-count that WeChat displays.
Case Study: Working with a Musician as a KOL –  PromPerú
While not as famous as Jay Chou, J-Fever (aka MC Little Tiger) is one of China's top freestyle rappers. He has won the championship of the 'Top MC Battle' in China twice and has been profiled in international media, including the BBC. He also has 273,000 followers on Weibo, and has collaborated with travel brands including Visit California and Costa Cruises.

Chinese hip-hop artist J-Fever in Peru
In April 2018, Dragon Trail organized a KOL trip for J-Fever to Peru, which involved two weeks of travel with a video team. The footage was later used to make one promotional video, one documentary video, 10 micro videos, and 15 short videos for PromPeru, the Peruvian tourism board, to use in their China marketing. J-Fever also covered the trip on his own social media channels – his Weibo posts got 632 reposts, 692 comments, and 5,102 likes.
So what's special about working with a musician, as opposed to a travel blogger or another kind of KOL? First of all, as a hip-hop artist, J-Fever has a cool, adventurous image that made him a good fit for Peru as a brand. Prior to the trip, J-Fever had never been to Peru, but some of the lyrics in his songs expressed his desire to explore South America, so it was a destination he was truly excited to visit. As a successful musician, he had a lot of previous experience being filmed, which helped the video team get their best results. The footage has many scenes of J-fever dancing and enjoying music together with local people in Peru, and his freestyle rapping throughout the journey could also be captured and used to give the videos a unique flavor.
After returning to China, J-Fever was so inspired by his travels that he released an EP called Does Peru Have Tiger? featuring three songs about Peru.
To find out more about Dragon Trail's KOL and video marketing services and how we can help with your Chinese tourism marketing, please contact us at communications@dragontrail.com