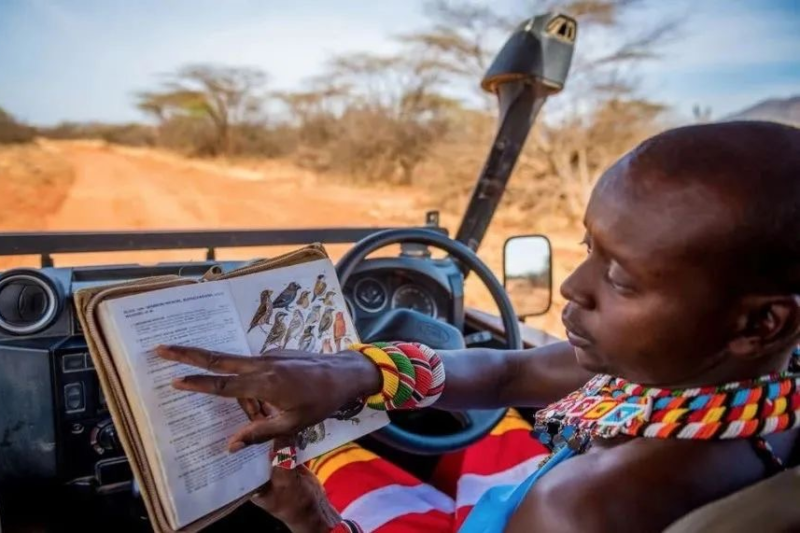 The Kenya Tourism Board (KTB) relaunched its WeChat account on 12 April, 2021, with an updated strategy to inform and inspire the post-pandemic Chinese traveler. It debuted at 15th place among all national tourism boards on WeChat, and has remained in the top 20 accounts for each week it has posted since then. Dragon Trail International is managing the account, including content creation and follower engagement.
Prior to the COVID-19 pandemic, Chinese tourism to Kenya was on the rise, with 84,208 arrivals in 2019. China ranked among Kenya's top 10 global inbound tourism markets, and was its second largest Asian source market.
Kenya is keen to maintain brand visibility to ensure Kenya remains a potential travel destination for the Chinese traveler looking for their next destination.
Top 15 destinations in Kenya
The first WeChat article, on 15 top destinations in Kenya, starts with an interactive animated scene, with elements representing Kenya's landscape, culture, animal life, and activities. The article shows the country's diversity by introducing three national parks, seven natural icons – including Mount Kenya and Lake Victoria, three cities, and two cultural attractions. This post kicked off KTB's content marketing strategy for China, to not only take advantage of the popularity the country enjoys because of its incredible wildlife, but to also go beyond this and show what other rich tourism resources await visitors.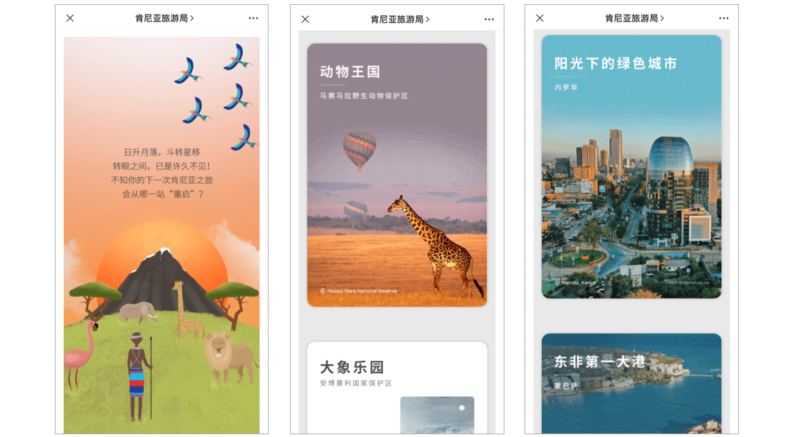 Kenya's first WeChat post of 2021 introduced 15 top destinations
Kenya is known as the leading safari destination, with the Wildebeest Migration being a key highlight experience for most Chinese travelers. This was highlighted in 2020 when Kenya for the sixth time was voted as the World's Leading Safari destination by the World Travel Awards (WTA).
To showcase more experiences and offerings, the country has recently unveiled the second phase of the Magical Kenya Signature Experience (MKSE) program that has thus far identified a total of 44 tourism experiences unique to MagicalKenya.
Home to authentic safari
Complementing ample WeChat content on wildlife with information on Kenya's other stand-out attractions and activities will help future visitors to imagine and plan trips that take full advantage of all Kenya has to offer. This strategy is also intended to disperse Chinese visits throughout the year. "The growing popularity of the Wildebeest Migration has seen travel demand from China being seasonal, with increased tourism arrivals from China during the months of July to October. We continue to remain committed in showcasing Kenya's diverse tourism offering to enable us to establish an all-year round travel demand from China," says KTB CEO, Dr. Betty Addero Radier.

Wildlife and safari are some of the key drivers of Chinese tourism to Kenya
Since the beginning of April, Kenya's WeChat posts have included guides to wildlife, national parks, and museums; an Earth Day post on conservation programs; and a practical article with information on visas, COVID-19 entry requirements, and essential cultural rules to know before visiting. The NTO's most recent post centered on sports, celebrating the country's outstanding performance in marathon running, as well as many other activities that visitors can try in Kenya, such as golf, paragliding, and white water rafting.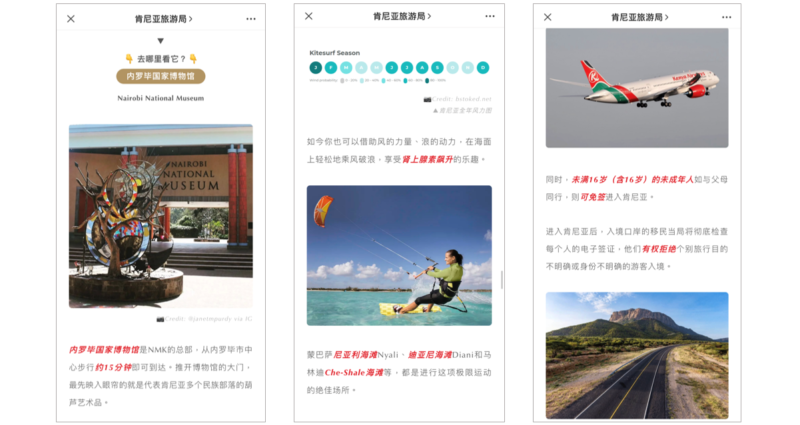 Diverse WeChat content includes recommendations for cultural attractions and sporting activities, as well as practical travel information
Assuring safe travels to visitors
This diverse content has the post-pandemic traveler in mind. In addition to instilling traveler confidence with updated information on travel safety, actual implementation of safety measures is applied in all hospitality facilities within the country.
While sophisticated middle aged, silver, luxury, and family travelers were traditionally Kenya's core Chinese markets, and will continue to be a focus, research indicates millennials and Generation Z are expected to drive tourism recovery, and the young travel segment visiting Kenya is expected to increase.
Scan the QR code below to view and follow KTB's WeChat account: