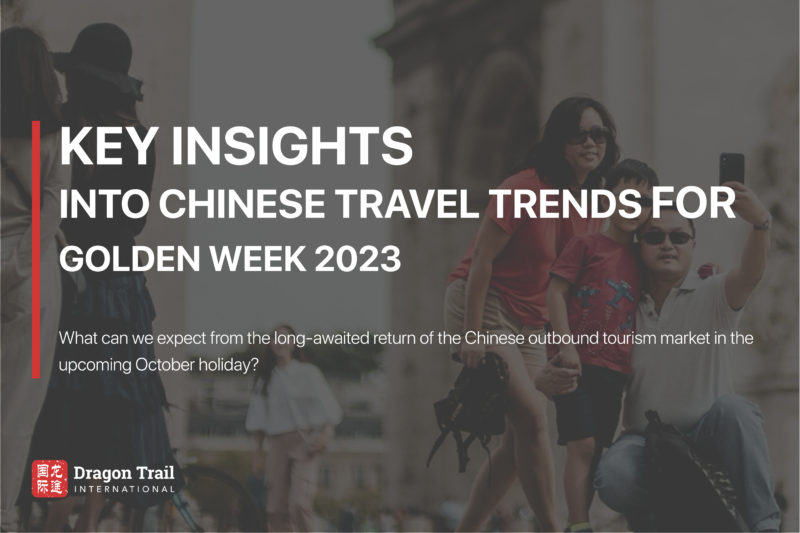 Valencia, 19 September 2023 – ForwardKeys, a travel data and analytics firm, has recently released the latest Chinese travel trends regarding Golden Week, ahead of the much-anticipated webinar with Dragon Trail International on September 21. As of September 6, bookings for upcoming Golden Week travel are 58% lower than the same period in 2019.
However, encouragingly, the current outlook for travel on this year's peak travel time, which is September 29th, has already reached 84% of the pre-pandemic level. Hong Kong, the UAE, and Macao have already surpassed the travel levels seen in 2019.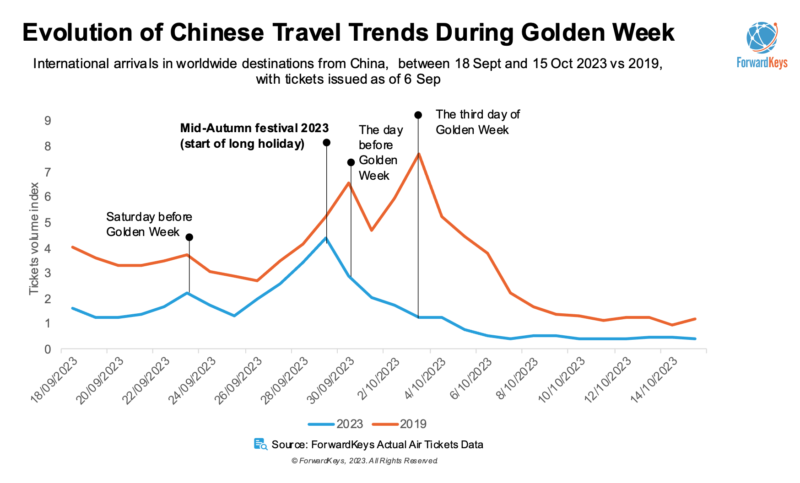 According to Nancy Dai, the China Market Analyst at ForwardKeys, the outlook is not that dire, as Chinese travellers tend to book more last minute.
Another key trend and observation ForwardKeys can share is that 37% of travellers plan to stay in their destinations for 6-8 nights, representing a 3-percentage-point increase compared to 2019.
"The air ticketing data also show that there has been an increase of bookings made by solo travellers and couples, something for tour operators, hoteliers, and retailers to keep in mind this Golden Week. For young travellers, personalized options that meet their needs are becoming even more popular," adds Dai.
Dragon Trail International's September Chinese Traveler Sentiment Report also offers in-depth, qualitative information for long-haul destinations around the world, to help better understand consumer awareness and motivations.
"We'll be sharing destination deep-dives on Africa, the Middle East, Europe, Oceania, North America, and Latin America. Interestingly, when we asked travellers what they hoped to see and do in the six world regions, natural scenery and iconic cultural landmarks stood out everywhere. Waterfalls, jungles, grasslands, mountains, canyons, oceans, and deserts top Chinese travellers' bucket lists around the world," says Janice Meng from Dragon Trail International.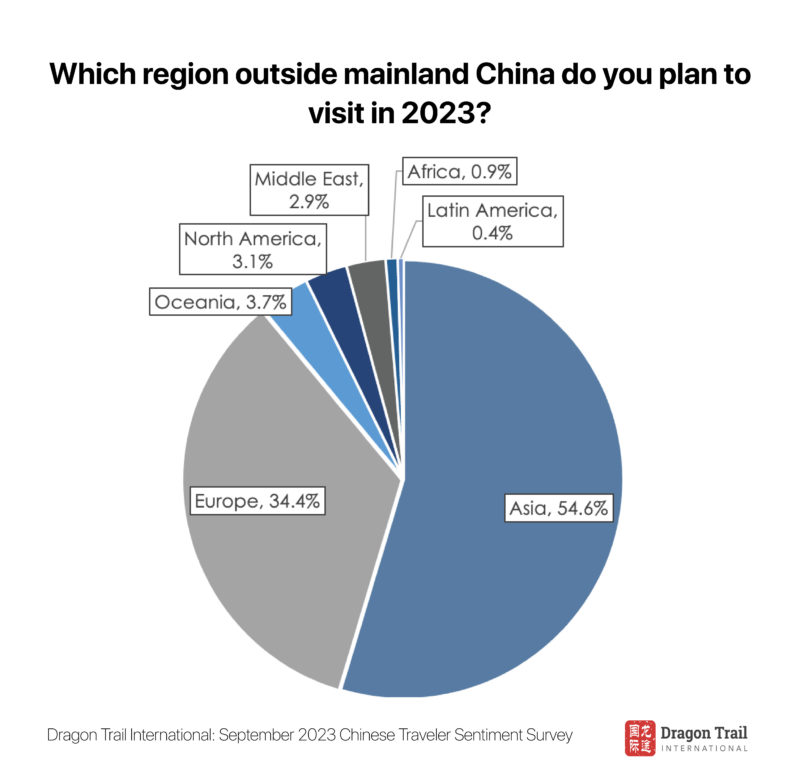 In terms of travel plans for 2023, South Korea tops the wish list of intended travel destinations for 2023, chosen by 10.4% of respondents. This is a particularly positive sign for Korea's inbound Chinese tourism recovery, now that group travel has been allowed for the first time since 2017. Europe remains by far the most coveted region for long-haul tourism (chosen by 34.4% of travellers who intend to make an outbound trip still in 2023), with Iceland, emerging as a dark horse destination thanks to trending travel content about Icelandic volcanos on Chinese social media platforms earlier this year.
The September 2023 Chinese Traveler Sentiment Report is a 26-page report, with the most questions and information on outbound china travel. Dragon Trail and ForwardKeys will share actionable data findings to answer your questions on outbound China travel at the Dragon Trail International and ForwardKeys webinar – make sure you register to attend.
About ForwardKeys:
ForwardKeys has been at the forefront of travel intelligence since 2010, offering data solutions specifically designed for tourism boards, travel retailers, and hospitality. The recent innovations in Data Smarts through ForwardKeys Connect have also garnered the interest of financial and insurance firms.  Learn more and visit www.forwardkeys.com
About Dragon Trail Research:
Dragon Trail Research empowers decision-making for the travel industry. Founded in 2019, Dragon Trail Research delivers quantitative and qualitative research fueled by statistics to help our clients uncover market trends, evaluate tactics, and engage their target audience. Our services include bespoke surveys of Chinese consumers, focus groups, the China Travel Market Monitor omnibus survey, and travel trade intelligence. Click here to find out more.