Published in March 2021 by Chinese travel website Mafengwo and the China Tourism Academy, the "Global Independent Travel Report 2020" looks at trends in Chinese domestic travel in the past year. These include top activities for Chinese FITs in 2020, the rise of rural travel and night-time tourism, and new frontiers for Chinese independent travel in 2021.
We've translated selections of the report, and added additional data from Mafengwo's December 2020 report on night-time tourism.
Click here to access the full Global Independent Travel Report 2020 (in Chinese).
Independent Travel in 2020
In 2020, post-00s travelers were the generation that showed the largest increase in independent travel, with a growth rate of around 10%, according to the report. Travelers born in the 1990s and 1980s still constitute the core market for independent travel in China.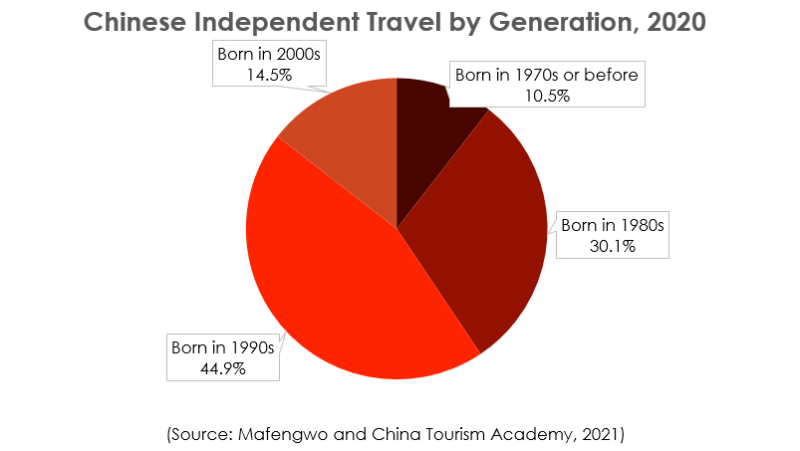 According to the report's data, "safety" became a more important factor than dining or shopping in 2020, with a bigger influence on travel planning decisions.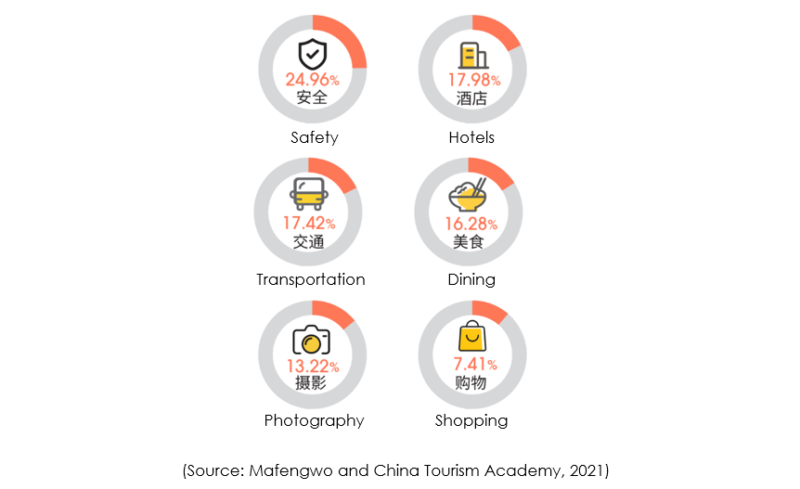 The top 10 keywords for searches on Mafengwo in 2020 were:
– Itinerary/route
– Local area travel
– New frontiers/hidden gems
– Campervan
– Self-driving
– Safety
– Rural travel
– Reservation
– Old city
– Island
The top activities for Chinese independent travelers in 2020 showed a strong preference for outdoors and nature-oriented activities, including hiking, camping, and diving.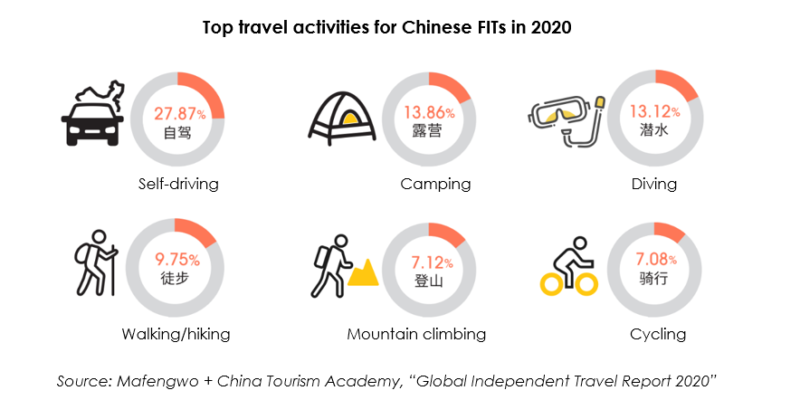 Rural Travel
Rural tourism is a significant trend for post-COVID tourism in China, including activities like campervan travel, hiking, staying in local guesthouses, and experiencing rural lifestyles and culture. This trend has been embraced particularly by consumers born in the 1990s, who made up 41.5% of rural tourists in 2020.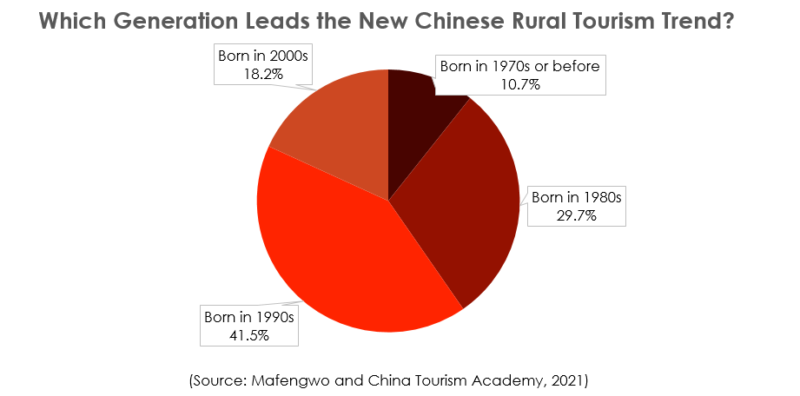 Night-Time Tourism
Night-time tourism was one of the major trends for Chinese independent travel in 2020 as identified by the report. This was based on data from Mafengwo's December 2020 consumer research report on night-time tourism, including including demographics, activities, and destinations.
Although the report mostly focused on domestic tourism destination, here is the list of the top 5 most popular overseas destinations for night tourism: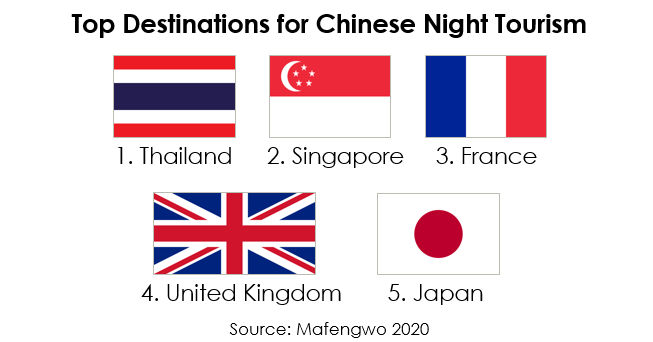 In total, 60.78% of respondents said that they plan night-time activities when they travel. Night tourism is particularly popular with respondents born between 1995-1999.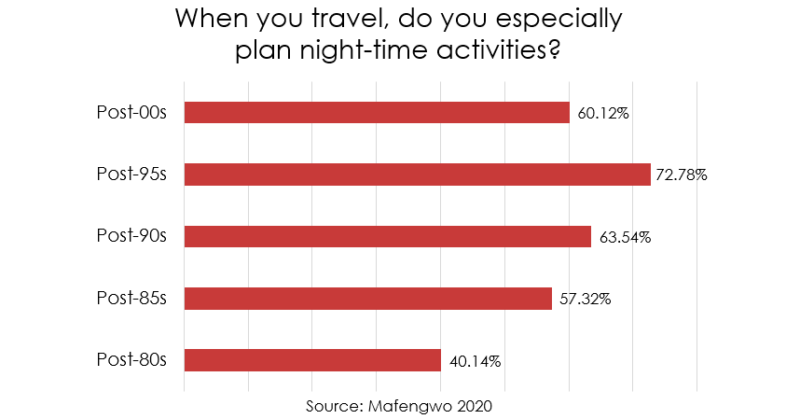 The most popular night-time tourism activity was visiting night markets to taste local specialties. Stargazing and camping were most popular among respondents with monthly salaries of RMB20k and above, and cultural activities were most popular among respondents with monthly salaries between RMB5-14k.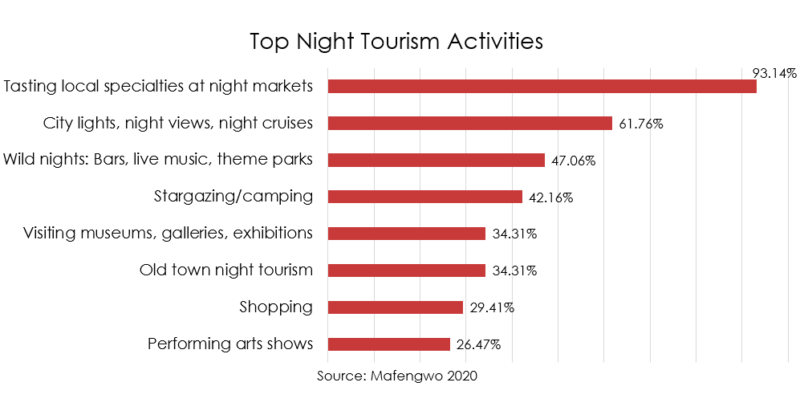 Respondents said that when choosing night-time activities, safety was their top concern, followed by convenient transportation, comfort, privacy, and price.
Friends' recommendations and online platforms were the top sources of information on night tourism activities.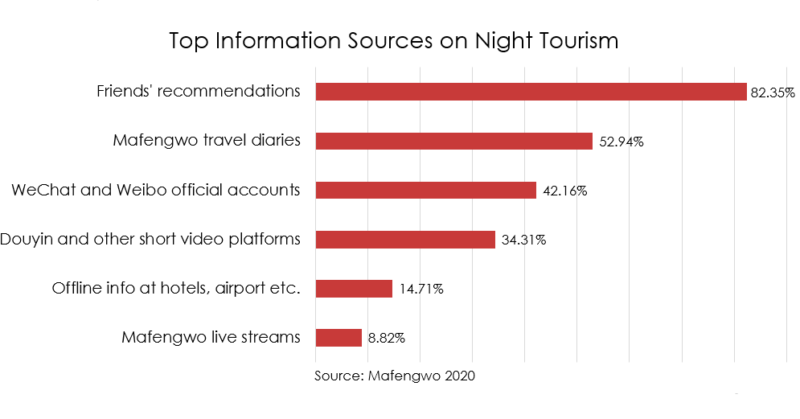 New Frontiers
Looking to 2021, the Global Independent Travel Report 2020 anticipates outdoors and rural tourism to once again be the biggest travel trend for this year, followed by daka-style check-in tourism in the local area.