On 21 April, travel website Mafengwo published a report about the profile and preferences of 2023's first wave of outbound travelers, based on their own user data. The report includes demographic trends, leading destinations, top keywords, and advice for winning the attention of these early outbound travelers from China.
The top source cities for outbound travel in 2023 are: Shanghai, Beijing, Shenzhen, Guangzhou, Chengdu, Hangzhou, Nanjing, Chongqing, Suzhou, and Wuhan.
The Mafengwo community tends to be younger (post-80s and post-90s generation), experienced travelers. Therefore these demographics of outbound travelers in the first months of recovery do reflect the platform's own user base, in addition to wider industry trends. Post-90s (aged 23-33) travelers are leading the way for outbound travel recovery among Mafengwo users, making up 57.1%. This is followed by 23.7% who were born in the 1980s. Women account for nearly 60% of outbound travelers. More than one-third of trips were made together with friends, and another 29.3% with significant others.
So far in 2023, Mafengwo users have visited more than 150 countries and 1,800 cities around the world. The top outbound countries reflect the strength of Southeast Asia as a travel destination, the appeal of Western Europe to Chinese travelers, Australia's sustained top-billing as a long-haul destination, and the positive impacts of recovered flight connectivity and visa-free travel to the UAE.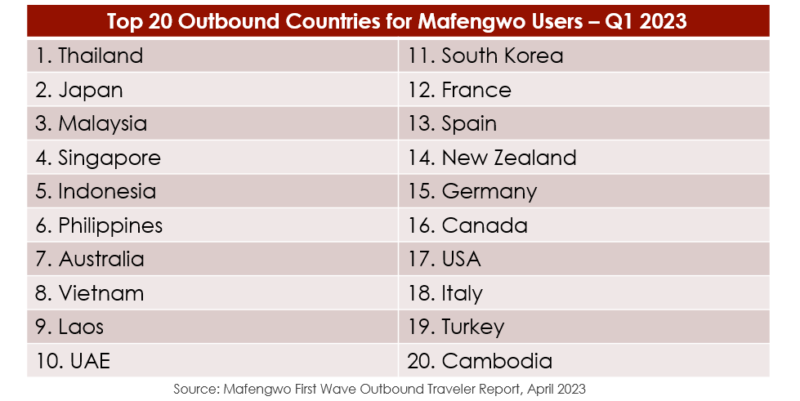 Mafengwo users' travel is driven by the desire to explore their interests and have immersive and special experiences, says the report – from going to a "full moon party" in Thailand to walking an ancient pilgrimage route in France. They're interested in local experiences, and visiting internet-famous hotspots. The report's recommendations for creating travel itineraries for young people are: "Offering full, complete information is just the basic minimum. Fresh, small-group, and personalized experiences are the keywords that will catch people's eyes."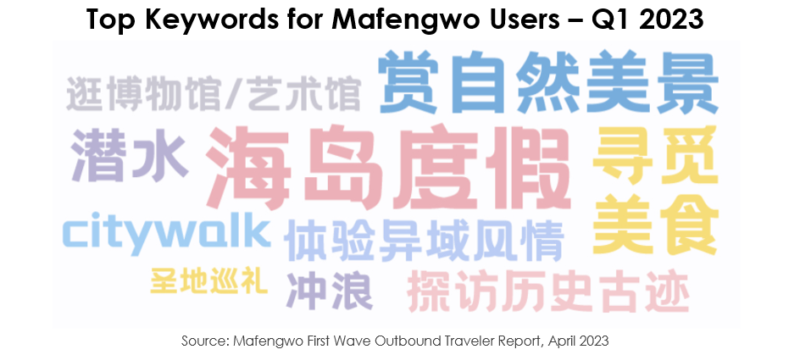 The top 10 key words and phrases on Mafengwo, reflecting trends for young outbound travelers, are: beach and island vacation, appreciating natural beauty, dining, diving, history and heritage, citywalk, experiencing foreign cultures, surfing, museums, holy sites.