Tencent's 2018 Research Report on Post-00s is some of the first data collected about the generation born in China from 2000-2009, giving us early insights into this age group's priorities and spending habits. While the post-80s generation still dominating outbound travel, and post-90s just starting to make a bigger impact in terms of travel volume and expenditure, China's teenagers are not yet a key market, but they will be. For instance, we can already see that they are better traveled than the post-90s generation and have greater financial resources. Read on for some of the most significant findings from the translated report.
Upbringing
Social background
The Chinese generation born in the 2000s has benefited from a stable economy, receiving more money from their families, higher levels of consumption, greater financial autonomy and more opportunities to travel abroad. The survey found that post-90s had a monthly disposable income of RMB 815 (US$119), whereas post-00s had RMB1,840 (US$268). We imagine that much of this money comes from the teenagers' families, but the survey also found that post-00s were quite self-reliant, with some interviewees revealing that they've made their own money through part-time jobs after school or over the summer holidays.
Comparing the post-90s and post-00s generations, the survey found that post-00s were more likely to have international travel experience, especially when it came to long-haul destinations. The report does not supply data on the percentage or number of survey participants who had visited each country, but rather compares the data from the two generations, dividing the post-90s percentage with the post-00s percentage to generate a target group index (TGI).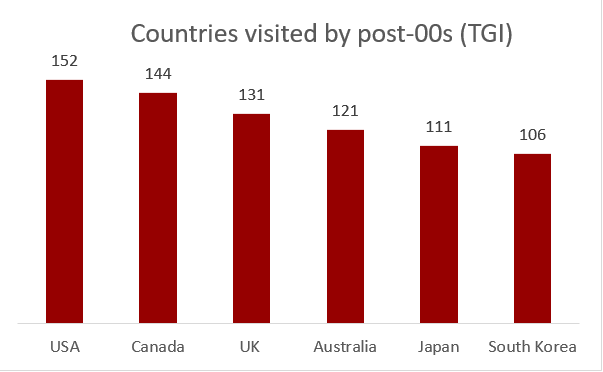 Technological background
One major area that sets the post-00s generation apart is internet usage, which has changed the way they see and interact with the world. Unlike post-80s and post-90s generations, who have also been exposed to the internet since their teens at the latest, by the time post-00s reached junior high school, China had already entered the age of mobile and social media. This means that post-00s are even more likely to spend time on and receive information through social media platforms.

Family and educational background
By 2000, the birthrate in China had fallen to less than one, so post-00s are more likely than any other generation to be only children and not need to share their parents' love and resources with brothers or sisters.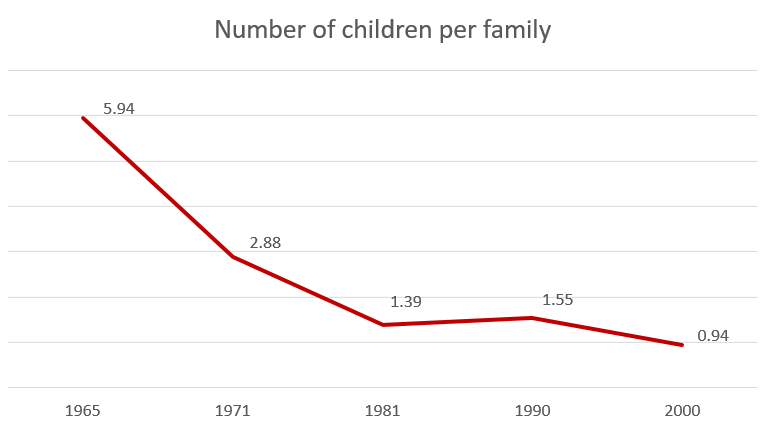 Communication between generations is changing significantly, with 29% of parents of the post-00s generation willing to listen to their children's advice, compared to just 19% of parents of post-90s children. Teachers of post-00s are also more likely to listen to students explain themselves (53% vs. 48% for post-90s). No matter at home or at school, post-00s have more chances to speak for themselves. However, post-00s have even more pressure when it comes to their studies, and participate in an average of three times more extra-curricular activities than post-90s, so their only downtime is in the evening or late at night.
The 6 values of post-00s
Self-awareness
66% of post-00s say that they make decisions by themselves. They have more money to be independent, so than they are used to making decisions and know themselves well. They are always looking to discover new interests, and the internet has given them many possibilities to try different things. 72% said they wanted to be especially proficient in one topic, or even create new things to be experts in.
Reality
Post-00s understand that family has a huge influence on individual development, and are not ashamed of using their family resources to improve their interests. 65% say that they know that family resources are very important for children's futures. Those post-00s who were not born into rich families turn to the internet to gain knowledge and develop their resources, with 73% of survey respondents saying that they take the initiative to learn more about their interests online.
Equality
Post-00s are self-reliant and don't always trust authority figures when it comes to information. 69% said that if there's something they don't understand, they will look it up for themselves after asking an expert. 53% are not afraid to express themselves in front of their elders, and 45% feel comfortable expressing their opinions on issues facing society and the country.
Companionship
Three quarters of post-00s said they wanted to spend more time with their friends, and they are also respectful of one another. Social media has helped them realize that others may have different opinions, but this doesn't have to negatively affect their friendships. 66% said that when they find that their friends have different views, their first reaction is respect.
Adaptability
Another behavior relating to the high use of social media is understanding that not everyone on a digital platform can accept their opinion, but they can control what they present to different groups of people. 69% said they would present themselves differently depending on whom they were with. They are also easily influenced by what they see on social media, with only 37% saying that they were not influenced by content they see posted online.
Solidarity
Post-00s have a strong group consciousness, caring about what happens in their group and acting accordingly. Despite being self-confident and willing to express themselves, 61% said that the well-being of the group is more important than that of the individual. 61% also reported that they followed the major affairs of the country even if these issues didn't affect them personally.
Post-00s consumption habits
They prefer brands and influencers with convictions
Post-00s devote themselves to things they like, so they expect the same for brands and idols, and research these to find what they stand for. 60% say that their favorite brands have an original viewpoint and results, and 92% say they think influencers should have their own interests.
They are willing to pay for their interests
Post-00s define themselves by their deep views on and involvement in a certain area, and they are willing to spend money for this. 62% say that they spend a lot of time and money on their interests.
They consume within their means
Post-00s have a high self-awareness, and they know what they are able to consume. 84% of them say that they wouldn't buy things they couldn't afford.
They are less influenced by celebrities
Post-00s are less likely to be influenced by KOLs, with only 16% saying they thought a product was better if it had a celebrity endorsement.