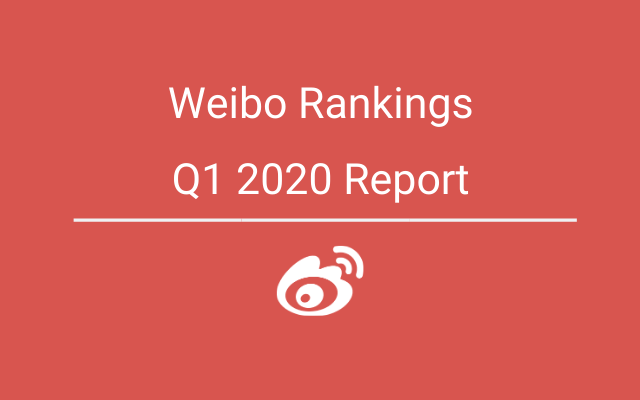 Executive Summary
Dragon Trail's Weibo Rankings Report for Q1 2020 examines and analyzes the performance of six categories of travel brands on Sina Weibo: national tourism organizations (NTOs), destination marketing organizations (DMOs, referring to regional and municipal tourism boards), airlines, cruise lines, museums and attractions, and hotels. The coronavirus crisis significantly interrupted tourism marketing on Weibo from the end of January, with decreased activity from each account category. However, many leading accounts did not see an accompanying decline in engagement, as followers continued to interact with their Weibo content. In the COVID-19 era, brands discontinued the celebrity promotions that were so key to engagement in 2019, instead shifting to topics like material and moral support during the virus crisis, film and TV, "cloud traveling", and live streaming content.

Introduction
Since September 2019, Dragon Trail Interactive has been tracking travel brands on Chinese social media platform Sina Weibo. The 2020 Q1 report covers performance across six categories: National tourism organizations (NTOs), destination marketing organizations (DMOs), airlines, cruise lines, museums & attractions, and hotels.
Like the weekly rankings reports, the quarterly report builds industry benchmarks and uncovers best practices in digital marketing in the travel sector. The report uncovers top performing accounts, content types and engagements from followers on Weibo, to provide a big picture of the first quarter of 2020.
In the beginning of the quarter, many accounts were preparing for Chinese New Year with celebrations, events and promotions. This was changed by the COVID-19 pandemic during Chinese New Year, with many accounts reacting with content related to cancellation policies, donations, and preventative measures. After the wave of cancellations in January, many accounts paused marketing activity on Weibo in February, before resuming slowly in March.
Some of the trends uncovered in our quarterly analysis include the use of movies to promote destinations by NTO accounts, and the hashtag #云旅游 (#cloudtravel or "traveling" online) by DMO accounts. Attractions and museums focused mostly on art instead of the pandemic, and hotel accounts have shared food recipes for those staying at home.

NTOs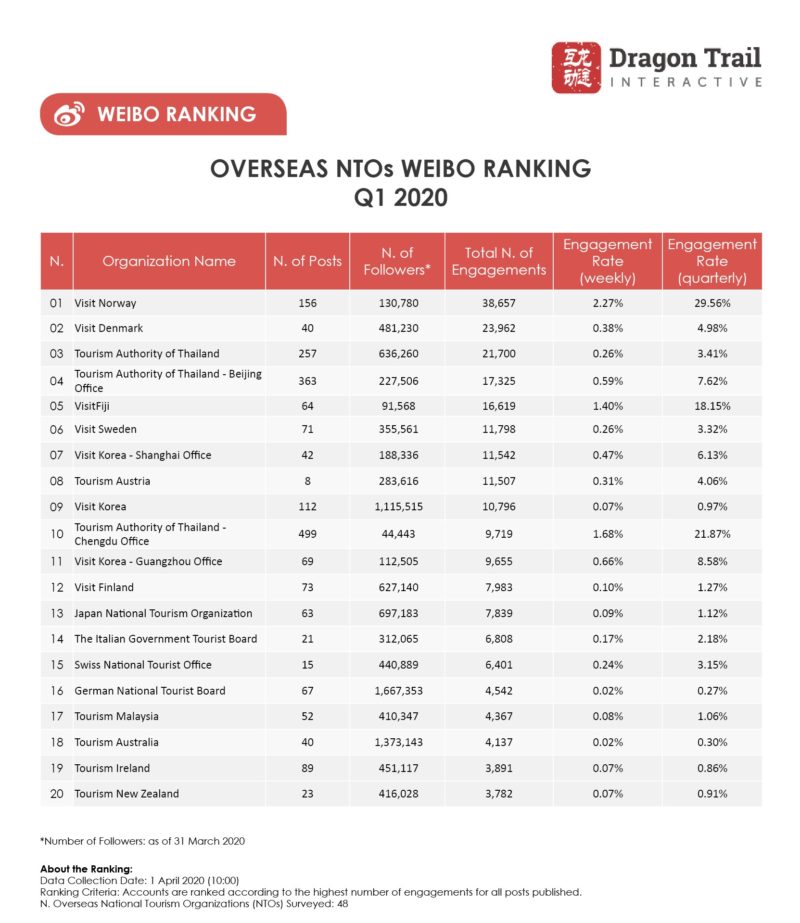 In Q4 2019, NTO accounts posted on average 7.1 times per week, but in Q1 2020 the accounts posted just 5.2 times per week. Accordingly, NTO accounts saw a 35% decrease in engagement and 19% decrease in engagement rate. However, among the top 10 accounts, only one saw decreased engagement (Visit Denmark, which discontinued their celebrity-related promotions from 2019), and seven decreased number of articles posted, showing that people continued to be eager to engage with content posted by top NTO accounts.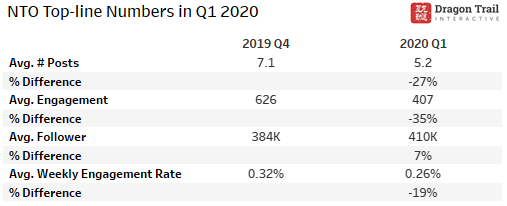 NTO accounts on average had high engagement rates prior to the outbreak. During the beginning of the outbreak, many accounts paused activity on Weibo, but by the start of February, we saw some resumed activities.

Visit Norway reached 1st place in Q1 ranking, thanks to three posts that rode the wave of celebrity influence with Zheng Yunlong @郑云龙 on January 7 and Xu Weizhou @许魏洲 on February 9 and 10. These celebrity-related posts generated over 7,000 engagements from followers, with an engagement rate of over 6%.
The celebrity effect on engagement with Weibo posts was definitely still felt in Q1 2020, despite the pandemic and its impact on travel. The Tourism Authority of Thailand's Beijing Office had an average of 1,000 engagements per post, but the post featuring celebrity Yao Chen @姚琛的VLOG generated over 7,000 engagements. Visit Fiji had two posts in Q1 that generated significantly higher engagements, both using celebrity influence from Leo Luo @罗云熙Leo. Visit Sweden also posted about a Chinese TV show that mentioned Sweden with celebrities Song Qian @宋茜 and Song Weilong @宋威龙.
Ranked in 3rd place for the quarter, the Tourism Authority of Thailand posted Chinese New Year-related content on January 13 and 20, generating over 2,800 engagements and a 0.6% engagement rate. They responded quickly to the coronavirus outbreak, and changed their communications strategy rapidly as a result. On January 27, the account posted a letter from the CEO of the organization, showing solidarity on fighting the pandemic. This generated almost 2,000 engagements from followers, asking about cancellation policies and showing gratitude from the support. In March, the Tourism Authority of Thailand continued to post about policies around pandemic control to update followers and travelers to and from Thailand.
The Tourism Authority of Thailand's Chengdu Office also published content expressing solidarity with China in fighting the pandemic, which tended to generate higher engagement in Q1 than non-pandemic-related posts.
Visit Korea's Shanghai Office was quiet for most of Q1 due to the pandemic. However, the account posted twice about Korean dramas during the lockdown period, using the hashtag #韩式三部曲 ("Korean drama trilogy"), and asking followers to vote for the best Korean dramas. Both posts generated over 4,000 engagements, putting the account in 7th place on the quarterly ranking. The main Visit Korea Weibo account showed similar engagement and post activities, with posts about Korean dramas generating the most engagement from followers.
Tourism Austria posted only eight times during the quarter. However, on March 16, the account shared a schedule to watch online performances from the Vienna State Opera, which generated over 10,000 engagements.
The topic of donations has been met with dramatically different responses on Weibo. On February 17, the Japan National Tourism Organization posted about donations to Guangdong Province. Although engagement levels for the account decreased in Q1, engagements with this post were overwhelmingly positive. Most followers showed gratitude and acknowledgement of Japan's generosity even with its own pandemic situation. On the other hand, followers of the Italian Government Tourist Board did not take it well, when the account shared a donation link asking for support. As the pandemic was slowly recovering in China, many people had been out of a job for weeks, and resistant to the idea of donating money at that moment.

Weibo posts about donations in Q1 2020 (left to right): Japan National Tourism Organization's mask donation to Guangdong province; The Italian Government Tourist Board's post requesting support from followers
DMOs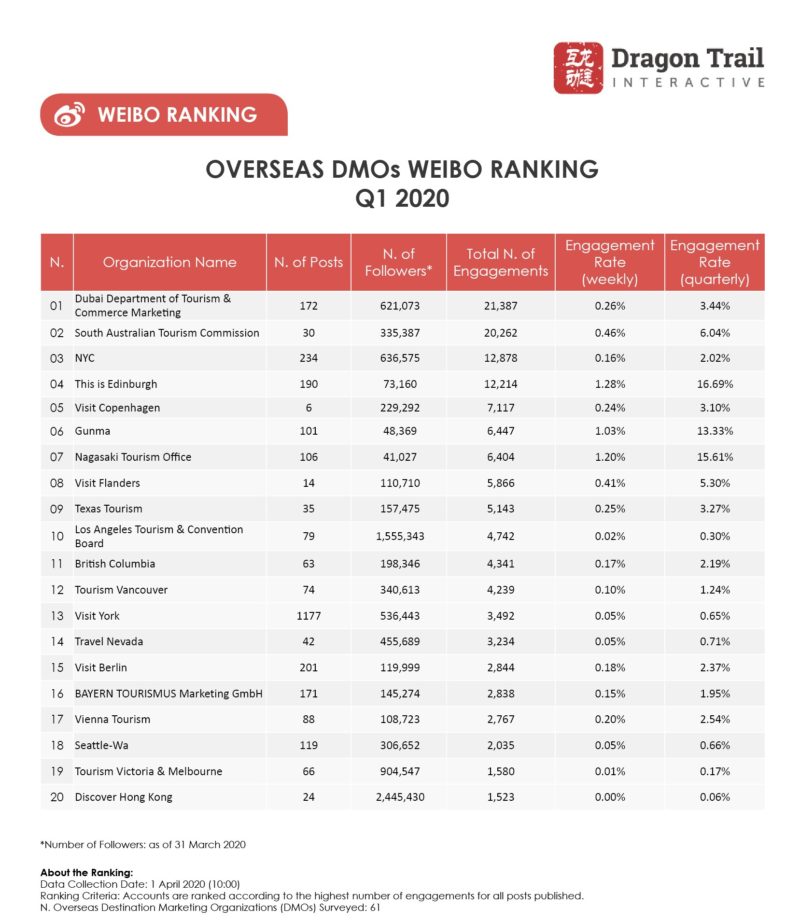 DMO accounts have seen a 10% increase in the follower base compared to Q4 2019, despite a 33% decrease in account activities and a 28% decrease in engagements. This led to a 51% decrease in engagement rate from Q4. However, only three out of top 10 accounts in Q1 2020 (NYC, Texas Tourism, and Visit Copenhagen) decreased in engagement from the previous quarter, while nine out of 10 accounts decreased their activities in Q1 2020. This means that followers of DMO accounts are still engaging with their Weibo content despite the impact of the pandemic and the decreased number of posts from these accounts.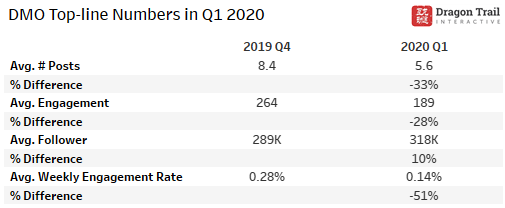 Looking at account activities throughout the quarter, there was a significant drop during the start of the pandemic outbreak in January. In February, DMO accounts started to resume activity on Weibo, posting about local events and support for China during the pandemic.

Ranked in 1st place for the quarter Dubai Tourism posted about messages of supporting displayed on the Burj Khalifa, which generated over 12,000 engagements from followers expressing gratitude. However, other posts by the account generated few engagements compared to this one. Chinese social media posts by Dubai featuring various displays on the Burj Khalifa have historically been quite popular.
In 2nd place, the South Australian Tourism Commission did not post extensively in Q1, but one post on March 20 about a giveaway, using the hashtag #看岁月赢大奖  ("Watch movies and win prizes"), generated over 13,000 engagements.
With the highest engagement rate and 4th most engagements, This is Edinburgh generated strong and highly relevant interaction from followers in Q1 with the hashtag #我在爱丁堡 ("I am in Edinburgh"). The account posted about the movie One Day on February 11, which engaged followers by asking them to quote favorite lines from the movie. On February 24, the account posted news from University of Edinburgh to reward leading Chinese pulmonologist Zhong Nanshan – who discovered the SARS coronavirus – with the first Being Edinburgh Award. On March 27, Edinburgh's Weibo account shared a letter from the Vice Principal at the University of Edinburgh, expressing support for students in Edinburgh during the pandemic.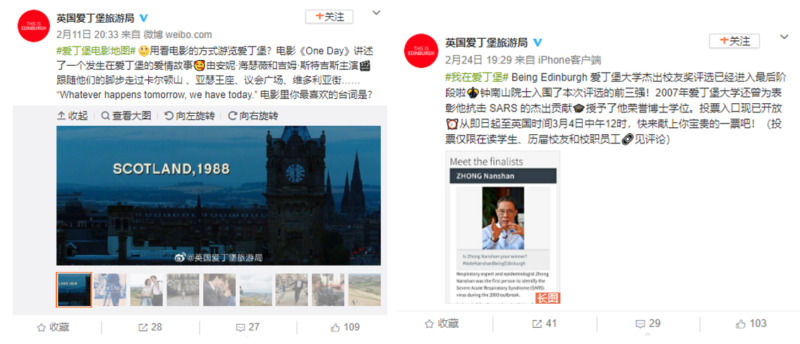 This is Edinburgh's top Weibo posts in Q1 2020 (left to right): A post about the movie, One Day; voting for Dr. Zhong Nanshan at the University of Edinburgh
Following the outbreak, Japanese prefecture Gunma's top posts in February were all about donations to China. These were met with overwhelmingly positive engagements, and led the account to 6th place. In March, the account started doing giveaways of the destination mascot and the movie Initial D to promote the prefecture, and generated positive engagements despite existing travel restrictions.
The Nagasaki Tourism Office had a similar strategy and results. The account posted about donations and support to China in fighting the pandemic in February, and in March, they started promoting again, with the hashtag #长崎云旅游 ("Cloud travel in Nagasaki") about cherry blossoms and local attractions, which led the account to 7th place in the Q1 ranking.
In March, many other DMO accounts also resumed marketing in China, focusing on "cloud travel" and film tourism – things that travelers could relate to even while social distancing.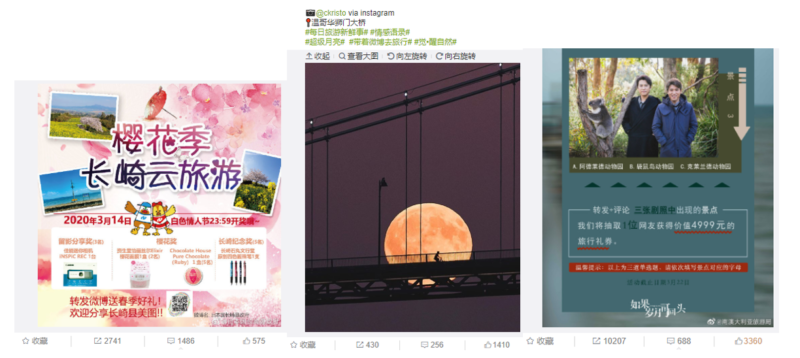 Weibo posts in Q1 2020 (left to right): Nagasaki Tourism Office #长崎云旅游 ("cloud travel in Nagasaki"), British Columbia #带着微博去旅行 ("travel with Weibo"), South Australian Tourism Commission #看岁月赢大奖 ("watch movies and win prizes")
Los Angeles Tourism & Convention Board has been quiet during the pandemic, with the exception of two highly engaging posts: One about the death of Kobe Bryant, and another about "the Love of Angels" song composed as a tribute to China by local musicians.
The accounts that ranked in the top 10 but showed decreased engagement compared to the previous quarter were NYC, Visit Copenhagen, and Texas Tourism. Texas Tourism barely posted after the outbreak, which explains its drop in position on the ranking. In contrast, NYC posted every week in Q1. In January, the account ran giveaways to promote the city, and in February and March, the account used its #这里是纽约 ("This is New York") hashtag to promote different areas within the city. Visit Copenhagen only posted one high-engagement article, on January 6, about Danish pastry. This generated most of the account's Q1 engagement, as the account stopped posting after 23 January, leading to the decrease in its Q1 engagement.
Airlines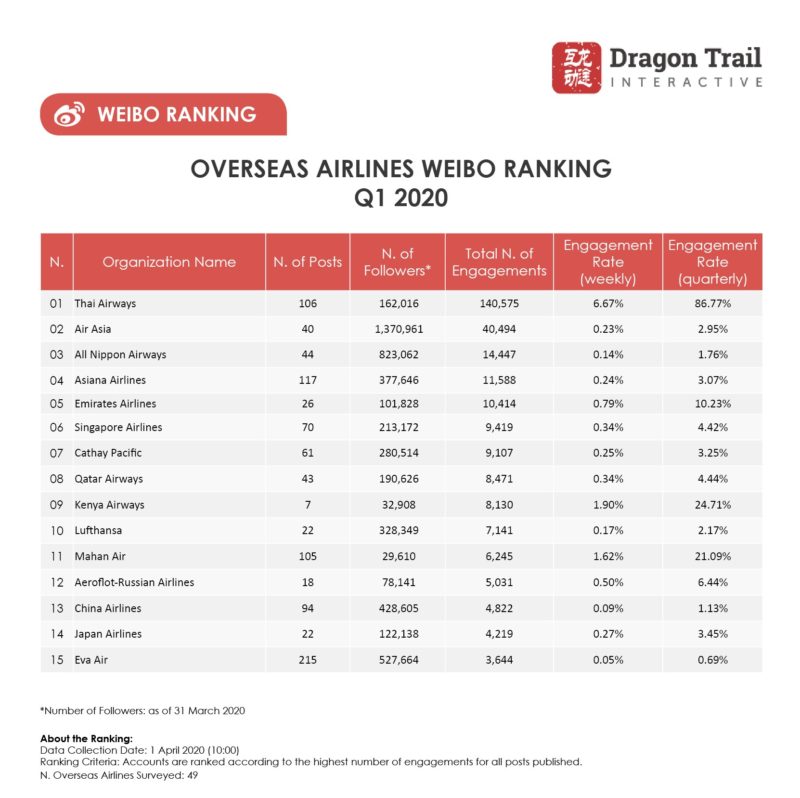 Airline accounts in Q1 saw a significant drop in number of posts, which is expected as the impact of the pandemic persisted. However, engagement and engagement rate both went up significantly. With a 49% drop in total posts, engagement went up by 278%. With only a 2% increase in followers, the average engagement rate went up by 42% despite the drop in number of posts.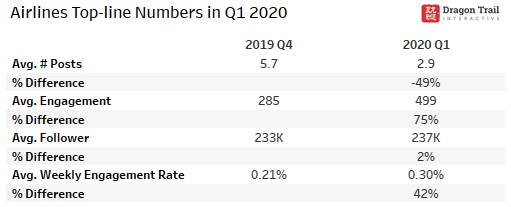 Some increase in engagement during the coronavirus crisis was expected, particularly in January, when many travelers went online with queries about cancellation policies. Starting from 20 January, many accounts were already publishing content related to cancellation policies, in response to inquiries.

Weibo posts by airlines in Q1 2020 (left to right): AirAsia's cancellation policy; All Nippon Airways' canceled flights; Lufthansa's canceled flight routes to and from China
After Chinese New Year, most of China went into lockdown, and airline accounts posted much less. A few of the active accounts include Asiana Airlines, Singapore Airlines, and Qatar Airways. These accounts were engaging with followers by showing support during the outbreak as well as sharing updated information about flight policies.

In early March, accounts started to post more about new policies and updates, in response to complaints in the beginning of the pandemic. Asiana Airlines posted about new cancellation policies involving free cancellation and credit. China Airlines and Emirates Airlines shared policies related to transit restrictions and canceled routes to and from mainland China. Thai Airways posted information about requirements for health certificates.
For airline accounts, Q1 has been especially tough, as many comments on posts were inquiries and complaints about flight cancellations and ticket refunds. A few accounts generated particularly high engagement and engagement rates.
– Thai Airways posted about an incident of a passenger purposefully coughing on a flight attendant to protest long hours of safety checks at the Shanghai Pudong Airport. This generated over 135,000 engagements and brought the account to 1st place in the quarterly rankings.
– Ranked in 5th for the quarter, Emirates Airlines had a few highly engaging posts with detailed explanation on flight cancellations, ticket refund procedures and new policies. These posts were informing and helped followers understand the hectic situation.
– Qatar Airways also generated significant engagement, by posting about donations during the pandemic. In the midst of flight cancellations and ticket refunds, content related to donations generated very positive feedback from followers.
– Singapore Airlines did really well this past quarter by doing all of the above: Providing detailed information on flight cancellations, sharing news about donations and local policies on inbound travel, and showing support from the Embassy. This strategy led the account to 6th place in the quarterly rankings.
Cruise Lines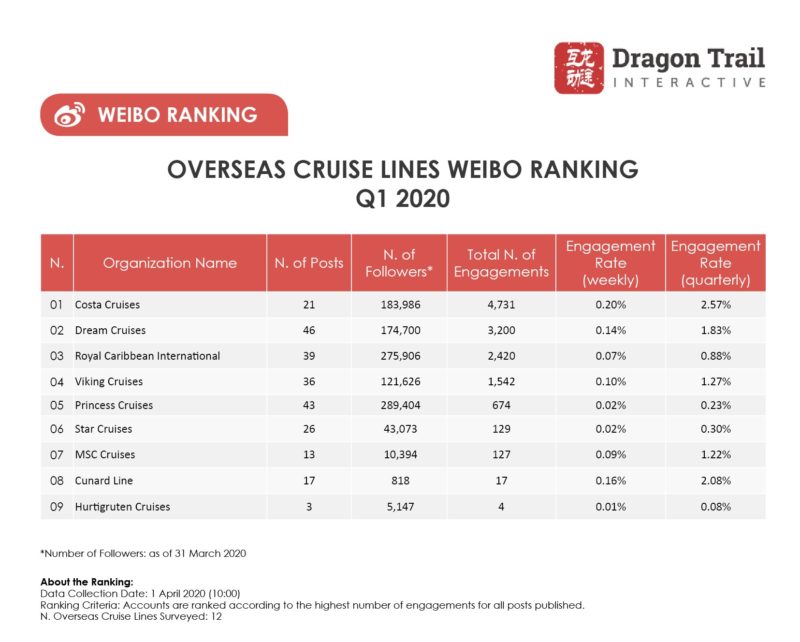 The pandemic affected cruise lines – and their Weibo accounts – significantly in Q1 2020. On average, cruise accounts decreased the number of posts published by 68%, and saw a 35% decline in engagement levels.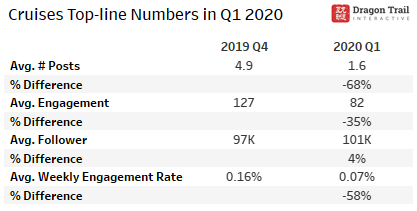 In Q1, cruise accounts had a peak in engagement levels during first three weeks of the outbreak in China, starting from the week of 20 January-3 February. This growth in engagement was attributable to two accounts: Costa Cruises and Dream Cruises. These accounts were also the only two that saw increases in engagement and engagement rate in Q1 compared to Q4 2019. On 23 January, Costa Cruises posted about its cancellation policy, which generated over 2,400 engagements. Most comments of this post were about safety measures on board, as well as the lack of refunds available for non-residents of Wuhan.
Dream Cruises published a post on 4 February about confirmed cases among passengers, which generated over 2,500 engagements, mostly about concerns around safety measures on board.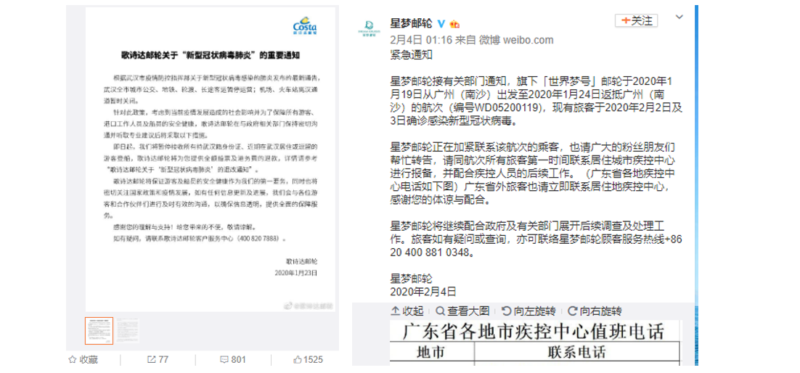 Weibo posts in Q1 2020 (left to right): Costa Cruises' policy for Wuhan residents and people with travel or contact history with Wuhan, as well as free cancellations for these guests; Dream Cruises' emergency notification about confirmed cases.
Attractions and Museums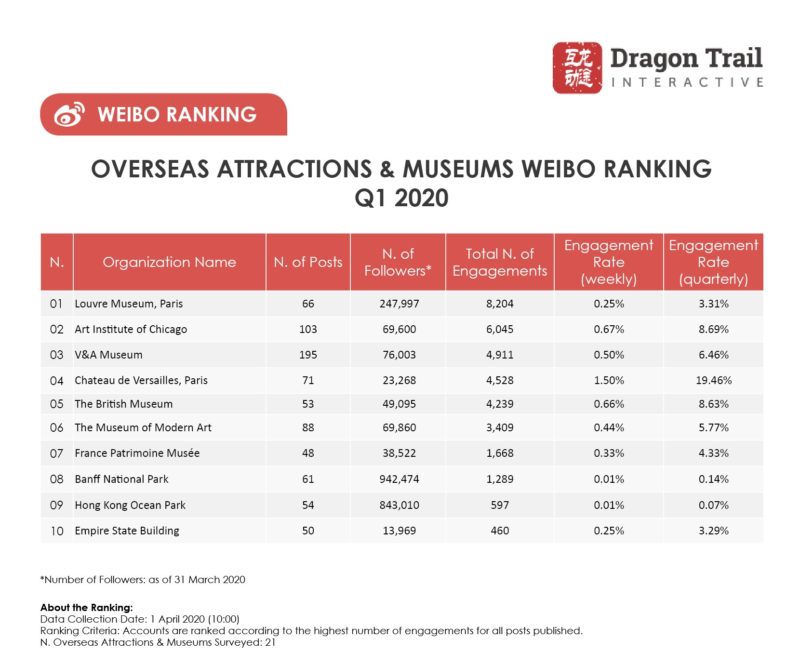 Compared to Q4 2019, the number of posts by attractions and museums dropped 16% in Q1 2020. Engagement dropped 40%, and weekly engagement rate dropped 73%. Despite the drop in account activities, many accounts continued to post throughout Q1. The majority of the top posts were related to art as opposed to the pandemic. During the crisis, museums continued to connect with their followers through art.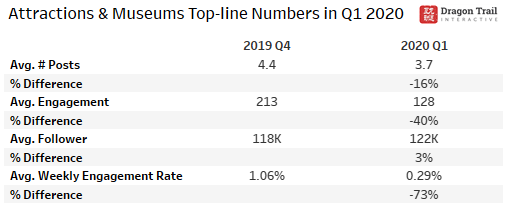 Louvre Museum: Among the top posts, the only pandemic-related one took place on 29 January, when the museum announced the cancellation of its Chinese New Year event. For the rest of Q1, the account published content mostly about art works, with occasional sweepstakes to celebrate its growth of followers.
V&A Museum: None of the top posts from the V&A Museum was pandemic-related. The most popular post was published on 26 January, about a gown made by Chinese designer Laurence Xu and worn by celebrity Fan Bing Bing to the 63th Annual Cannes Festival.
The British Museum: On 15 January, the British Museum celebrated its 261th birthday, which generated over 200 engagements. On 12 March, the account celebrated 50,000 followers with a giveaway. These posts led the account to 5th place in the quarterly ranking.
The Museum of Modern Art: Similar to V&A Museum, MoMA's top posts were also mainly related to artwork and news in the art scene. Its post with the highest engagement was about love story between Ulay and Marina Abramovic, which was published on 3 March and generated over 400 engagements.
In March, museums and attractions started using the hashtag #云游博物馆 ("Cloud travel to museums") to promote their content, including Art Institute of Chicago, Louvre Museum, and Chateau de Versailles.
Weibo posts in Q1 2020 (left to right): Art Institute of Chicago's March wallpaper; Chateau de Versailles' art-related topics by category
Hotels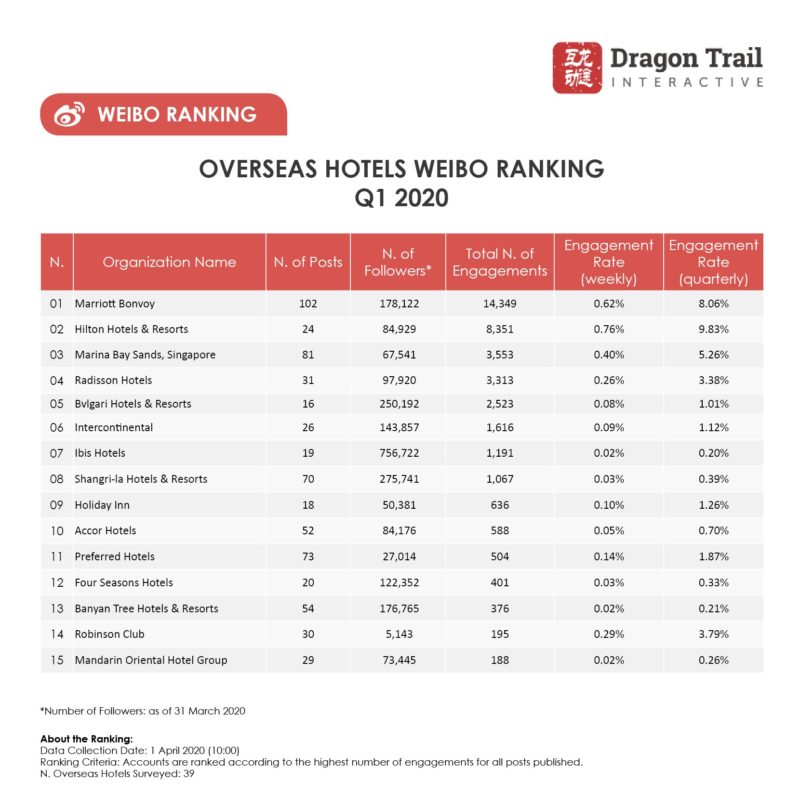 Hotel accounts in Q1 saw a 43% decrease in number of posts published, 55% decrease in engagement and 59% decrease in weekly engagement rate. Hotel accounts also saw a 2% decrease in followers in Q1 compared to Q4 2019, meaning total engagement levels and account activities have dropped significantly.
This contrasts to the significant increases in content and engagement enjoyed by hotels on WeChat. What explains the difference between the two platforms? The first reason is that the virus situation paused celebrity-related promotions, directly leading to dropped engagement, as celebrity-related content generated the highest engagement for hotel accounts in Q4 2019. Secondly, the practical functions of WeChat may have pushed more activity to this platform during the crisis – if hotel accounts on WeChat supported booking and customer service functions, then followers would be more likely to log on to this platform to cancel reservations, find official information, and ask questions.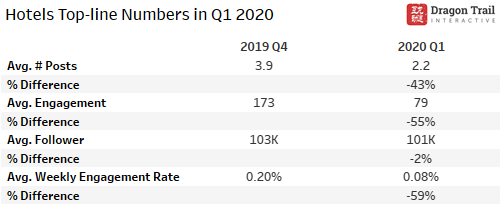 The quarterly analysis shows that hotel accounts were quite active on Weibo prior to the pandemic, preparing for the Chinese New Year travel season. The highest engagements during this period were generated by Hilton, Marriott, Bvlgari, and Marina Bay Sands, Singapore.

Weibo posts in Q1 2020 (left to right): Hilton's 15 January post about travel plans in 2020; Marina Bay Sands, Singapore on the light show, promoted with celebrity Zhong Hanliang @钟汉良; Bvlgari Hotels & Resorts' promotion for the Bvlgari Spa service
Starting on 21 January, Hilton released information about cancellations, with most comments under this post asking questions and complaining about cancellations and lack of flexibility. On 23 January, Marriott was still publishing about Chinese New Year, which led to a backlash, with the majority of comments asking about cancellation policies. On 22 January, Accor Hotels also posted about cancellation and full refund policies.
With cancellations, travel bans, and a complete lock down in mainland China and later in many overseas countries, hotels have had to come up with new ways of engaging with audiences. Marriott Bonvoy received hundreds of responses for its mid-March posts on an online live streaming DJ party from the W Shanghai, and live-streamed cooking classes from several Guangzhou properties. Radisson Hotels posted a grilled salmon recipe on 23 March. Intercontinental started its #洲际家主厨 ("IHG Family Chef") campaign as early as 14 February, inviting followers to share their home cooking, and giving away hotel stays. This campaign was successful in generating over 1,000 engagements. On 24 February, Ibis Hotel posted about sanitation procedures and invited followers to post about their experience for a chance to win care packages. This post generated over 700 engagements.