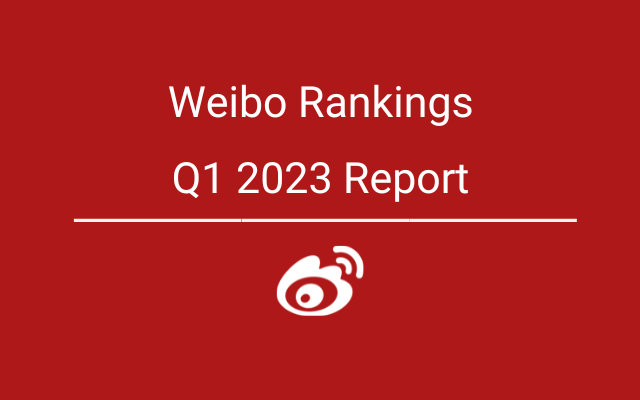 Dragon Trail International's Weibo Rankings Report tracks and analyzes performance for national tourism organizations (NTOs), destination marketing organizations (DMOs), airlines, cruise lines, museums & attractions, and hotels. Our quarterly Weibo reports build industry benchmarks and uncover best practices in digital marketing in the travel sector.
Comparing the first quarter of 2023 with the same period one year earlier, accounts generally but not always posted more content on Weibo. Engagements with this content increased for every single category, ranging from a 12% increase in engagements with NTO content (posts increased by just 1.5%) to a staggering 651% increase in engagements with hotel content (here, post numbers were up by 8% compared to Q1 2022).
Looking at the content that generates the highest number of engagements, celebrities are key, as fans flock to any post that mentions them. Giveaways and information about flight resumptions and other reopenings were also popular. But some posts with high engagement levels reveal once again that Weibo marketing has a risky side, attracting huge numbers of users to interact with brands' accounts in an angry way.
Engagement and Activity
The number of active accounts tracked in Q1 2023 compared to Q1 2022 remained stable. Some categories saw no change, while others had small increases or decreases, usually of just one account. For most categories, accounts posted more content in Q1 2023 compared to one year earlier. And for all categories, the number of user engagements with this content increased, usually quite significantly. The NTO category saw the smallest increase in engagements, but these were still 12% higher than one year earlier, with an only 1.5% increase in content volume. Most categories saw much larger increases in engagement, with hotels standing out at 651%.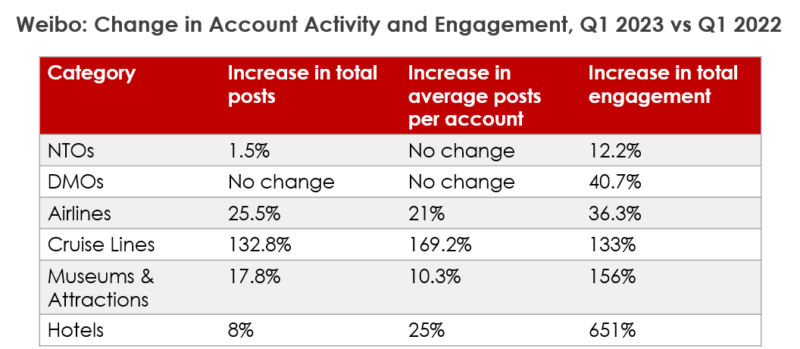 What has likely happened is a combination of rising interest and more relevant information to share regarding travel, combined with brands renewing efforts to attract engagement through organic and paid methods. Moreover, now that international travel from China has restarted, Chinese celebrities are much more likely to visit outbound destinations and help those destinations attract audiences on Weibo.
We calculate engagement rate on a weekly basis, by dividing the total number of engagements (likes, reposts, and comments) an account receives for its content posted that week, by the number of followers the account has that week. Comparing Q1 2023 with Q1 2022, the average engagement rate for hotels, cruises, airlines, and attractions was higher in the past quarter than a year ago. For DMOs and NTOs, the average engagement rates decreased — though for NTOs, the average engagement rate for Q1 2023 was the same as that for 2022 as a whole.
NTOs
The top of the rankings table looks quite different in Q1 2023 compared to 2022. Ranked first for engagements is Atout France, up from 16th in 2022. Next is Japan, up from 10th. In 5th place for Q1 is Visit Finland, up from 20th in 2022. Also in the top five, the Tourism Authority of Thailand and Visit Singapore were ranked 1st and 2nd last year.
In the case of France, most engagements for the quarter came from a single post: a repost from UNESCO about top places to visit in Paris, as shared by actor Xiao Zhan. With close to 34k engagements, this was by far the most engaging Weibo post by any tourism brand in the first quarter of 2023.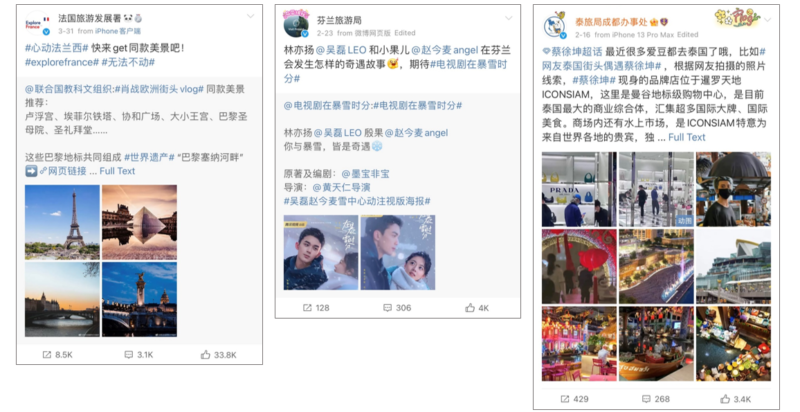 Visits by Chinese celebrities drew Weibo users to posts by Atout France, Visit Finland, and the Tourism Authority of Thailand
Visit Finland's high ranking was also driven by celebrity content, in this case a number of posts relating to actor Leo Wu and the TV show "Amidst a Snowstorm of Love," which he was filming in Finland. Prior to COVID, Chinese celebrity content often brought high engagements to Scandinavian countries on Weibo, but this avenue of promotion had not been active during the past three years.
Celebrities drove high engagements for other tourism boards, too – for example, Cai Xukun shopping in Bangkok, or Singapore brand ambassador Jackson Wang's Chinese New Year message.
Japan's top post for engagements, promoting outdoor experiences in Japan, drew mostly negative attention. At the time it was posted, Japan had placed a number of restrictions on travel from China because of COVID, and Weibo users vented their anger about these policies in the comments, often stating that Japan was being unfriendly. Other top posts from Japan also attracted many negative comments, but at least one post on a new Miyazaki theme park also received many positive comments from Weibo users who said they wanted to go, and 121 likes.
DMOs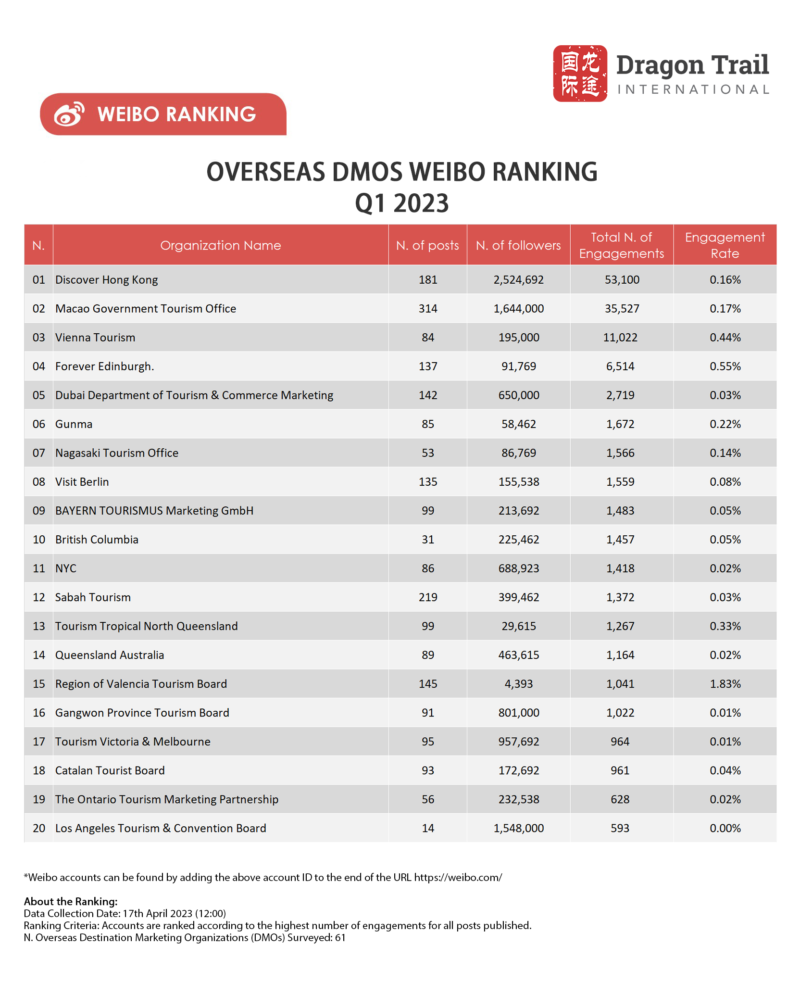 The list of top-ranking DMOs on Weibo in the first quarter of 2023 is quite similar to the 2022 rankings. Hong Kong and Macau have stayed at the top of the list, just swapping positions in Q1. All of the top DMO posts for the quarter also come from these two accounts, focusing mostly on arts and culture.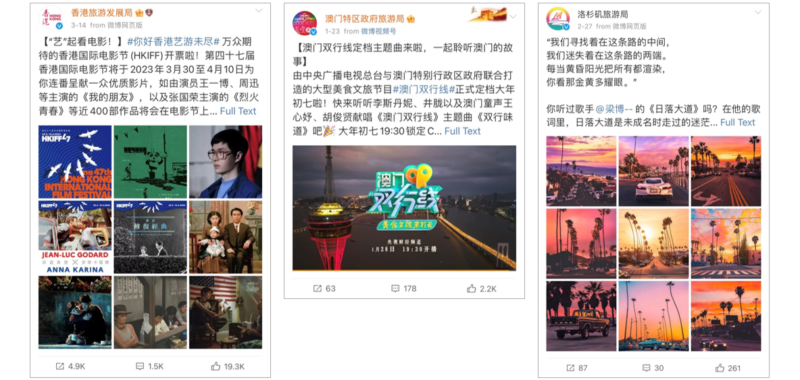 The Hong Kong International Film Festival, a travel TV show in Macau, and Sunset Boulevard in Los Angeles
Hong Kong's posts with the highest engagement were promotion for the Hong Kong International Film Festival (18k likes), a poll to vote for which concert followers would most like to see (10k likes), and a concert to commemorate the 20th anniversary of the death of Leslie Cheung (1,453 likes). Two of Macau's posts with more than 1,000 likes shared clips of a TV show about exploring Macau, and others promoted upcoming pop concerts.
The top Weibo posts from outside of Greater China included a video about winter in Vienna (261 likes), photos of Sunset Boulevard in LA with song lyrics from Liang Bo (253 likes), and a poll to vote for one of two typical Nagasaki dishes (248 likes).
Airlines
The recovery of international travel was unsurprisingly the biggest theme for international airlines in the first quarter of the year. This included a photo of All Nippon Airways planes in Shanghai, a very sophisticated documentary-style film from Cathay Pacific called "Nice to Meet You Again", a live streaming sales event from AirAsia, information from All Nippon Airways about long-haul routes connecting China to North America, and Emirates' announcement about the resumption of Dubai-Shanghai flights.
But similarly to in years past, the airline post with the highest number of engagements was more about Japanese figure skater Yuzuru Hanyu than any flights. All Nippon Airways posted a video of him on the 1st of January with a New Year's message, which received 9,176 likes.
Cruise Lines
Only six international cruise lines remained active on Weibo in Q1 2023, down from eight in 2023. But these accounts were generally much more active than they were last year, and engagements rose, too. The most-liked post (56 likes) was published right at the end of the quarter – Royal Caribbean announced that following new travel policy changes from the Chinese government, they intend to restart international cruises from China as soon as possible. This bodes well for the rest of the year. Royal Caribbean's second most-popular Weibo post (50 likes) was a partnership with a cosmetics account and giveaway of an electric toothbrush – similar to the cruise line's most popular 2022 content about consumer electronics. The other two top cruise line posts of the quarter (55 and 30 likes) were Viking Cruises' repost of KOL content about the China Merchants Yidun.
Museums and Attractions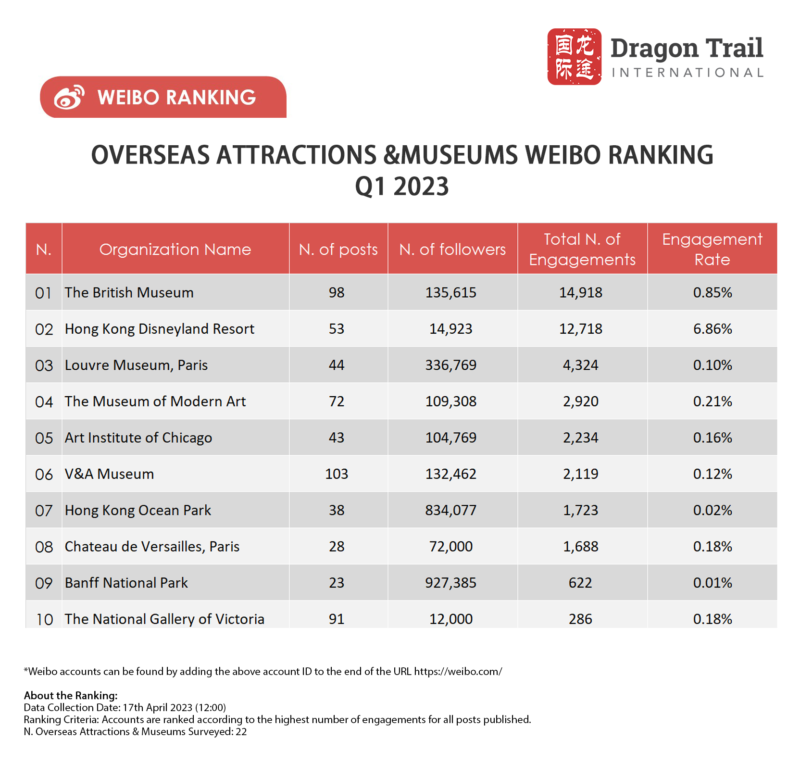 Attractions increased content and engagements in Q1. Hong Kong's Ocean Park posted almost as many times in Q1 as in all of 2022, and increased engagements by more than seven times. Hong Kong Disneyland actually increased its already outstandingly high engagement rate, to 6.86%. Beyond Hong Kong, New York's Museum of Modern Art moved up the rankings from 7th place in 2022 to 4th, also increasing engagement rate. And the British Museum also saw a significant increase in engagement rate from 0.17% to 0.85%, although in this case as we will see, it was not for positive reasons.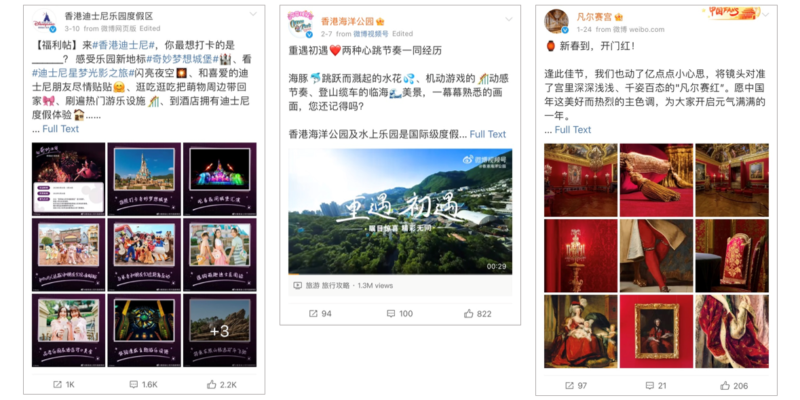 Top posts from Hong Kong Disneyland, Hong Kong Ocean Park, and Chateau de Versailles
Hong Kong Disneyland published many of the Weibo posts with the most engagements in this category, particularly posts with giveaways of park tickets (1,645 likes) and Chinese New Year gifts (1,324 likes). A Chinese New Year video featuring the characters Duffy and Friends was also particularly popular, with 1,217 likes.
The British Museum actually published the Weibo post with the most engagements in Q1 2023, including most likes (3,323). This attention began with a Twitter post from the British Museum about a Korean music performance, in which they used the phrase "Korean Lunar New Year." This angered Chinese netizens, who took to Weibo to post the comment "Merry Korean Christmas" as a response to British Museum posts, and let the museum know that they should write "Chinese New Year" as the 'correct' term for the holiday. (You can read more about the controversy here.)
Other posts that were popular but not controversial included Ocean Park's welcome back post and video on 7 February, the Chateau de Versailles' Chinese New Year post of their "red room", and MoMA's collection of sheep artwork to wish Aries star signs happy birthday.
Hotels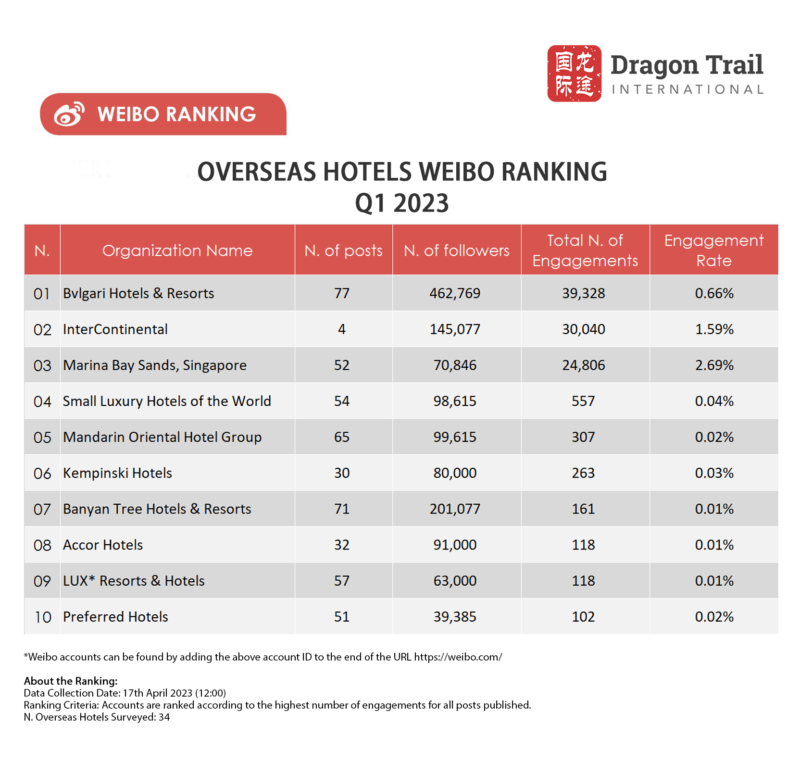 Bulgari Hotels, InterContinental, and Marina Bay Sands stand out in the hotels category for both engagement rate and number of engagements. Most of the top posts came from Singapore's Marina Bay Sands, with engagement driven by the popularity of the celebrities featured in the posts: New Year and Chinese New Year posts with Singapore brand ambassador Jackson Wang, and promotion for a Hacken Lee concert. The other most engaging posts came from Bulgari, including a promotion for the Beijing spa, a celebrity pajama party in Beijing, and a short video on the Bulgari Hotel Tokyo's chocolate master.