Dragon Trail's WeChat Rankings Report for Q3 2022 examines and analyzes the performance of six categories of travel brands on WeChat: national tourism organizations (NTOs), destination marketing organizations (DMOs, referring to regional and municipal tourism boards), airlines, cruise lines, museums and attractions, and hotels. Accounts are ranked by the total number of views their articles receive.
The most popular content published by tourism brands on WeChat in Q3 2022 is very diverse in both topic and form, showing how versatile this social media platform can be. Articles that attracted the most readership included celebrity content, practical travel information, interactive posts, short videos, and unique takes on Chinese holidays.
NTOs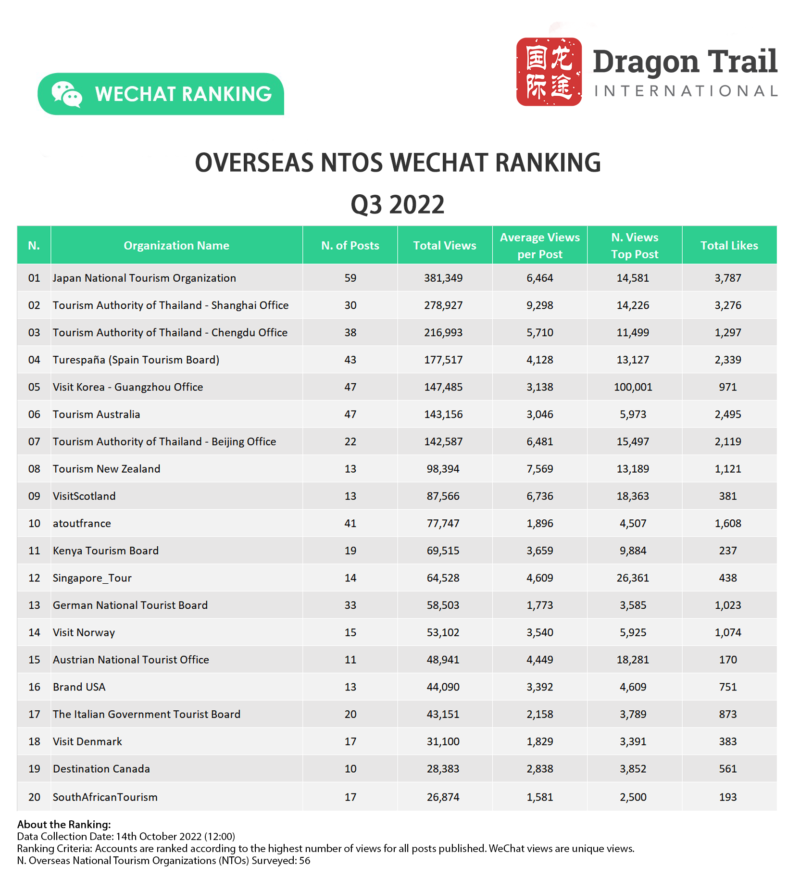 Japan ranked first for total article views this quarter. But rather than a travel recommendation, the tourism board's top article was intended to promote Sino-Japanese friendship, profiling a Japanese actor Yano Koji, who has lived in China for more than 20 years. The WeChat post received more than 14,500 views, with many comments of support for the actor. Other popular articles by the Japan National Tourism Organization include wanghong ("internet famous") foods, ramen recommendations, and cute trains.
With the highest average article views, the Tourism Authority of Thailand's Shanghai Office ranked second. They published articles with more than 10k views on almost a weekly basis, with practical information attracting the most attention. This included new policies about long-term residence visas, and the country's complete reopening to international travelers.
Visit Korea's Guangzhou office posted just three articles more than last quarter, but got more than twice as many views. This was thanks in large part to an article with more than 100k views that asked readers to vote for the pop idol they wanted featured at October's monthly event at Korea Plaza in Guangzhou, supported by the tourism office.
The second most-read NTO article of the quarter was by Singapore Tourism Board, about a pop-up fashion space at Voco hotel, by singer, record producer, and fashion designer Jackson Wang. On Weibo, posts by Marina Bay Sands about Wang's "Human Remix" party received thousands of engagements.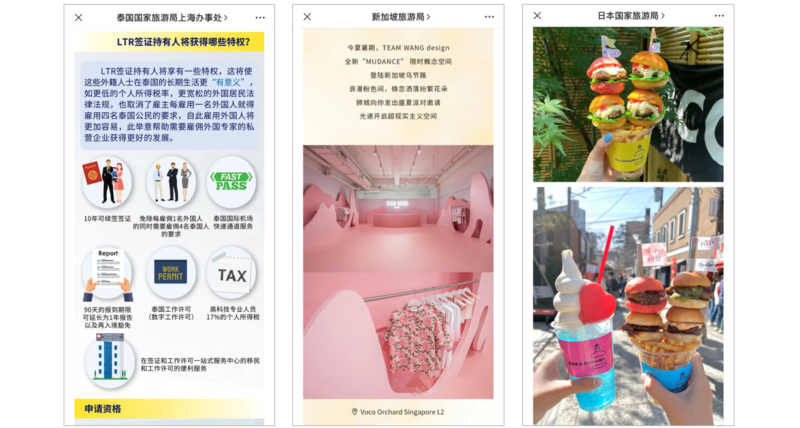 (Left to right) Information from the Tourism Authority of Thailand's Shanghai Office on long-term residence visas; Jackson Wang's pop-up in Singapore; and "internet famous" food in Japan
VisitScotland had a series of popular articles on WeChat in Q3, about an activity to generate your own Scottish avatar based on your ideal Scotland itinerary. Meanwhile, the Austrian tourism board promoted mountain tourism, and the Tourism Authority of Thailand's Beijing office published popular polls asking readers to vote on various categories including wellness tourism and food.
Ranked 11th, the Kenya Tourism Board is the highest ranking African tourism board since we started tracking WeChat accounts in 2017. Their most popular content was a series of short videos, showing Kenya's nature, wildlife, traditional culture, cuisine, and outdoor activities.
DMOs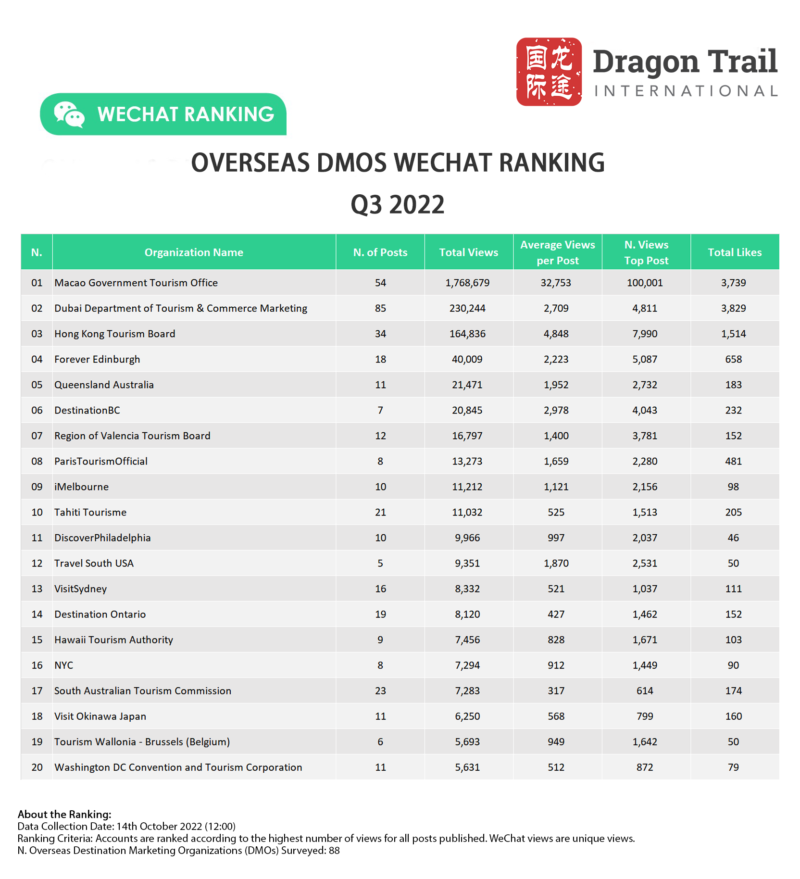 Macau received 74.4% of all views in the DMO category. Its four top articles, including two that surpassed 100k views, were about border crossing, testing, and quarantine policies. This was followed by content on hotel and flight promotions, local cafes, and the Sands Shopping Carnival.
Hong Kong promoted lots of content related to Cantonese pop music this quarter, as well as destination recommendations. Edinburgh's top article, with more than 5k views, was about Queen Elizabeth II, commemorating the monarch after her death in early September.
Airlines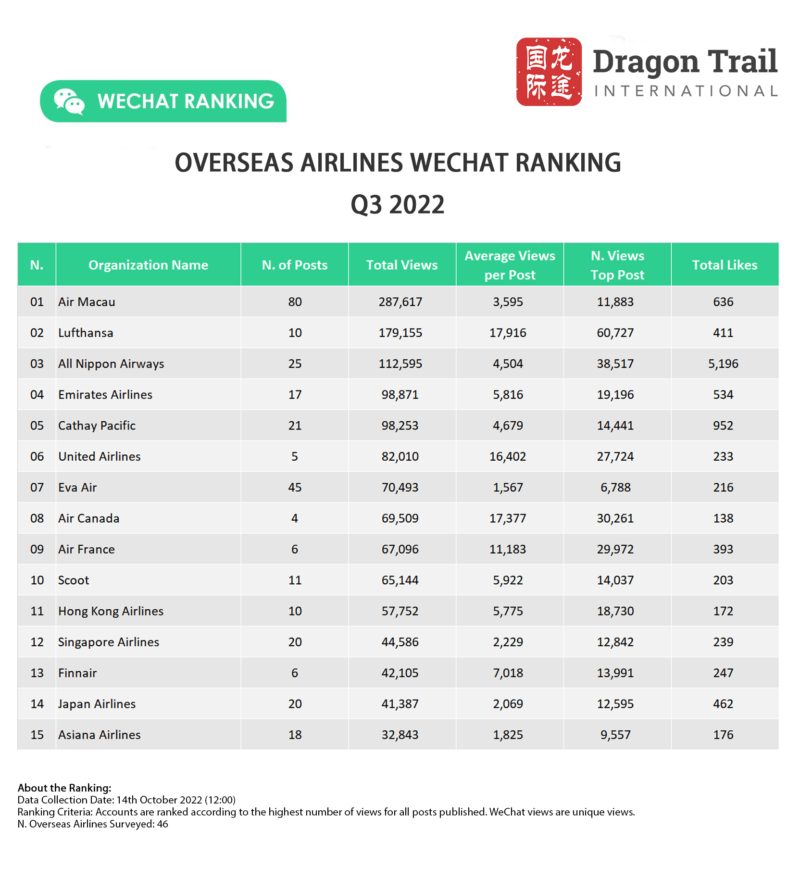 Nearly all of the top articles for the quarter in the airline category were one of two topics: Newly relaunched flights, and flight cancellations as a consequence of China's circuit breaker policy. This policy, which suspends flights as a consequence for having positive cases on board a previous flight, was slightly relaxed from 7 August 2022, but still results in suspensions.The most popular airline article of the quarter was about the relaunch of Frankfurt-Beijing flights with Lufthansa, and Air France's Paris-Beijing flights were also big news.
The second most popular airline article of the quarter was Japanese figure skater Yuzuru Hanyu's retirement announcement, publicized through his sponsor All Nippon Airlines. Hanyu is wildly popular in China, and currently drives most of ANA's social media popularity on Chinese social media.
Cruise Lines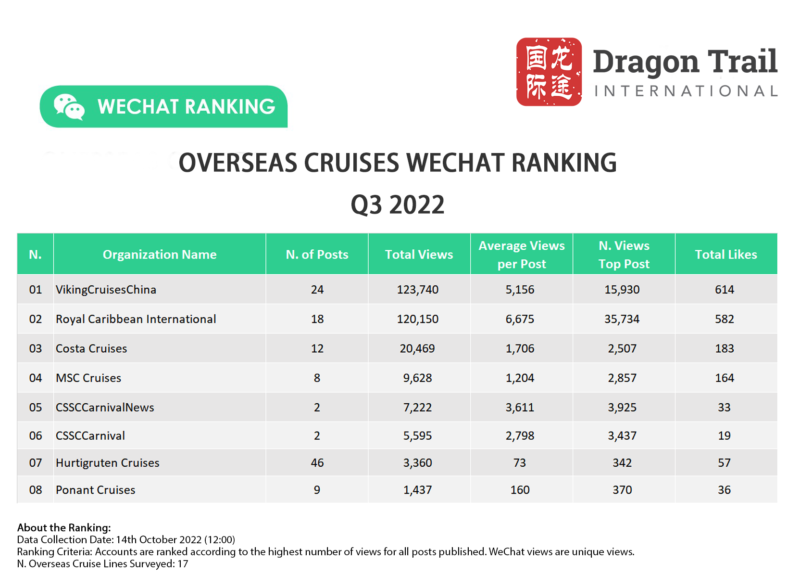 With eight active international cruise line accounts on WeChat, this social media platform is better suited to the cruise industry than Weibo – where activity and engagement is generally lower. Perhaps this is because the target audience for cruises is older, or because WeChat allows for more in-depth articles and creative design.
At the top of the rankings for total views is Viking Cruises, which is operating cruises currently in China with a joint venture with China Merchants, launched last year. Their most-read article of the quarter was the announcement that China Merchants Yidun would start cruising from Shanghai again in November. Other top articles included the opportunity to work as a cruise "tester", and a Mid-Autumn Festival promotion, encouraging readers to travel with their parents.
With the second-most total views and highest average views per post, Royal Caribbean International asked and answered a lot of questions about cruising in Q3. The most engaging (in terms of readership) were: "How much money do you need to cruise for a year?" "How does Royal Caribbean's biggest ship feed 7k people?" And "Can you drink toilet water?" The latter explained where the drinking water on a cruise ship comes from.
Museums & Attractions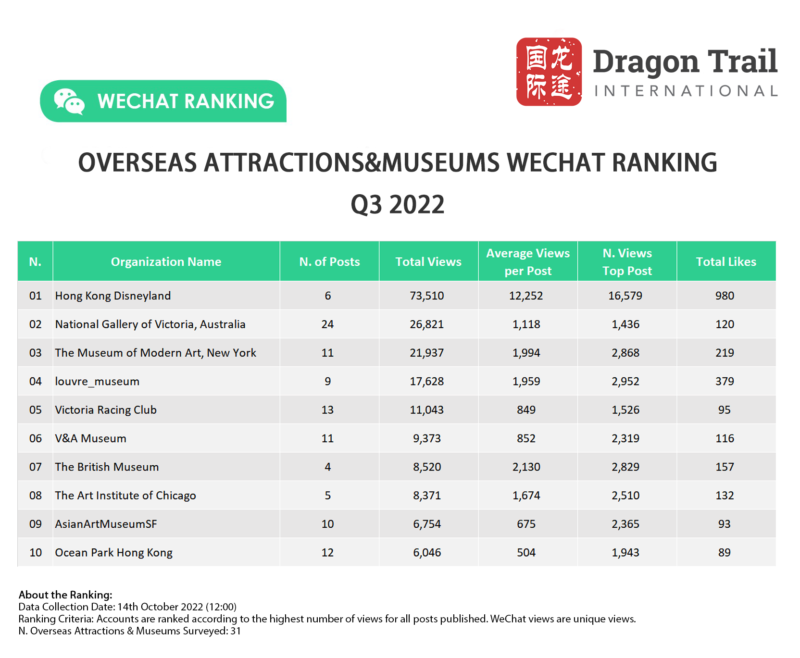 Hong Kong Disneyland remains firmly at the top of the Museums & Attractions category, with a higher average views per post than earlier quarters this year. Many of the theme park's posts featured LinaBell, a character first launched at Shanghai Disneyland last year, with huge popularity in China. LinaBell made her Hong Kong debut in September, with a future debut planned for Tokyo.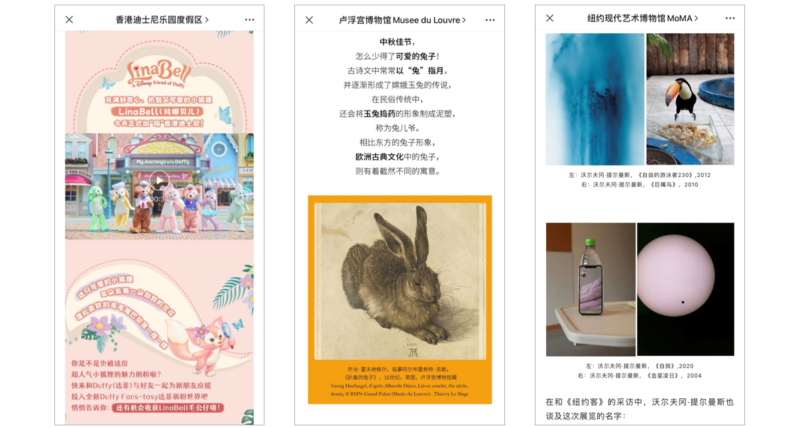 (Left to right) LinaBell comes to Hong Kong Disneyland; Rabbits at the Louvre; Wolfgang Tillman at MoMA
Top articles by museums this past quarter were an article on a Wolfgang Tillman exhibition and a Qi Xi ("Chinese Valentine's Day") post entitled "1,000 Kisses Deep" by the Museum of Modern Art in New York, a Louvre post on rabbits for Mid-Autumn Festival, and two articles about Queen Elizabeth II by the British Museum – one before and one after her death.
Hotels
Marriott Bonvoy remains the most active international hotel account on WeChat, and that with the most views and highest average views per post. The hotel group came out with a wide variety of promotions during the quarter, with top posts including romantic content for Qi Xi, a promotion and giveaway featuring virtual influencer Angie, and a partnership with Tencent's King Power League e-sports competition.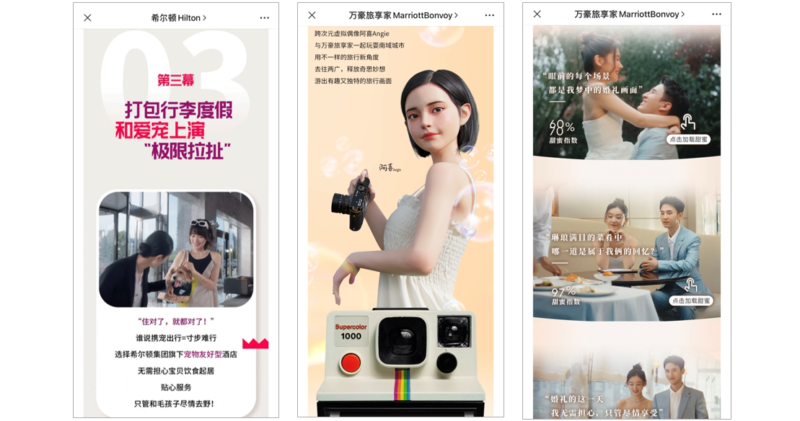 (Left to right) Hilton's "stay right, all right" campaign; Marriott's partnership with virtual influencer Angie; Marriott's star-studded weddings promotion for Qi Xi
The most-read hotel post of the quarter, with more than 100k views, was an article from Hilton entitled "Stay right, all right," which showed various ways the hotel brand is making stays better and more convenient. This included mobile room keys, and pet-friendly hotel policies.