Client: South African Tourism
Project: Virtual Roadshow & Virtual "FAM"
Services: B2B Marketing, Virtual Events, Live Streaming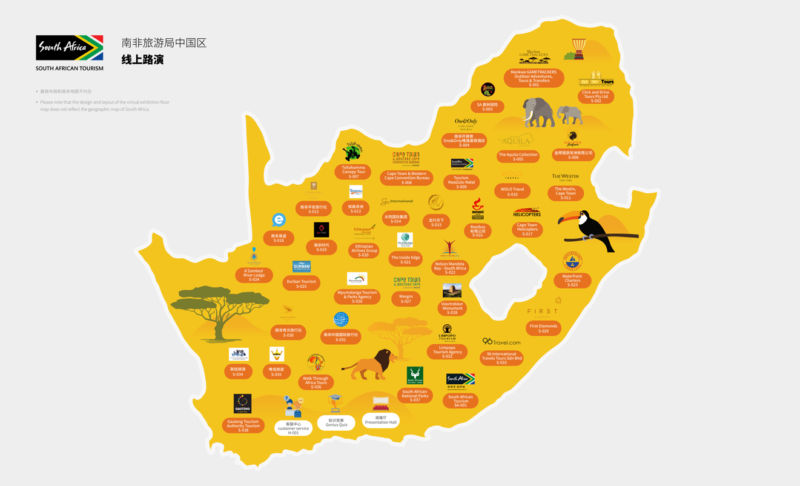 From 13-17 September, 2021, the South African Tourism Beijing office held a virtual roadshow and series of virtual fam trips, to prepare for the successful recovery of Chinese tourism to South Africa. The event brought together 39 selected exhibitors with 210 Chinese buyers, for an online exhibition and five days of one-on-one video meetings.
In addition to the exhibition and meetings, the roadshow stood out for its "Virtual Fam Trip" feature, with three days of rich presentations from Beijing and throughout South Africa, transporting hundreds of Chinese travel trade professionals to South African hotels, national parks and more through digital technology.
At-a-Glance Results
Page Views: 7,930
Exhibitors: 39
Buyers: 210
Completed meetings: 1,196
Highest single day meeting record: 293
Meeting success rate: 94%
Virtual fam trip attendees (as of 21 October): 502
"The South Africa virtual roadshow in China, developed by Dragon Trail, succeeded in creating and strengthening meaningful business connections between our local and Chinese partners. The 'virtual FAM' webinar sessions, carried out alongside the 1:1 business meetings, added a dynamic content element to showcase the destination to Chinese partners in a fresh, engaging way. Dragon Trail expertise and tech capabilities exceeded our expectations, and we are looking forward to leveraging the platform for future travel recovery," said South African Tourism Hub Head Asia Pacific Mansoor Mohamed.
Buyers mentioned that they understood both the tourism resources and pandemic situation in South Africa better after the event, and had positive feedback on the videos and information on accommodation.
Virtual Fam Trips
Using Dragon Trail's all-in-one virtual event platform on WeChat mini-program and web, South Africa's roadshow began with an opening ceremony, featuring speeches from South African Ambassador to China Dr. Siyabonga Cwele, Chef Operating Officer and Acting CEO of South African Tourism Sthembiso Dlamini, and South African Tourism Hub Head Asia Pacific Mansoor Mohamed.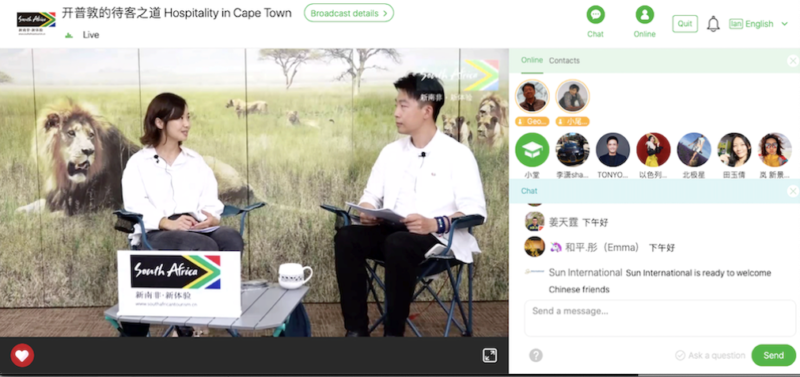 Virtual fam trips were introduced by presenters at South African Tourism's Beijing office
On each of the following three days, the conference program consisted of virtual fam trips, focusing on three themes: "Hospitality in Cape Town", "Seaside Leisure and Wild Nature of South Africa", and "Safari at National Parks". The fam trips were each hosted from a studio at South African Tourism's Beijing office, but primarily consisted of video footage taken in South Africa.

The "Hospitality in Cape Town" fam trip offered travel trade professionals an in-depth introduction to multiple hotel properties in and around Cape Town
In the "Hospitality in Cape Town" fam trip, travel agents were guided around hotel properties in and near Cape Town. Chinese-speaking guides took attendees virtually into hotel rooms – even opening up and inspecting the contents of the mini bar, for example. In the safari-themed fam trip, professional guides in South Africa took viewers to see lions, giraffes, water buffalo, and more in the wild.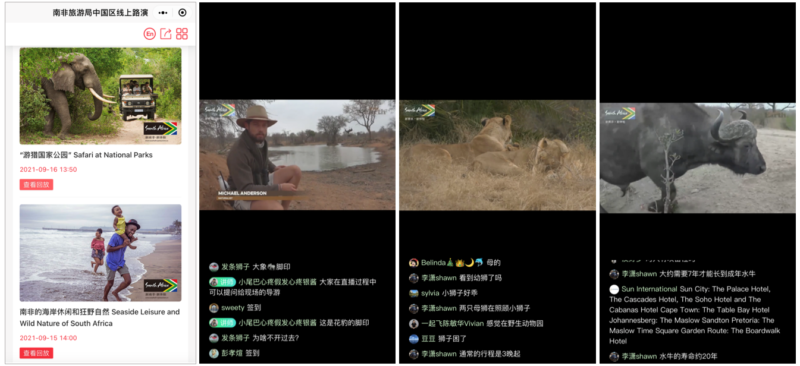 The virtual safari fam trip was run by expert guides, and included close encounters with lions, water buffalo, giraffes and many other wild animals

These virtual fam trips are a game-changer for the tourism industry, allowing them to give travel trade professionals around the world an in-depth understanding of a country's tourism resources, on a scale that would be impossible to achieve on a physical trip. The virtual tours attracted nearly 350 live viewers, with 155 playbacks as of 21 October.
Exhibition and Meetings
Nearly 40 exhibitors, including destinations, hotels, receptive tour operators, and airlines all had virtual booths at the roadshow, which could be found through the exhibition map, or by an easy-to-sort list. At the booths, buyers could watch videos, download materials, and contact the exhibitors.

Virtual booths could be discovered through the interactive floor map, or by easy-to-sort listings
Each day of the show offered three hours of one-on-one meetings, with a total of 1,196 meetings conducted over the course of the week.
Ease of Use – Around the Globe
The exhibition and meetings navigation was fully bilingual in both Chinese and English, with live interpretation for meetings available on request. The event was run through Dragon Trail International's TNTM virtual events platform, developed in 2019, which can be accessed via a mobile WeChat mini-program for ease of use for Chinese agents, as well as through a desktop computer interface.
Buyer Incentives

The event included several ways to incentivize buyers' engagement through prizes, including lucky draws at the end of the fam trips, and a "Genius Quiz," where participants had to correctly answer 15 questions about tourism in South Africa – based on information shared at the roadshow – to be eligible to win prizes including stylish backpacks and South African rooibos tea.
Scan the QR code below to check out South Africa's road show and fam trip on WeChat mini-program. Please contact us to find out how Dragon Trail can help your destination, organization, or business to run online B2B events and fam trips for the Chinese market.