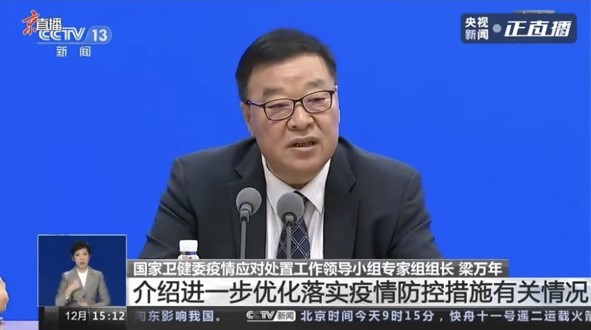 China's State Council announced 10 new COVID management policies on 7 December, 2022
In a 6 December lecture at Qinghua University, Deputy Director of China's CDC Feng Zijian said that there was no way to continue with a Zero COVID approach. His statement followed 10 days of rapid changes and adjustments to China's COVID control policies. What exactly is new, how did we get here, and what should we expect from China in the coming months?
The Background: Policies and Protests
Since 2020, China has taken a "Zero COVID" approach to the pandemic, through contact tracing, extensive testing, and strict quarantine requirements. The approach was highly successful in fighting the original strain of COVID-19, allowing Chinese people to live relatively normal lives, and for domestic travel to bounce back just months after Wuhan reopened. However, as the virus mutated to become more infectious, the approach has become less sustainable.
Starting from the summer of 2022, China switched to a "dynamic Zero COVID" policy, intended to be more flexible. While outbound group and package travel remains banned as of early December 2022, and any "non-essential" international travel strongly discouraged, there were adjustments to China's quarantine-on-arrival and international aviation policies over the summer.
More opening was expected to happen after China's October 2022 National Party Congress. And indeed, on 11 November, quarantine for international arrivals was dropped to a 5+3 model, meaning five days in a quarantine hotel, followed by three days at home. Prior to the end of June 2022, quarantine-on-arrival could mean anywhere from 14 to 28 days in a quarantine hotel, so 2022 has seen significant progress in this area. The 11 November policy changes also ended the circuit-breaker aviation rule that canceled flights as a consequence for importing COVID cases, and reduced testing requirements for international travelers.
Domestically, in theory, restrictions were also meant to relax – for example, by not requiring "green codes" to enter certain public venues. But this came up against soaring infection numbers, highlighting the difficulties in easing the Zero COVID policy while Omicron spreads. Many cities – including Shanghai – enacted new rules to prevent any arrivals from other cities from accessing public venues such as restaurants or gyms, for three to five days. Chongqing went into hard lockdown, while communities and districts in other cities like Beijing and Guangzhou locked down, and residents were required to do a daily PCR test.
The weekend of 25-27 November saw protests across China against the country's Zero COVID policy, catalyzed by a deadly fire in a locked down building in Urumqi, and built up frustration after years of restrictions – including a particularly difficult 2022.
"A New Phase" from the End of November
Following protests across the country related to harsh and ongoing COVID prevention measures, the State Council held a press conference on 29 November. Responding to recent outcries, the National Health Commission stated that it was monitoring the quality of PCR testing in the country, and that locked down buildings should be released as quickly as possible – with emergency exits kept open during any lockdown. In what will be a necessary step for China to transition away from Zero COVID, the National Health Commission said it would accelerate vaccination efforts and urged elderly citizens to complete their COVID vaccinations to protect the health of themselves and their families.
Then suddenly, the city of Guangzhou opened up, releasing locked-down residential districts, reopening restaurants, and ordering schools to go back to in-person classes. Some public places stopped checking health QR codes, and testing stations started to disappear. On 30 November, searches for flight tickets originating in Guangzhou soared by 400% compared to the previous day.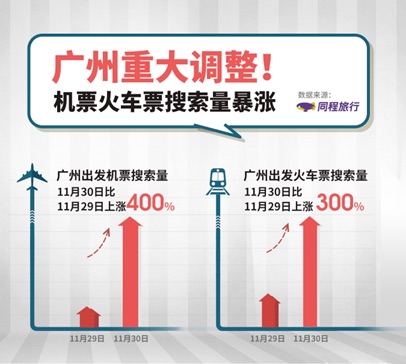 Within one day of relaxing COVID control measures in Guangzhou, searches for flights increased 400% and searches for train tickets by 300%, reported Tongcheng
On 30 November, State Council Vice Chair Sun Chunlan said that because of the weakened strength of the Omicron variant, widespread vaccination, and accumulated experience in controlling the virus, China had entered a new phase in its epidemic prevention work. She said that efforts would especially be increased to vaccinate the elderly, build up reserves of medicines to treat COVID, and build treatment facilities.
As of the start of December 2022, 90.28% of China's population (1.27 billion) is fully vaccinated, with 811 million having received booster shots. 86.4% of citizens aged 60+ have been fully vaccinated, but only 65.8% of those aged 80+. The latest, accelerated vaccine campaign is expected to be completed in three months, especially targeting nursing homes, places frequented by the elderly, and tour groups with a large proportion of elderly travelers.
On 7 December, the State Council announced 10 new steps to optimize China's approach to COVID. These include more detailed plans for topics discussed throughout the previous week, such as the acceleration of vaccinating the elderly. Most importantly for the travel industry, it was announced that PCR test results and health codes would no longer be checked at cross-provincial border crossings, or upon arrival after cross-provincial travel. Ctrip immediately reported a 160% increase in flight searches, and said that flight searches for the Chinese New Year period were higher than they've been in the last three years.
The 7 December announcement also included a major change to China's quarantine policy. Now, mild cases will be able to quarantine at home rather than a centralized facility. If they have negative PCR tests on both the 6th and 7th day after quarantine, they will be released. Close contacts will have the option to quarantine at home for 5 days or go to a quarantine facility for this period.
Changing the Narrative around COVID's Dangers
In the meantime, Chinese media and experts have begun to stress the weakened nature of the Omicron variant – Beijing News described it as a "bad cold" on 29 November. Other state media have run interviews with people who have recovered from COVID, to spread awareness about how mild it usually is. In his 6 December lecture at Qinghua University, Deputy Director of China's CDC Feng Zijian told the audience that should expect to become infected – but due to the high proportion of cases that are asymptomatic or mild, they shouldn't feel worred about getting infected.
The Months to Come
In the short term, we expect an adjustment period to China's new policies. Already, implementation differs between locations, and this will probably continue as community, local, and city-wide management catches up with the new policies and contends with the rise in infections that are sure to accompany loosened restrictions.
Balancing opening up with public health concerns will be a major challenge. But it's clear that this is the beginning of the end for the Zero COVID policy. At present, investors and the travel industry are expecting China to finally reopen in 2023, hopefully as early as the spring.
For regularly updated information as this situation progresses, please check our "Chinese Inbound and Outbound Travel Rules" blog post, follow us on LinkedIn and Twitter, and sign up for our monthly newsletter.
Looking forward to the return of Chinese outbound tourism in 2023? Contact us today for a bespoke recovery plan for B2C and B2B marketing.