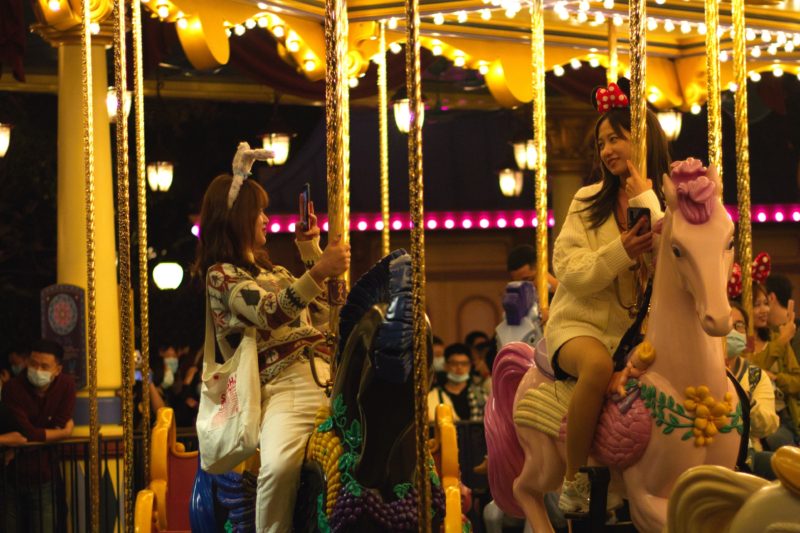 (Updated on 6 September 2021 with new information about the opening of Universal Studios Beijing.)
China is the largest theme park market in the world by visitor numbers, and been driving the global growth of theme parks since before the pandemic. The TEA/AECOM 2019 Theme Index and Museum Index: The Global Attractions Attendance Report found that mainland China was home to four of the world's top 25 amusement parks by visitor numbers in 2019, and that the most dramatic increases in visitor attraction attendance in the Asia Pacific region in 2019 came from China.
Theme parks have stood out during China's domestic tourism recovery, with Shanghai Disneyland one of the most popular destinations both during the Chinese New Year and May Labor Day holidays in 2021. China Central Television's financial news reported a 20% increase theme park visitation during the 2021 May holiday, compared with the pre-pandemic level in 2019.
Understanding China's love of theme parks can help tourism destinations and businesses around the world to attract visitors both domestically and – when outbound travel resumes – internationally. Here are five tips to do so, with recommendations for theme parks, destinations, and other brands.
1) Get to know the target markets
Of course, theme parks are a popular family travel destination. But that's not the full picture when it comes to the Chinese market. According to China Tourism Academy's May 2021 Shanghai Disneyland Travel Trends Report, close to half of visitors to Shanghai Disneyland are aged 20-30 and visiting without children. Another 30% are 30-50 year olds visiting without children. Mafengwo's 2020 report on Gen-Z travelers identified theme parks as one of the top spots to "check in" or "daka", and revealed that two out of the top live streams on Mafengwo's platform were from theme parks in China.
This means that destination or theme park marketers have a lot of options for China in terms of who you want to target, with Gen-Z and family travelers both key audiences.
2) Destinations: Use theme parks in your broader marketing strategy

Theme parks you'll only find in Japan
Pick up on the popularity of theme parks for destination marketing that will go beyond traditional sights and itineraries, and help inspire younger travelers. For example, the Japan National Tourism Organization's 7 May 2021 WeChat article introduced readers to five off-the-beaten-track Japanese theme parks, including the Kusukusu Treehouse, Sanrio's Puroland, and a recreation of the Netherlands called Huis Ten Bosch. With more than 14,600 views, this was one of JNTO's most-read WeChat posts in Q2 2021.
3) Parks: Make overseas theme parks accessible
Some theme parks outside of China have gone the extra mile to cater to Chinese visitors, and this is certainly something to consider for post-COVID travel, especially given the popularity of theme parks among younger Chinese, who are expended to drive tourism recovery.
Universal Studios Hollywood is one stand-out example, with a Mandarin VIP Experience package introduced in 2019 – a full-day tour with a Mandarin-speaking guide, including special access to VIP areas and private catering.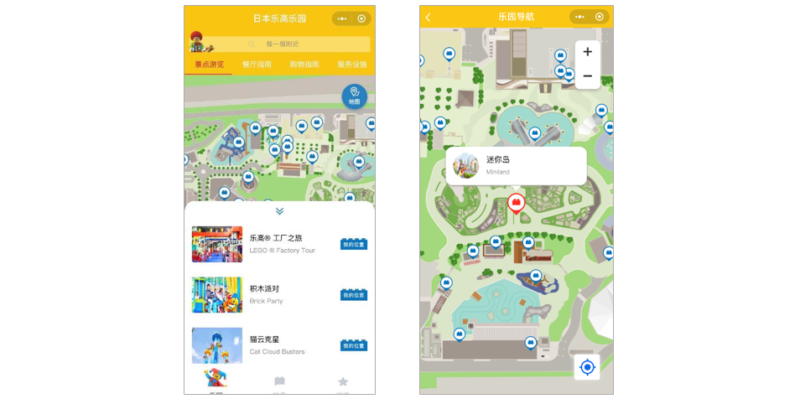 Legoland Japan's WeChat mini-program
In 2018, Legoland Japan launched a WeChat mini-program featuring an interactive map, showing all of the attractions/rides, F&B venues, shops, and service facilities – including toilets, ATMs, changing facilities and first aid. Location-based services allow visitors to use the mini-program to navigate the park while they are there, but the mini-program could also be accessed and used ahead of time to help plan a trip and take a virtual tour.
4) Destinations and other brands: Work together with Chinese theme parks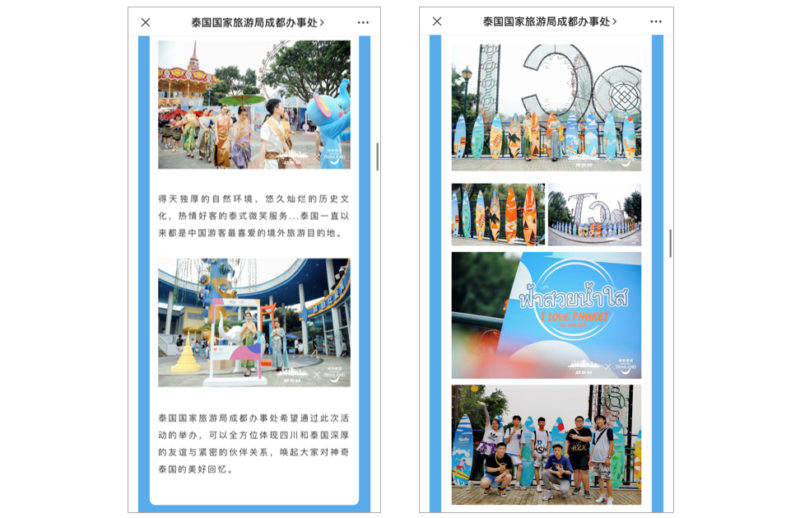 Thailand festival at Happy Valley Chengdu, June-July 2021
Is it possible to harness the popularity of China's domestic theme parks to promote future outbound tourism? It's something the Tourism Authority of Thailand is hoping for – their Chengdu office partnered with Happy Valley Chengdu this summer for a seven-week Thailand-themed festival at the amusement park, including cultural performances, photo-friendly pop-up installations, a recreation of a Thai "floating market," and UGC photo competition on Weibo. Beyond travel, other brands can also look into promotions and partnerships together with popular Chinese theme parks as a way of increasing visibility among consumers.
5) Parks: Consider how to stand out
With nearly 3,000 theme parks in mainland China alone, how do you stand out in this market?
First, it's important to understand what the appeal of the parks is. The China Tourism Academy's 2021 report on Shanghai Disneyland stressed that visitors are interested in relaxing, not just "checking-in." Around 20% of visitors attend shows, and this number is growing each year. Other activities include interacting with the characters, eating, shopping, photography, watching fireworks shows, and enjoying the park's environment. Hong Kong Disneyland's WeChat content focuses not on the rides, but instead on photography, live shows, and the characters you can meet.
For major theme park enthusiasts, don't underestimate the appeal of daka tourism and its ritual appeal – some travelers will especially want to visit every Disneyland, or every roller coaster in the world. The merchandising possibilities for this are huge, as theme parks – as well as global brands like Hard Rock Café or Starbucks – will know well.
Meanwhile, within China, new theme parks continue to open. The big one this year is Universal Beijing Resort, which will become Beijing's first international theme park, complete with luxury resort hotels, extensive dining options geared towards local tastes, and seven "Themed Lands." The park is set to officially open to the public on 20 September, 2021, during the Mid-Autumn Festival holiday.