Despite the importance of social media, a Chinese website remains an essential platform for reaching both Chinese consumers and the travel trade. It's true that WeChat is important – so important that some have recently suggested that having an Official Account on WeChat can substitute for a website, but we would argue that WeChat should complement a website rather than replace it entirely. A company or destination that only has a social media account but no website might be perceived as less trustworthy. And according to Fung Global's 2017 report, Chinese travelers are still more likely to research their trip using websites and blogs (51%) than social media (21%).
Furthermore, the rules and regulations for WeChat Official Accounts are constantly changing, with a recent update making it even more difficult for companies without a Chinese business license to apply for an Official Account, and the likelihood that Official Accounts will now be required to spend RMB 1 million in advertising to get 'verified' status. In this unpredictable environment, it's safer not to give up the idea of a website just yet. But websites have their own set of rules, too, which are important to understand before you get going.
1) Your website should be hosted in China
Foreign-hosted websites can be very slow to load in China, and they can even be blocked altogether, regardless of the content. China's 'Great Firewall' filters all information from foreign websites to make sure it's safe for China, resulting in very slow load times. Additionally, as many websites are hosted on a shared server, if even one of these sites has content that the Chinese authorities choose to block, it means that every other website hosted by that server gets blocked, too. Censorship aside, there are also issues of capacity. Internet usage outpaces investment in underwater cables and routing systems, and this results in frequent bottlenecks and extremely slow uploads of external sites. Companies and organizations that want Chinese viewers to access their site need to consider that it will be frequently unavailable or load at such slow speeds that people may become frustrated and go elsewhere. This is particularly critical for complex websites, where a lot of information has to load, or those featuring payment. To avoid this happening, your Chinese website should be hosted in China, with a .cn address. You'll need to get a Chinese ICP license to register a website, which is a complicated process and requires that your company is legally registered in China, but an agency like Dragon Trail can obtain the ICP license and register the .cn domain on your behalf.
2) They must be mobile-optimized
Just a few years ago, Chinese web design was much different to Western websites, with busier pages, animation, flashing buttons, and even elements that would bounce back and forth across the screen. Things have changed quickly, though, and we are now seeing websites that look more or less the same as their Western equivalents.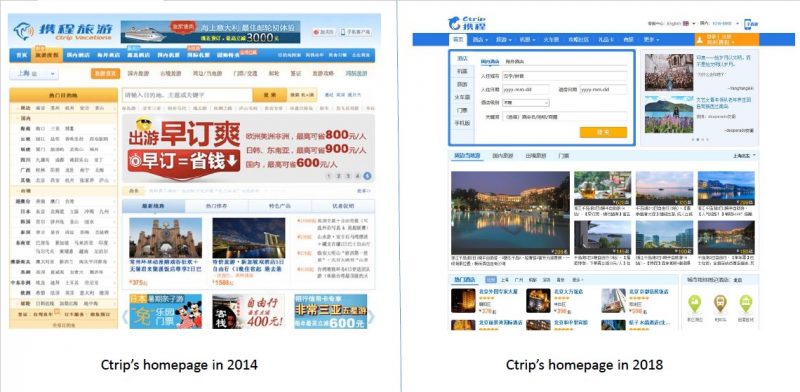 In terms of adjusting your website design for a Chinese audience now, the crucial thing is that it is mobile-optimized. As of 2017, 97.5% of Chinese netizens access the internet through a mobile device. Also in 2017, 59% of Chinese online travel bookings were made using mobile devices, in contrast to just 22% in the US. The mobile version of your Chinese website is thus more important than the desktop version and should be prioritized.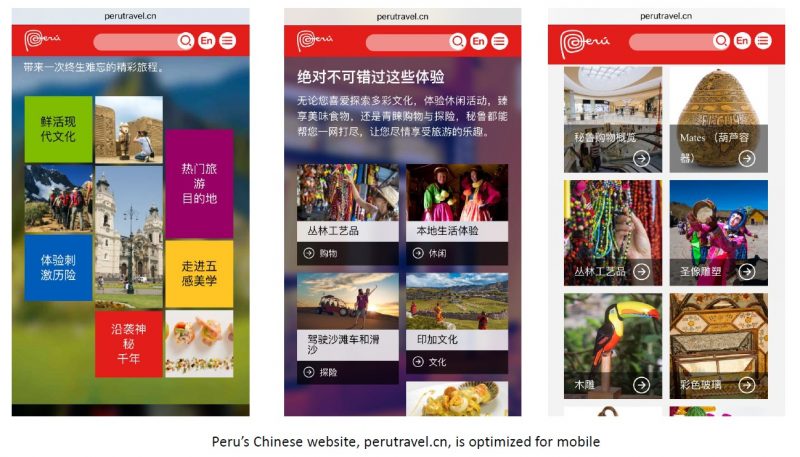 3) Your website should be in Chinese
Although many Chinese who travel internationally may speak English, they will still prefer to research their trips in their own language if possible, for convenience and clarity, and having a website in Chinese indicates your respect for and commitment to this market. When creating Chinese-language content, you should prioritize simplified Chinese characters, used in Mainland China. Traditional Chinese characters are used in Hong Kong and Taiwan, and can be added as another option for your webpage through a dropdown language menu.
4) Adapt your content
Instead of merely translating your website content directly into Chinese from its original language, you should ideally also adapt the content to a Chinese audience. Get to know what it is about your destination or travel product that is most interesting to Chinese visitors by looking at Chinese travel websites such as Mafengwo, Qyer or Baidu Travel. Consider some of the trends in Chinese tourism, too, such as shopping, self-driving, trying local foods, and experiencing nature. It's also important to understand that many destinations are long-haul, potentially once-in-a-lifetime trips for Chinese tourists, and this will also affect what they want to see and do. A British tourist to Ireland, or an American tourist to Canada, for example, might have quite different priorities than a Chinese tourist would for those same destinations. Consider China-friendly recommendations (Chinese speaking venues, guides, recommendations from other Chinese tourists), present highlights up front, and build detail into deeper levels instead of overloading the user with everything about your destination or business.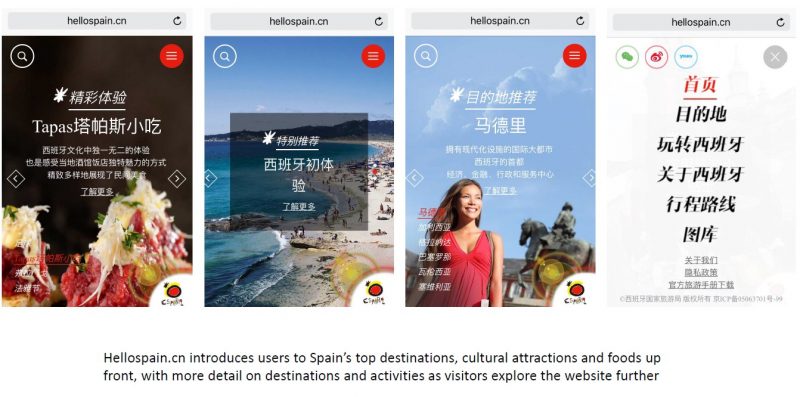 5) Be aware of political pitfalls
Since Marriott's website was shut down in China for one week in January, 2018 as punishment for the fact that Marriott Rewards had listed Taiwan, Tibet, Hong Kong and Macau as separate countries in a customer survey, foreign companies' websites have been even more strictly scrutinized by the Chinese authorities than ever before, and it is important to avoid making mistakes that could result in similar consequences. Avoid using the Taiwanese flag – it is safer to use the Hong Kong flag to indicate the traditional character option, but better still to use the characters for 'simplified' and 'traditional' in place of flags. Even though citizens of Hong Kong, Macau and Taiwan do in fact have different passports and different visa requirements and thus must be listed separately on some websites – an airline, for example – to avoid any trouble, these "territories" as they are officially classified by the Chinese government, should be labelled as "Chinese Hong Kong", "Chinese Taiwan" etc. Although foreigners need a special permit as well as a Chinese visa to enter the province of Tibet, citizens of that province are Chinese, with Chinese passports, so there is no circumstance under which they need to be listed separately when it comes to booking forms or any other travel documents.
6) Be careful about sharing content from third party apps and websites
If your Chinese website links to content outside your own site, keep in mind that YouTube, Facebook, Twitter and Instagram are all blocked in Mainland China. So if you have a YouTube video embedded on your website, for example, people in China will not be able to watch it. In this case, we recommend using a Chinese video platform such as Tencent Video – this is what Dragon Trail does on the Chinese versions of our own website to show our China Outbound Travel Pulse videos, which can be watched on YouTube by viewers outside China. With sharing and other social media links, including widgets to blocked Western social media platforms can slow down your Chinese website and also look ugly, as the logo images will show up as error messages. Instead, add plug-ins for Chinese social media such as WeChat and Weibo. China also has its own Instagram equivalent, called Nice.
7) Booking systems need to be localized
Businesses such as hotels, airlines or attractions that offer online booking should also localize this, to make sure it runs properly and quickly in China. Moreover, Chinese OTA websites and apps often have a shorter booking path, and use different forms of login information and third party authentication, than Western equivalents. Dragon Trail's development team can address these and other localization issues, offering localized booking paths that are integrated with your regular booking system to make the experience easy for both your business and customers within China.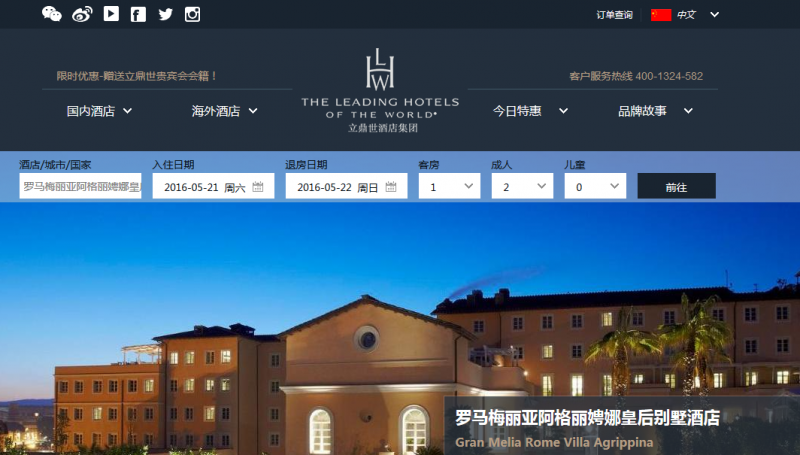 Leading Hotels of the World's Chinese website has a localized booking path
As an example, Dragon Trail developed a booking path for Leading Hotels of the World, which was localized for the Chinese market, fully hosted in China and integrated into the hotel's central booking system (Trust) through API connectivity, guaranteeing immediate synching to the central system. The booking system reduced the speed to an average of 0.4-1 seconds, compared to the 3-4 seconds of the overseas-hosted booking system. Having a Chinese-hosted booking system also enhances reliability by eliminating the risk of the website getting blocked, as well as increasing the loading speed. Leading Hotels of the World's Chinese booking path is also mobile-friendly, and directly linked to WeChat to facilitate bookings from this channel. Finally, the design of the booking path has been localized with a simple, clear design and streamlined process to make it more similar to Chinese OTA websites.
8) Payment systems also need to be localized
International credit cards are not so widely used in China, so together with a booking system, you will also need to accept more common forms of Chinese payment. The most basic one is China UnionPay, the payment system used with all Chinese bank cards. Mobile payments are now becoming the most commonly used form of payment in Chinese cities, so ideally you should also accept WeChat Pay and/or Alipay – these are the two leading mobile payment platforms in China, and most Chinese will have both. Setting up Chinese payment infrastructure is another service that Dragon Trail can provide.
9) They should be SEO-friendly for Baidu
Google is yet another essential of the Western internet that is blocked in China, and has only a 2% market share. Chinese search engine Baidu, on the other hand, had a 76% market share in 2017, so this is where you want to focus for Chinese SEM. Advertising on Baidu is similar to on Google, but unless you have a registered business in China, you will need to go through an agency to set up a Baidu account on your behalf. Baidu requires an up-front payment, i.e. minimum investment on keywords, of RMB 50,000. Buying pay-per-click listing has proved to be the most cost-efficient way for websites to increase their visibility on the Chinese search engine results pages (SERPs) and drive more traffic to the landing page of a specific website. You will need to think about which keywords your potential target market uses online to research your destination or services, incorporate these into your copy, and don't forget to track results and make adjustments to the strategy as necessary.
10) You can use your website for B2B, too
B2B continues to be important for travel marketing in China, especially for newer, niche destinations or activities – such as travel to South America or skiing in Switzerland. The most affluent Chinese travelers are also likely to use a travel agent to create personalized itineraries. So providing B2B information on your website is a good way to educate and reach the travel trade, in addition to consumers. A good example of this is adventure cruise company Hurtigruten's website, which has a special B2B section with information about and contact details for their sales representatives based in Asia, including offices in Singapore, Taiwan, Hong Kong and Mainland China.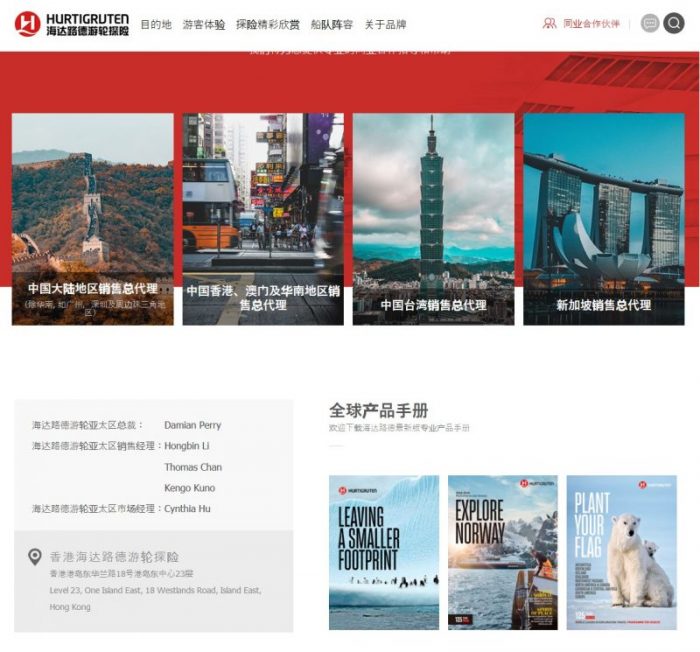 Hurtigruten's Chinese website includes a B2B section