Attending a travel fair or exhibition is an excellent way to make contacts with the travel trade and provides important opportunities for face-to-face meetings and relationship building, which are both very important for establishing trust and understanding with Chinese travel agents. Choosing which exhibitions to attend will depend on what part of China you want to focus on, as well as if you are looking for a purely B2B show, and whether you want to focus on general leisure tourism, luxury or MICE.
Our guide introduces the most important travel trade exhibitions in China, to help you find the ones that fit your brand and business goals the best. For more information on Chinese travel trade shows, watch our March 2019 webinar.
Below is a table of the most important travel fairs and exhibitions in China, as well as their usual dates.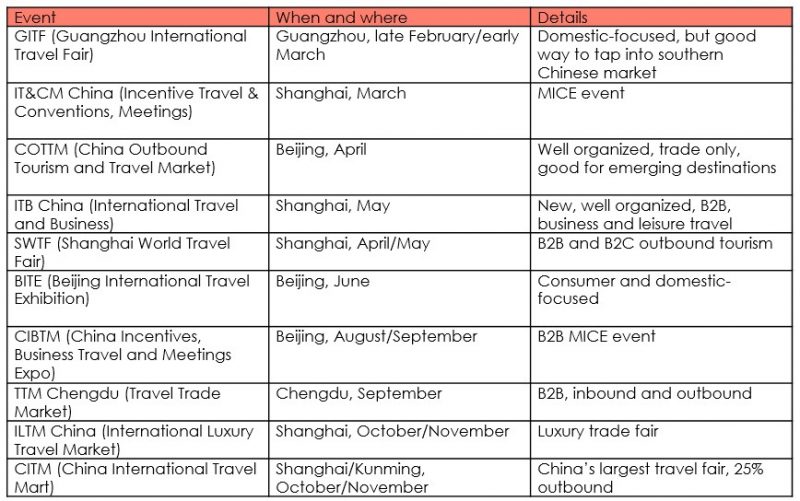 China International Travel Mart (CITM)
China's most established travel exhibition, running since 1998, and organized by the China National Tourism Administration (CNTA) and now by the Ministry of Culture and Tourism (MCT). It is held on alternate years in Shanghai and Kunming. Though it focuses on domestic and inbound tourism, outbound travel makes up about 25% of the total space. This used to be the only show in town, attracting the participation of all NTOs, but so many other fairs to choose from, CITM is no longer the obligatory event it once was. However, the show does bring in buyers from all of China's major travel agencies, and maintaining good relations with the MCT is important for both the national tourism boards and for multinational companies. For one day only, the exhibition is dedicated to trade. The rest of the exhibition time is open to the general public.
Who should go? Tourism boards and travel businesses who are just getting started and want to establish themselves in the market.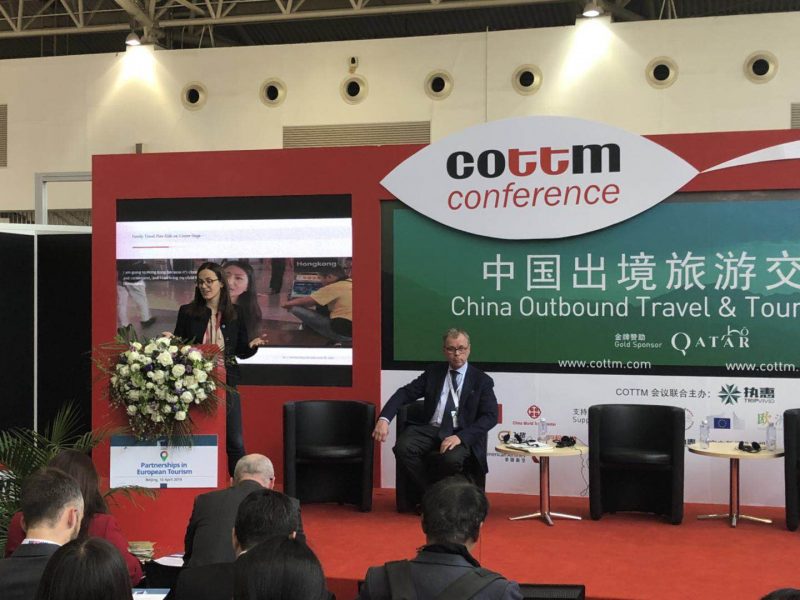 COTTM in Beijing includes an exhibition and conference
China Outbound Travel and Tourism Market (COTTM)
This is one of the only China outbound travel markets purely for the trade, catering primarily for Beijing and north China agents. Organized by Tarsus Exhibitions, a UK company, it has been held at the Agricultural Exhibition Center near the Embassy district in east Beijing since 2004. This exhibition and conference benefits from the experience and professionalism of a European event management company. Meet Dragon Trail at COTTM 2019.
Who should go? Tourism boards and travel businesses who want to establish and improve B2B contacts with travel agencies in the north of China.
ITB China
An offshoot of ITB Berlin, this relatively new show (held since 2017) is another one of the best, and most professional events in China. This three-day B2B travel conference and exhibition is organized in partnership with TravelDaily China and includes business and leisure travel, as well as travel technology. Held in Shanghai, the exhibition attracts buyers from travel agencies all around China, but is best for targeting Shanghai and its surrounding cities, including Hangzhou and Nanjing. Meet Dragon Trail at ITB China 2019.
Who should go? Tourism boards and travel businesses who want to establish and improve B2B contacts with travel agencies in Shanghai and other parts of eastern/southeastern China.
Beijing International Tourism Expo (BITE)
Organized by the Beijing Municipal Tourism Board since 2004. This consumer-focused show attracts a few foreign NTOs, mostly from Asia. Most of the visitors tend to be consumers as it takes place during the summer school holidays, when travel agents are at their busiest. The domestic travel market takes the bulk of the space, with regional tourism promotion boards using ever fancier, colorful stands and music/dancing to attract visitors.
Who should go? Businesses looking to market or sell travel products or destinations directly to consumers from Beijing.
Shanghai World Travel Fair (SWTF)
The first event focusing on ADS outbound destinations. Officially, 1.5 days are reserved for trade-only visitors. The fair features the WTM Professional component for B2B attendees and WTF Tourism Carnival for B2C activities. The event is conveniently held in central Shanghai.
Who should go? Businesses and brands who are especially interested in B2C and B2B marketing and sales to the Shanghai area.  
Guangzhou International Travel Fair (GITF)
Focusing mainly on domestic travel, GITF primarily attracts those with regional interests and Hong Kong companies. Guangdong province is the largest single exporter of outbound tourists, and representation at this fair can be useful in tapping into this vibrant market.
Who should go? Businesses and brands who want to tap into the vibrant outbound travel market from Guangzhou.
China Travel Daily Conference
Normally held in the autumn in Shanghai, this event is scheduled for August in 2019, and combined with the Digital Travel Show. Produced by China Travel Daily, the conference addresses China's online travel market as well as distribution, marketing and travel tech, with a concurrent travel tech trade show. Attendees include the big Chinese names in online travel, like Alibaba, Ctrip, Qyer, and Tuniu, as well as foreign companies like Booking.com, TripAdvisor and Hotelbeds. The conference is run in Chinese, with simultaneous interpretation available via headset.
Who should go? Companies that want to stay up to date with the latest developments in Chinese travel tech, and have a chance to meet or hear from a who's who in online travel.
International Luxury Travel Market (ILTM China)
The only luxury travel market focused exclusively on China. It has only been held since 2018 – previously, ILTM Asia Pacific was held in Shanghai between 2007 and 2017, but has since moved to Singapore. The fair targets suppliers of luxury travel products and services and provides fixed appointments of about 15 minutes during three exhibition days – we recommend doing due diligence on buyers and attending with a Chinese speaker to get the most from the event. The high cost goes towards having access to pre-selected, hosted buyers.
Who should go? Luxury travel brands who want to target Chinese travel agents.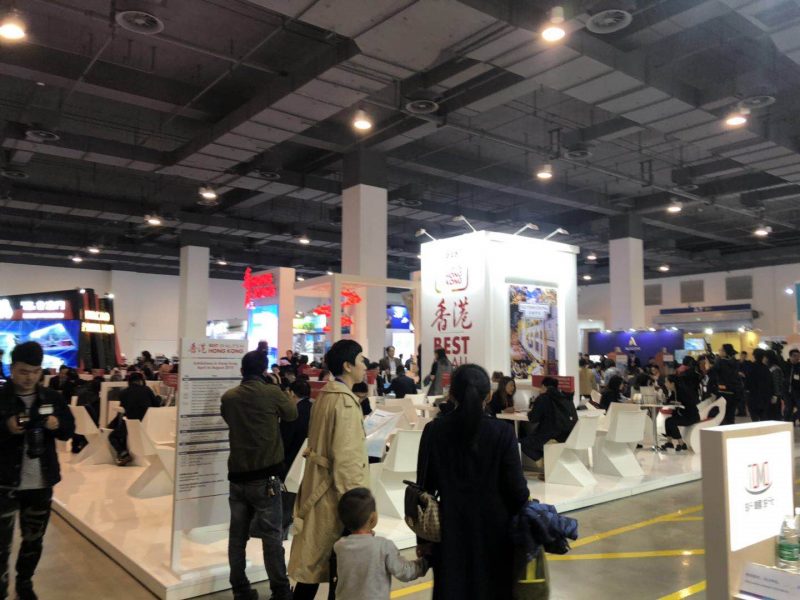 IT&CM in Shanghai is one of the biggest corporate travel exhibitions in China
Incentive Travel & Conventions Meetings China (IT&CM China)
Organized by media company TTG Asia in Shanghai, this MICE-oriented exhibition includes inbound, outbound and domestic travel, and offers several forum sessions addressing corporate travel issues. The focus is on regional business in Shanghai, and exhibitors are mainly hotel chains, airlines, and destinations appealing to corporate travel buyers. Visitors include Chinese business travel agencies, corporations and hosted buyers from the West. The exhibition offers a matchmaking program and pre-scheduled appointment system to make it easier for attendees to efficiently organize their time.
Who should go? Travel brands who want to connect with corporate travel buyers in the Shanghai area.
Incentive, Business Travel and Meetings Exhibition China (IBTM China)
Organized by Reed Exhibitions, this is Beijing's answer to IT&CM. This B2B event is focused upon corporate travel, and caters to buyers from multinationals, Chinese companies and government departments. The focus is on regional business in Beijing. The fair is attended by about 5,000 professionals, including approved buyers and visitors who are involved in organizing and decision making about Chinese domestic and international MICE events. The exhibition is complemented by presentations by featured suppliers, as well as on the Chinese MICE sector.
Who should go? Travel brands who want to connect with corporate travel buyers in the Beijing area.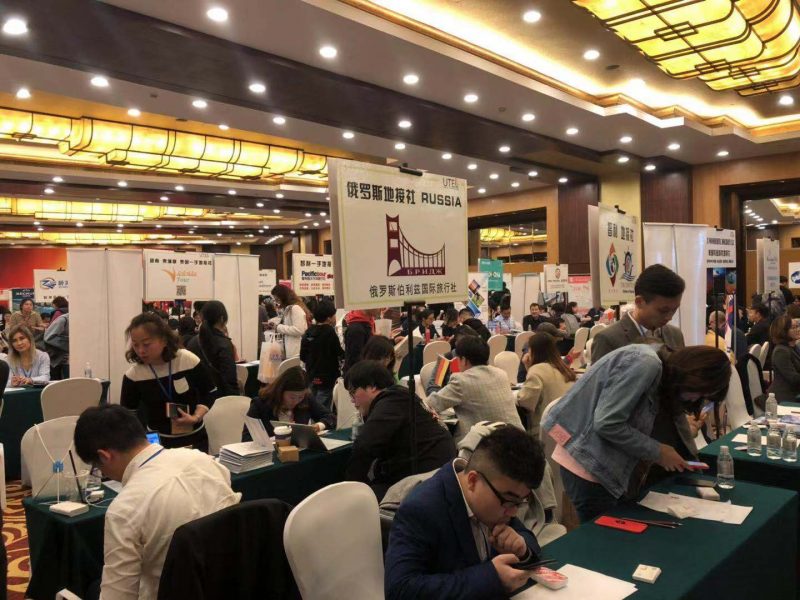 UTE (pictured) and COME facilitate one-to-one meetings with buyers in different cities around China
Universal Tourism Exhibition (UTE)
Run as a road show, with 22 separate events in different Chinese cities throughout the year, this is a busy event focused on one-to-one meetings with Chinese travel agents. Exhibitors are 85% overseas inbound tourism agencies, who can sell packages directly to Chinese buyers. Having a Chinese speaker may be essential for this kind of event.
Who should go? Inbound agencies, and those looking to target smaller Chinese cities.
China Outbound Travel Exchange Market (COME)
Similar to UTE, COME is a series of 22 events, held all over China. Exhibitors are overseas agencies, hotels, cruise lines, DMCs, transport, and study tour companies, and visitors are Chinese travel agents.
Who should go? Inbound agencies, and those looking to target smaller Chinese cities.