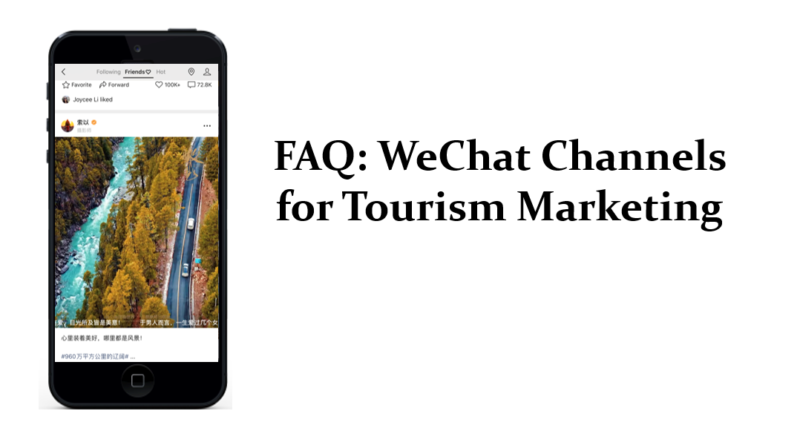 In February 2020, WeChat added a new feature to its arsenal: WeChat Channels, an open stream of short video and photo content. This, like the recent addition of hashtags (one hashtag per post, to be more specific) to articles on WeChat, shows a new push to make the Chinese super app a more open platform, better able to compete with rivals like Douyin.
How do WeChat Channels work, and how can they be used effectively for tourism marketing? Our essential guide answers your questions and offers best practice examples of early adopter tourism brands.
What are WeChat Channels?
WeChat Channels is a section on WeChat accessed through the Discover part of the app, right underneath Moments – one of WeChat's most popular features. Channels is a public feed of video and photo content, which can be searched using keywords and hashtags.
There are four different Channels feeds: 1) Accounts you follow; 2) Content that your contacts have liked; 3) Trending content; and 4) Channels content posts from nearby, if you give WeChat access to your location. However, you don't automatically see content posted by your WeChat contacts or Official Accounts that you follow – a Channels account is not the same as a normal WeChat account.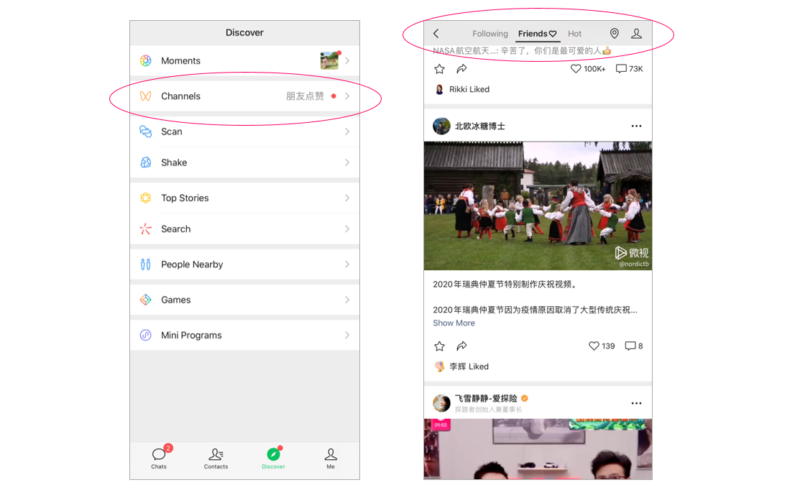 WeChat Channels are found directly under "Moments." Users can browse content feeds based on who they've followed, what their friends have liked, what's trending, and what's nearby.
Can anyone use it?
For personal accounts: All WeChat users with the latest version of the app can view the Channels section, but to post content here, you need real-name verification, and this requires being set up for WeChat Pay with a Chinese bank account, so it's difficult for non-Chinese outside of China to do.
For Official Accounts (OAs): At the beginning, during the beta testing phase, official accounts could join by invitation only, but now Channels is open to all OAs. However, an OA account must be managed through someone's personal WeChat account, and a personal WeChat account can only open a maximum of one Channel account.
Channel accounts can be verified, with a blue check mark that looks just like the one on Twitter. If your brand already has an existing WeChat public account, you can sync this verification easily. One public account's verification can only be used to verify one Channels account.
Why did WeChat add this feature?
WeChat may be China's number one mobile app and social media platform, but it does have one key weakness: It's a closed system that makes it extremely difficult for content to go viral and for brands to get wide exposure. Faced with new and serious competition from Douyin parent company Bytedance, among others, WeChat is currently making moves to open up a bit and give content a wider reach. By creating a public stream of short video content, WeChat now effectively has its own in-app version of Douyin or Kuaishou.
What kind of content is on it?
While Channels supports both photo and short (one-minute) videos, video content is the most popular and important.
In terms of trending content, Channels is filled with clips from music videos, particularly (as of mid-July 2020) K-pop girl group BlackPink – these often get more than 100,000 likes. Leading Chinese internet celebrity Papi Jiang is also popular on Channels, with tens of thousands of likes for her humorous videos. There's a lot of anime, as well as English tutorials – @Kristin英语老师, an English teacher based in Canada, gets thousands of likes for her videos. Overseas fashion brands have also joined Channels, with Gucci's posts attracting thousands of likes. What each individual user sees in their "hot" video feed on Channels is determined by an algorithm, which delivers content similar to what you've interacted with in the past.
Is it used for tourism marketing?
The launch of Channels at the peak of China's COVID-19 crisis, when all travel was frozen, was hardly ideal timing for tourism brands – especially international ones – to join the platform. However, it is being used by several dozen overseas tourism boards.
Visit Sweden is perhaps the most popular and developed account in international destination marketing – their video of a Michelin-starred chef creating a meal on a campfire in the middle of the forest got 172 likes, which is at the high end for a tourism brand. Peru was another early adopter, sharing videos to highlight the country's culture and landscapes. New Zealand recently shared a promotional video for a live-streamed three-day KOL caravan trip. Dubai posted a tourism recovery video and content about hygiene precautions, alongside more standard marketing content. Not a lot of hotels are using Channels yet – you'll find individual Hilton properties, but no Marriott account, for example.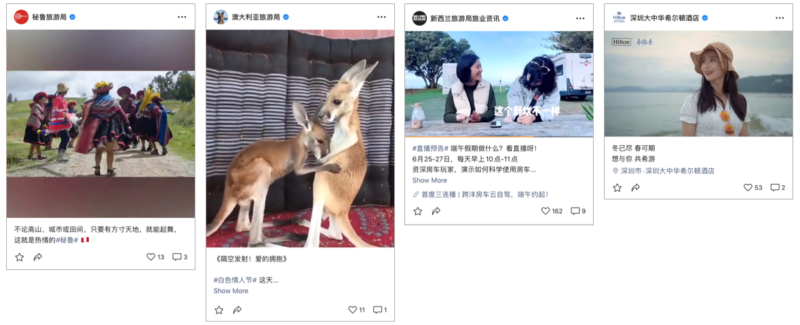 Early adopters of WeChat Channels for tourism marketing: PromPeru, Tourism Australia, Tourism New Zealand, and the Hilton Shenzhen Futian
Why would a tourism brand want to use it?
If you're already creating short video content for your brands, this is a good place to share it. The feed that shows you friends' recommendations means that your content can get shared among people with similar interests and trusted friends and family, which can more effectively put your brand in front of the right audience. If you're publishing video content anyway and do other WeChat marketing, opening a Channels account is a logical step.
Channels is fully combined with WeChat's social relationship chain: personal accounts, public accounts, Moments, and groups. This gives the platform advantages in delivering views for your content, and driving traffic to your public account. Douyin videos are blocked within the WeChat system, so if you are creating or want to create that style of short video and have it shared and seen on WeChat, this is the way to do it. With navigation to Channels directly under Moments, this gives your Channels content potential exposure to more than 1 billion WeChat users.
WeChat Channels allow articles published by Official Accounts to be inserted under the Channels video, increasing exposure for your content, and the platform also creates possibilities for driving traffic into the private zone, such as WeChat groups.
As of yet, it's an uncrowded field. Only a few dozen tourism boards have accounts, and some of these tourism boards haven't posted yet, or have only posted a few times. This means everyone is starting from zero at almost the same time. Obviously COVID-19 has had an impact on how fast this channel has taken off for outbound tourism marketing, and the average number of likes for tourism content is relatively low. But, as with all social media platforms, the earlier you establish yourself, the better the outcome can be. There's proof of this: The tourism board that stands out for the most popular content, Visit Sweden, was the first overseas tourism board to join the platform.
How can you attract views?
As with any social media platform, good, interesting content will help you to stand out. Collaborations with KOLs – such as Tourism New Zealand's camper van trip – can bring more views and add an extra element of entertainment. Keep in mind that videos can be one minute at the longest, so you'll need to catch people's attention quickly and offer something that stands out. A good example here is Visit Sweden's "The Edible Country" video. The video's caption tells you immediately that it's a Michelin-starred chef, but what you see is an outdoorsy-looking man sitting in the forest. This piques interest, and in the next 30 seconds, you see local ingredients being transformed into a gourmet meal, with explanatory captions in both Chinese and English, and a closing shot of the slogan, "The Edible Country."


Visit Sweden's "The Edible Country" video has so far been one of the most popular posts by a tourism board
Channels does use hashtags, but the Instagram trend of long blocks of hashtags in order to increase post views has not been replicated on WeChat so far. Keyword searches allow you to find both accounts and content, but the search results are based on words and phrases found within the name or content – they don't need to be formatted as hashtags.
You can also add location tags to your posts, which helps make your content easier to find, and to attract views from WeChat users who are interested in or visiting the destination.
One of Channels' newest features is aimed at driving engagement from viewers: When users comment on a video, the comments that receive the most likes are then displayed in a ticker across the bottom of the video – this is called "floating comments" or "浮评" (fuping).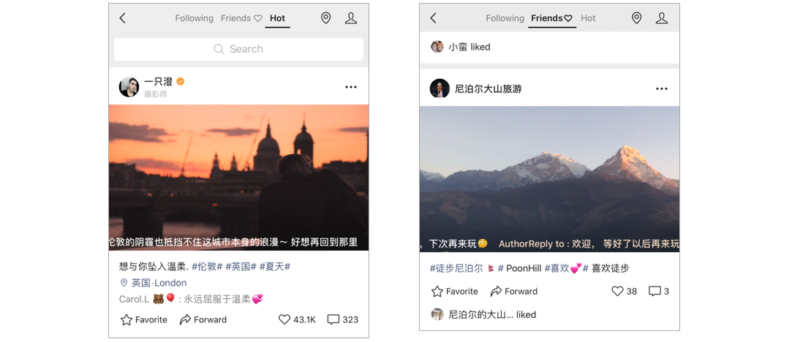 A new feature displays user comments in a feed along the bottom of Channels posts, encouraging user interaction
What's the difference between WeChat Channels and other Chinese social media platforms?
With WeChat, Weibo, Douyin, Xiaohongshu, Oasis, and so many more Chinese social media, it's natural to question if we've reached a state of platform overload. Is it worth signing up for and maintaining so many accounts, especially if success only means a few hundred likes?
Short content is a major trend that's here to stay, and in recent years, the rise of short video platforms like Douyin and Kuaishou has taken many Chinese netizens' attention away from WeChat and Weibo. Now, these older platforms are trying to take back lost territory – WeChat launched Channels, and Weibo has launched a video account feature, too.
All of these platforms are focused around short videos, with a maximum length of one minute. Some functions are the same, and others differ among the platforms, as each brand has its own positioning, target audiences, and user behaviors. For example, WeChat Channels' algorithm, which shows you similar content to what you've interacted with in the past, is a lot like Douyin's. But Douyin and Kuaishou offer more filters and other effects, whereas WeChat Channels only allows users to trim their videos, and add stickers, text, and background music. It's likely that these short video platforms may all coexist for a long time.