NTOs:
N.1 Destination Canada:
Destination Canada celebrated the country's 150th anniversary with an overview of the ceremonies taking place all around Canada.
N.2 Tourism Authority of Thailand – Beijing Office:
Thailand promoted its 2 month long campaign for shopping and dining ending on July 31st.
N.3 Tourism Australia:
Koalas, camels on the beach featured prominently alongside skiing and water rafting in last week's post about "freestyle" activities around Australia.
DMOs:
N.1 Las Vegas Convention And Visitors Authority:
The announcement of direct flight Beijing to Las Vegas received over 70,000 page views.
N.2 British Columbia:
Vancouver Richmond and Victoria get ready to celebrate Canada's 150th anniversary.
N.3 The Ontario Tourism Marketing Partnership :
Ontario also talked about Canada 150th birthday ceremony and the country's long lasting relationship with China.
Airlines:
N.1 Cebu Pacific:
Tickets to Manila for just RMB 1.
N.2 Cathay Pacific:
Return tickets to Hong Kong from RMB 460.
N.3 Hong Kong Airlines:
New route to Vancouver.
Cruise Lines:
N.1 Royal Caribbean International:
Members's promotions on "Membership day".
N.2 Royal Caribbean International Deals:
Pictures of Royal Caribbean's cruises.
N.3 Norwegian Cruise Line:
NCL Joy's launch ceremony.
To follow our weekly ranking, subscribe to our monthly newsletter or visit our LinkedIn account, or read our company's blog.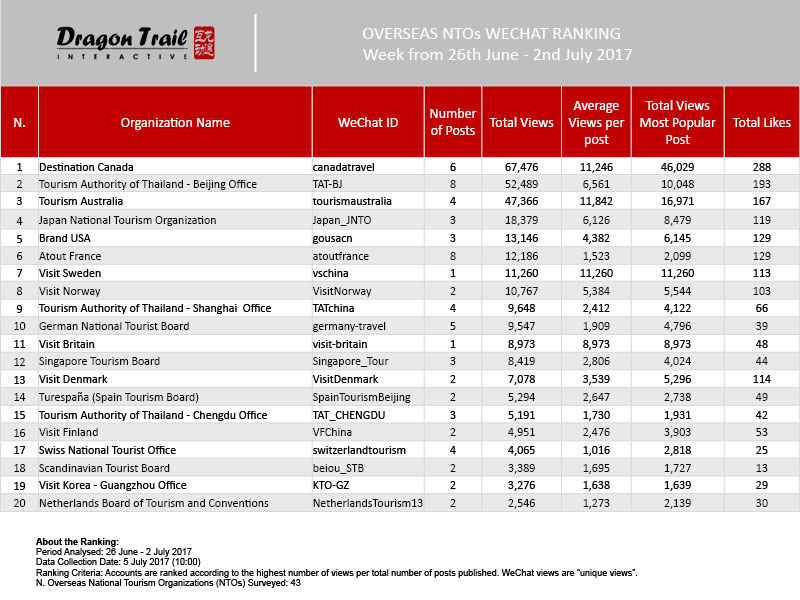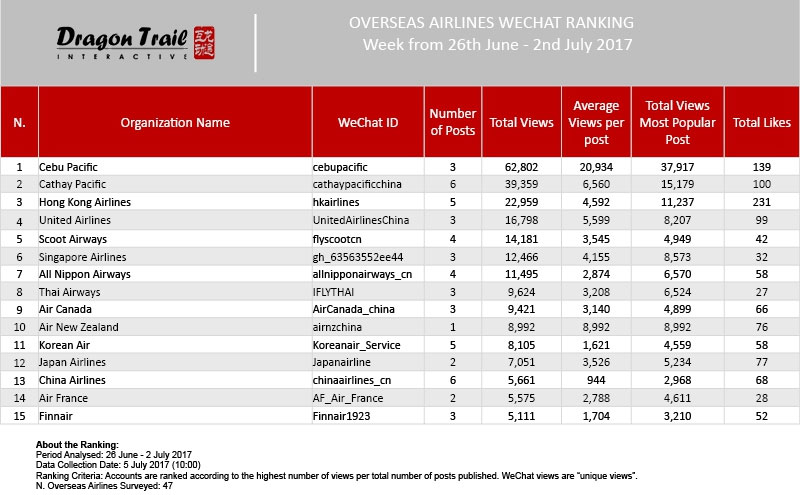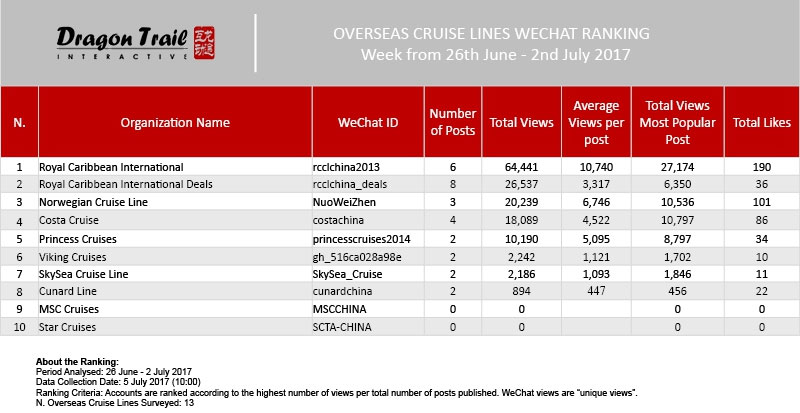 Cannot find your organization on the list?
If you do not see your organization on the ranking, feel free to get in touch with us and we will let you know where you are positioned. If your organization account has not been surveyed, provide us with your account ID, name and your contact details and we will make sure to add it in our database.
Contact us at michaela.mentasti@dragontrail.com
About the data: The data is jointly collected and compiled by Dragon Trail Interactive and Dingla, a B2B travel marketing platform assisting foreign organizations build long term travel trade relationships in China.
About the Ranking:
Ranking criteria: Accounts are ranked according to the highest number of views per total number of posts published. WeChat views are "unique views".
N. overseas National Tourism Organizations (NTOs) surveyed: 43
N. overseas regional and city Destination Marketing Organizations (DMOs) surveyed: 53
N. overseas airlines surveyed: 47
N. overseas cruise lines surveyed: 13