NTOs:
N.1 Tourism Australia:
Australia kept its top position with over 97,000 total post views by encouraging Chinese citizens to escape China's hot summer to Down Under's winter.
N.2 Destination Canada:
With over 67,000 total post views, Canada was back to the top 3 positions last week with a video introducing the 2017 Parks Canada Discovery Pass, free during this year's celebration for Canada's 150th anniversary.
N.3 Brand USA:
Brand USA encouraged readers to visit the museums for free on occasion of the Museum Mile Festival.
DMOs:
N.1 Hong Kong Tourism Board:
Last week's post featured a KOL's travel diary sharing the experiences on the remote Hong Kong island of Tung Ping Chau.
N.2 Dubai Department of Tourism & Commerce Marketing:
Sales promotion at Dubai airport's duty free shops.
N.3 Macao Government Tourism Office:
Macau's Southeast Asian restaurants are unveiled.
Airlines:
N.1 British Airways:
BA came in first with a post featuring fun facts about British culture, followed by a quiz and a campaign to win a free ticket to London.
N.2 Scoot Airways:
Discounted tickets from RMB 388.
N.3 Cathay Pacific:
Tickets to Hong Kong from RMB 490.
Cruise Lines:
N.1 Royal Caribbean International:
Summer sales promotion.
N.2 Costa Cruise:
Father day's sales promotion.
N.3 Royal Caribbean International Deals:
Summer sales promotion.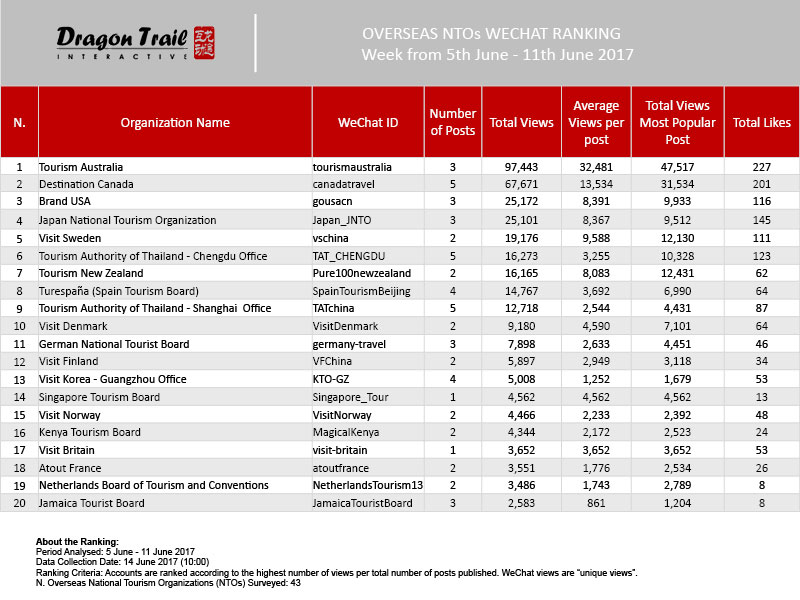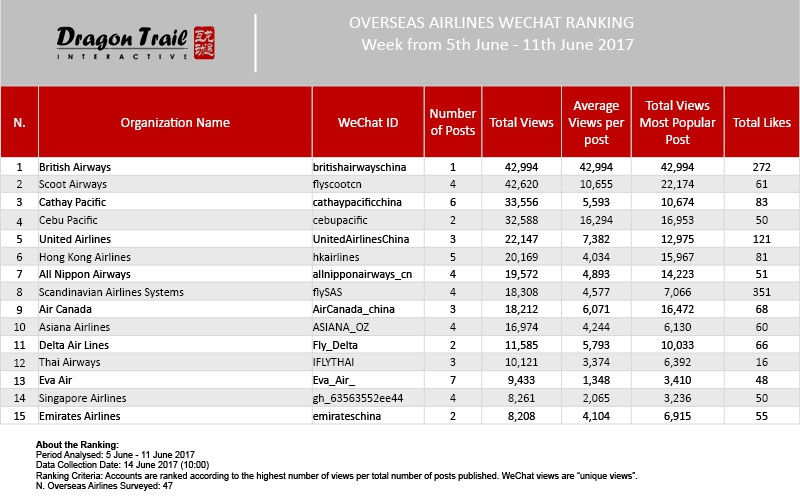 To follow our weekly rankings, subscribe to our monthly newsletter or visit our LinkedIn account, or read our company's blog.
Cannot find your organization on the list?
If you do not see your organization on the ranking, feel free to get in touch with us and we will let you know where you are positioned. If your organization account has not been surveyed, provide us with your account ID, name and your contact details and we will make sure to add it in our database.
Contact us at michaela.mentasti@dragontrail.com
About the data:The data is jointly collected and compiled by Dragon Trail Interactive and Dingla, a B2B travel marketing platform assisting foreign organizations build long term travel trade relationships in China.
About the Ranking:
Ranking criteria: Accounts are ranked according to the highest number of views per total number of posts published. WeChat views are "unique views".
N. overseas National Tourism Organizations (NTOs) surveyed: 43
N. overseas regional and city Destination Marketing Organizations (DMOs) surveyed: 53
N. overseas airlines surveyed: 47
N. overseas cruise lines surveyed: 13