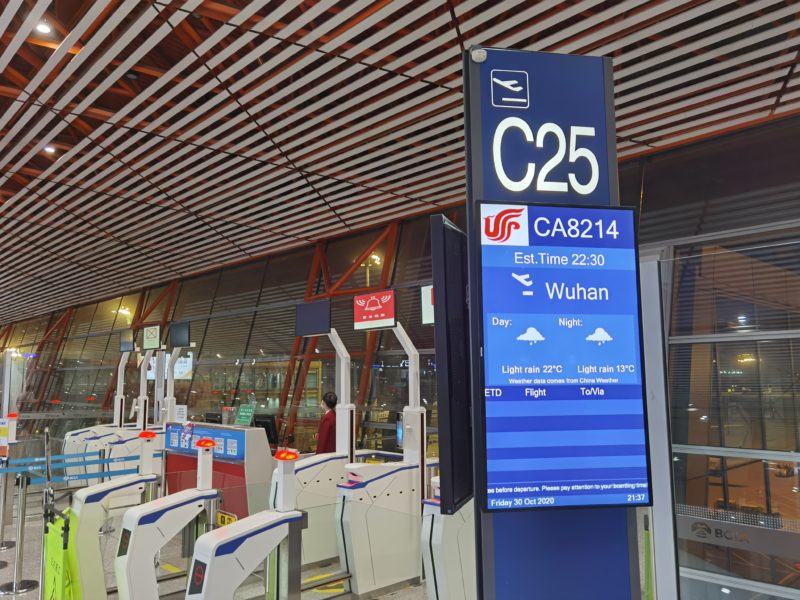 At the end of last month, I was invited to travel to Wuhan by the Wuhan Municipal Culture and Tourism Bureau as part of the first foreign group tour to visit the city after the epidemic. This was a chance to see first-hand how a city obliterated by the virus earlier in the year has recovered and is opening its arms to tourism once again.
Interestingly, back in April a survey was released naming Wuhan as the top city Chinese citizens wanted to visit when the pandemic was over. Travelers were stated as wanting to contribute to the economic development in the region following the epidemic and also take advantage of the hotels and attractions offering low prices. Wuhan has not had any locally transmitted cases since May, and is now using the slogan of "Hero City" as it starts to market tourism again – a bold statement acknowledging and owning its recent past.
The local government has also implemented a policy since the beginning of August to allow free admission to its top-level scenic spots for all visitors until the end of the year. This strategy to reignite tourism both locally and nationally is something other virus-stricken destinations can surely learn from.
From a global perspective, Wuhan is a city many had not heard of prior to this year, but from my short trip there and interacting with its sights, sounds and people, it does offer a great hope of how effective handling of the virus can bring life and tourism back to a city once again.
Below is my travel diary of 48 hours in Wuhan:
Day 1: 30th October, 2020
21:00
Stepping out of my DiDi Taxi I arrive at Beijing Capital Airport masked and ready for stringent COVID travel measures. I am greeted by hazmat-suit-wearing airport staff to both take my temperature and check my Beijing Health Kit app. China's digital health codes, a track and trace system, has been one of the most effective managements preventing virus spread.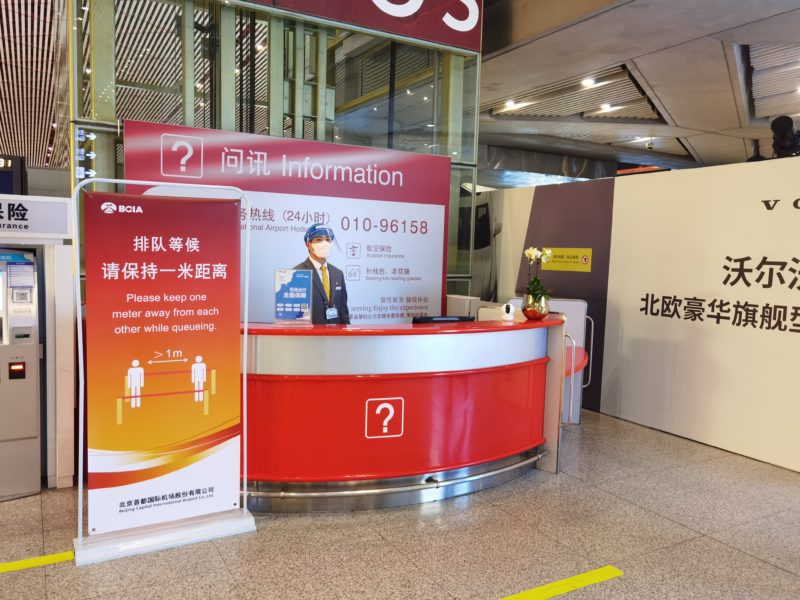 21:40
Inside the airport all passengers and staff are wearing face masks, instructions for social distancing is abundant and sanitizing facilities are readily available. I last took a domestic flight in August, and the atmosphere feels more relaxed now, but precautions are definitely still in place. Domestic air travel volume reached 98% of pre-pandemic levels in September, so confidence in travel has generally been restored.
23:00
Mid-flight, non-Chinese ID holders are asked to fill out a commitment letter stating they haven't left China in the latest 30 days. A simple meal is served – full-service meals are still not fully up and running on most flights.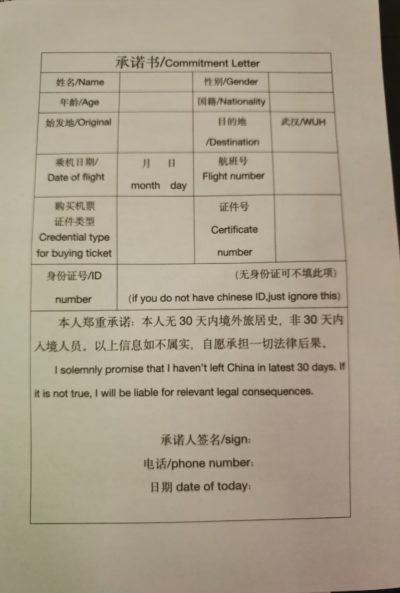 00:50
We touch down. As we get off the plane plan at Wuhan Tianhe International Airport we are greeted by signs reminding us to have our health codes ready. The province of Hubei has its own version, but all provincial codes are accepted for use. After collecting baggage and passing the on-site health code declaration point, I meet the other travelers on this Wuhan exploration trip, and we drive to the Shangri-La Hotel, Wuhan.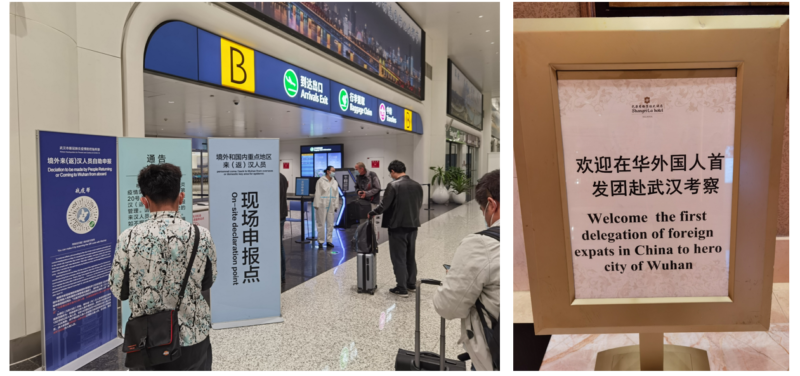 Day 2: 31st October, 2020
08:10
Breakfast is a plentiful buffet; I opt first for a bowl of Wuhan's famous "Hot Dry Noodles" a tantalizing, peanut-y dish eaten at all hours of the day by locals. Hotel attendants are there to offer sanitizer to each guests, and welcoming smiles can be felt from beyond their masks.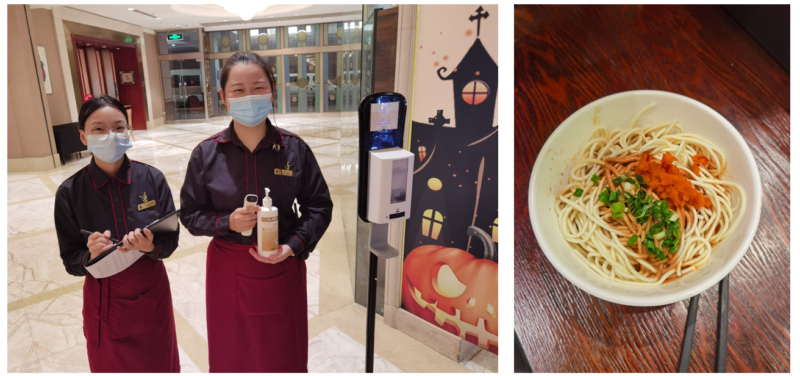 09:35
We arrive at our first sight for the day, and the one that will likely lead to the most talking points post trip: Leishenshan Hospital. This is one of the two temporary hospitals built in the record time of 12 days. The hospital has a capacity of 1,600 beds, and a total of 2,011 patients were treated here. Our guide explains the workers had a saying to help encourage efficiency as they built: "If the hospital is built 1 minute earlier, patients will be treated 1 minute earlier." The site has now been closed since the end of March, but the current plans are to leave it available for the time being in case of any resurgence of the virus. We are not allowed to enter the building but view the hospital from the outside the guarded gates. While it is not a typical tourist sight per se, it may be a place guests want to pay homage to. At the time of our visit, a group of long-distance power walkers from a city-wide event has chosen to walk around the hospital's outskirts as a way of "marking respect," one of the walkers informs. As we circle the hospital perimeter, we can see posters that adorn the fences – artistic designs by local residents, some of which were attached to the back of nurses' and doctors' uniforms while they were treating patients.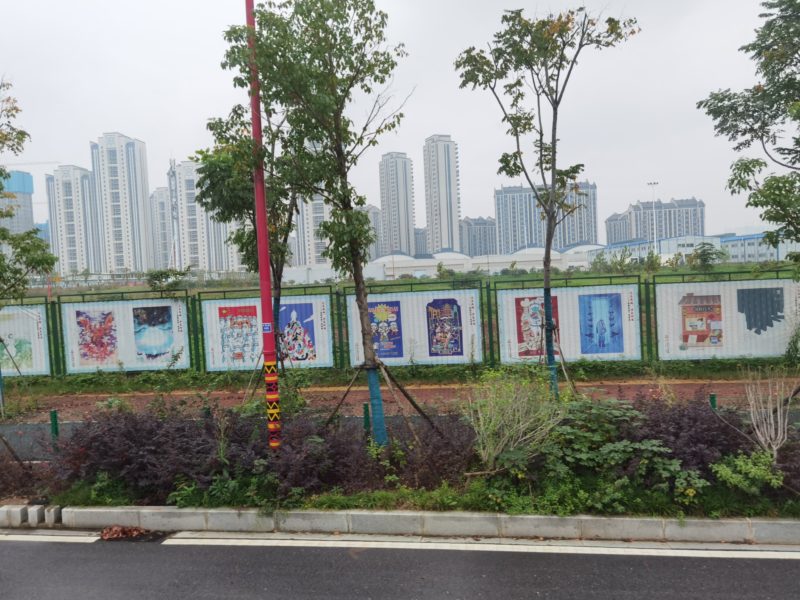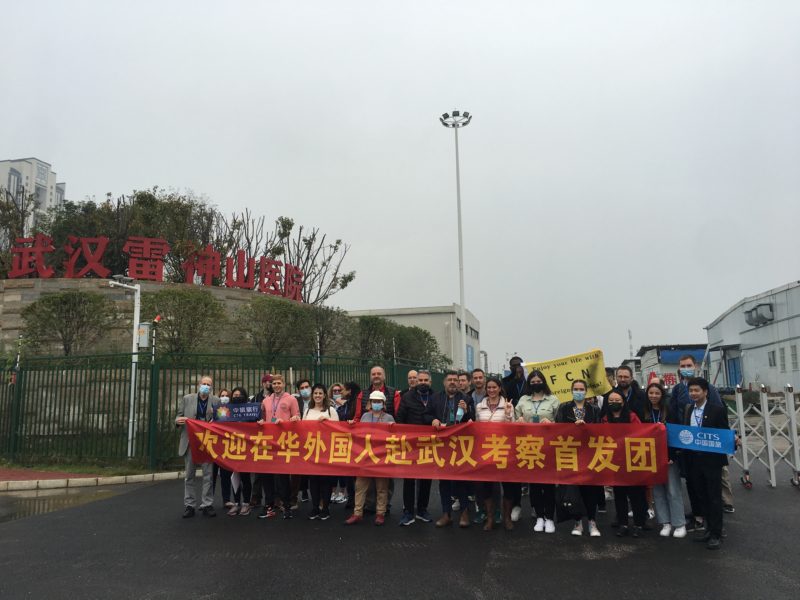 11.00
Our second stop for the day is the East Lake Greenway. This 102km ecological greenway is filled with trees, pagodas and a huge lake. The greenway project was finished in 2015 and has been attracting visitors since, transforming a city previously famed as an industrial hub. It is a flurry of joggers, walkers, cyclists and families enjoying the well-manicured ecological gardens. It is expected that about 3 million people visit each year. We take a small electric train to try to cover as much ground as possible. This site has been used for a variety of events and meetings, including the meeting of president Xi Jinping and Indian Prime Minister Modi, and a showcase tennis-on-water match between superstar Li Na (a Wuhan native) and Ukraine's Elina Svitolina. It's also the site of the annual "Lake Jumping Festival" in which enthusiasts launch themselves into the water while riding bicycles.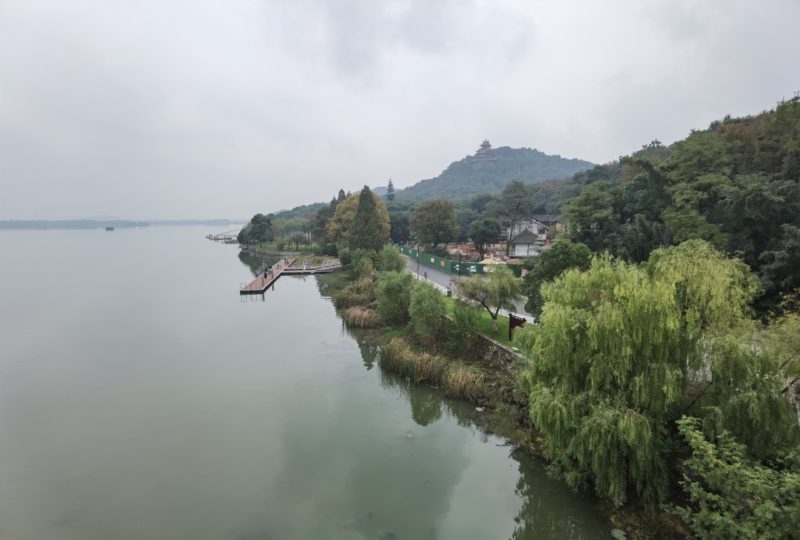 14.20
After lunch we head along Wuhan's waterfront at Hankou. The Yangtze River flows through parts of the city, dividing it up like little islands. We stroll down the streets that used to be the concession areas of Wuhan's international past. European colonial buildings decorate this part of town, and we see couples doing their pre-wedding photos in front of the former HSBC building – a true sign that normal life has returned! On the streets, masks are worn by most as a precaution, but there is no atmosphere of fear or cautiousness. The feeling is more of a city back to its former self, with hints of its very recent past. We finish our waterfront walk at the Wuhan River Beach where we can see across the Yangtze River to Wuhan's more modern district and the city's tallest building, the Wuhan Center Tower.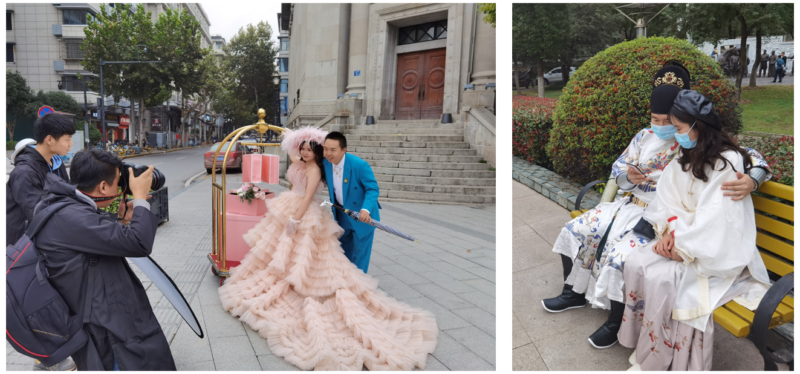 15:40
As we leave the riverfront, we enter The August 7th Conference Site Historical Culture District, which dates back to the first half of the 20th century, formed within the well-preserved former British, Russian, and French concessions in Hankou district. One of the most famous streets in the area is Lihuangpi Road, locally known as "Coffee Street," which is now a favorite hangout for locals and visitors drawn to the many hip cafes. The street has a strong European feel, lined with alfresco dining and low redbrick houses. I use this time as an opportunity to chat with our local tour guide about his personal experiences of lockdown. He details a truly united city effort in which each housing community did their best to stop the spread, even reducing movement by designating committees to buy food and necessities for all the residents.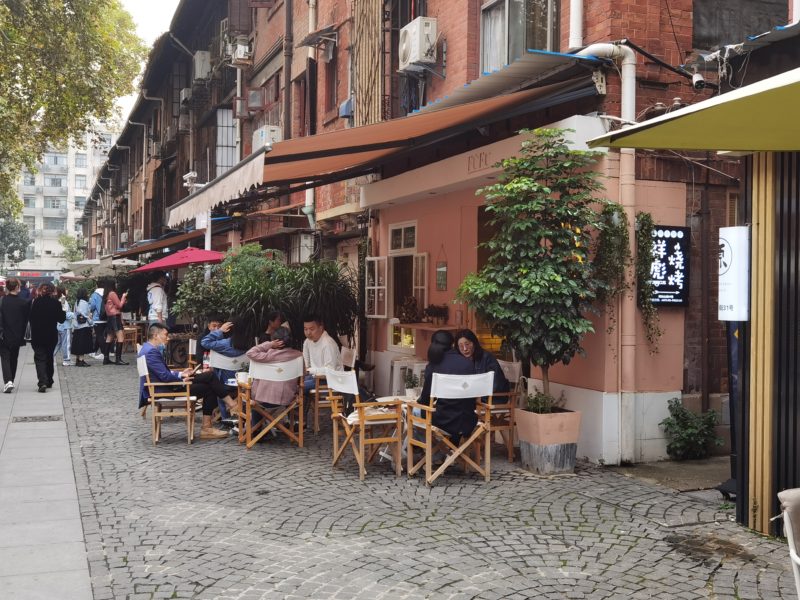 19:00
After dinner, we head back to the Yangtze riverfront to board the Zhiyinhao Cruise. Advertised as a "Drifting Theater" and "Play on the Yangtze River," it's a multidimensional and immersive show in which guests hear the stories of the boat's residents' past and Wuhan's rich history as a port city. The boat is designed almost like the movie Titanic, and all guests are fervently taking photos that will no doubt be shared across social media. The show reopened to the public this summer with special safety measures in place. Guests can dress themselves in qipaos and other era-defining attire to fit in to this experience – at least half have done so, and the boat, which accommodates about 400 guests, is full of excitement. Some have really gone all out – I meet a group of older women visiting from another part of Hubei specifically for this show. Their qipaos and fluffy fans are a true testament to that. As the show starts, you explore the boat with dance, music and performance guiding you on your way. The final stage leads you onto the rooftop as the dancers and band perform one final number boat with a backdrop of Wuhan's city lights. In recent years such shows in major tourist destinations around China are becoming more and more popular, driven by the success of productions such as "Yangshuo Impressions" and "Youjian Pingyao."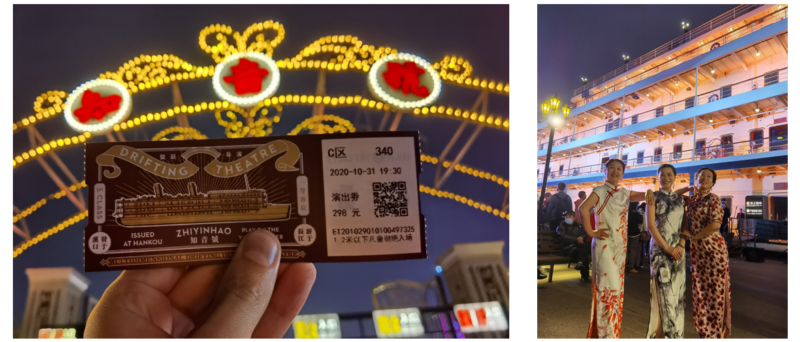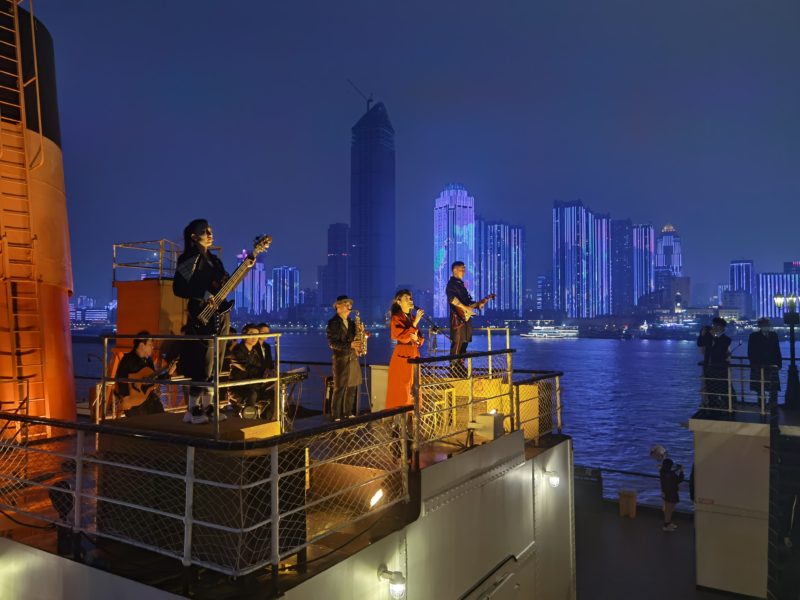 Day 3: 1st November, 2020
09:00
The next day we head to the Hubei Provincial Museum. Health codes are checked, and masks are requested to be worn inside. The museum is busy, with guests enjoying this large collection of Hubei relics. The first exhibition is "Marquis Yi of Zeng," a collection of artifacts from a dignitary in the early Warring States period, around 433 BC. The collection includes ancient drinking vessels, armor and an impressive collection of chime bells. Later, we get to see a musical performance on replica bells. Other highlights from the museum include the 1-million-year-old Homo Erectus skull, "Yunxian Man," which was found in 1990. The museum offers a deeper history into Wuhan and the surrounding area for those wanting to further their understanding of the region beyond the COVID-19 crisis.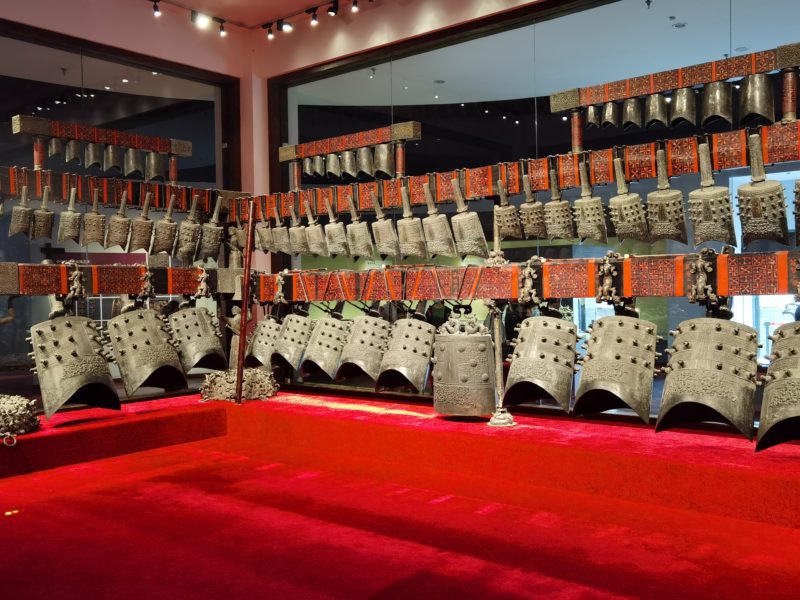 12.30
For lunch, we try some of Wuhan's local delicacies at Sijimei Tangbao, a local brand dating back to 1922. The team at the restaurant give us a chance to make their famous soup dumplings (汤包), a part of Wuhan's intangible cultural heritage. Needless to say, our attempts are no match for the experts. We also sample their dried tofu (豆皮), but this local variant is quite unlike styles I have seen before. The restaurant owner happily translates it to the mainly foreign audience as "tofu pizza." Food is a strong cultural aspect for all Chinese cities, but for a foreign audience it sometimes can be difficult to differentiate, so having hands-on experiences or anecdotes helps to cement memories. The owner adds flavor to the story of the soup dumplings by describing the local eating method – dropping the whole dumpling in vinegar before eating – as a symbol of the Wuhanese hot-headed nature that needs to be cooled off sometimes!
15.00
After lunch we cycle around the Hankou Historical and Cultural area, taking in more colonial buildings, tea trade buildings and local churches. Like many port cities, Wuhan has an interesting past full of international trade and concessions. As Wuhan looks to the future when international travel returns, there is a lot for the tourism board to utilize here.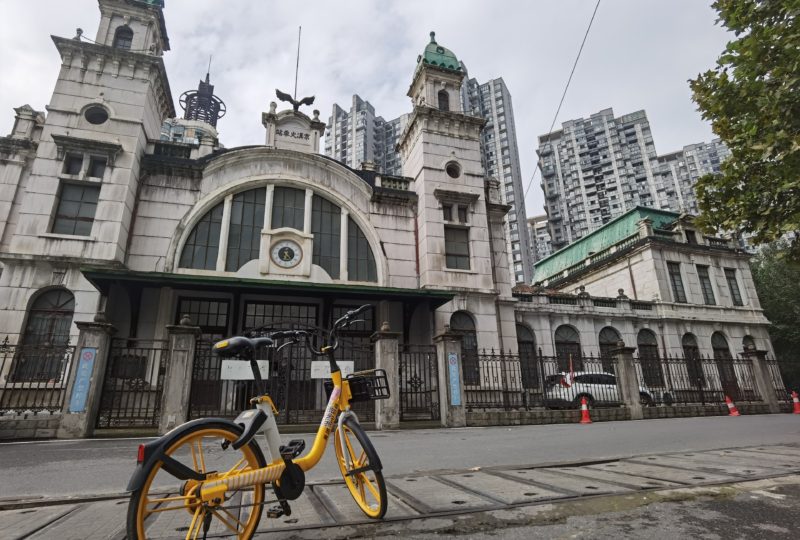 17.30
Back at the airport, we are greeted by health code checks. It's busy with Wuhanese heading off to various parts of the country and rediscovering travel once again. I sit down for dinner in a restaurant in the terminal. The order is totally contactless. This kind of tech advancement was in place long before COVID, but it has certainly helped curb transmissions.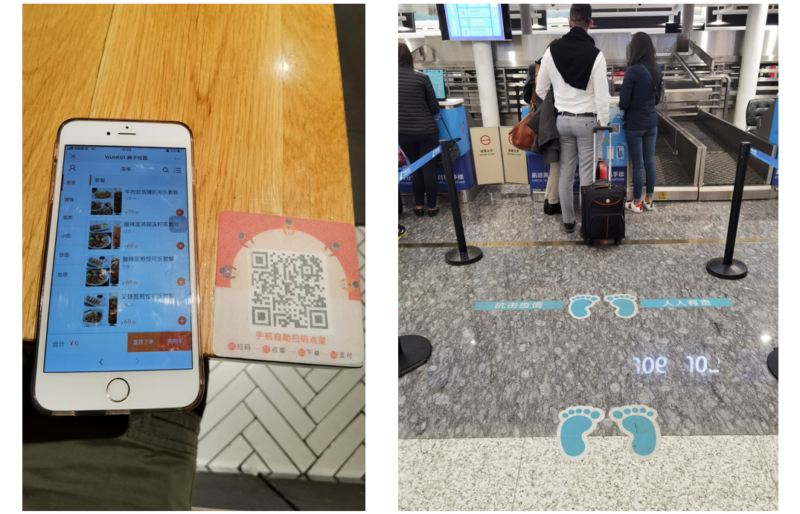 22.00
A safe return flight back to Beijing signals that my Wuhan trip has ended. It's been interesting experience, revealing a city that has definitely bounced back from the virus. Now its real challenge – for tourism in any case – is attracting people's attention for the right reasons.