Dragon Trail's new Market Monitor is the only specialized travel market survey that gains insights directly from China's outbound travelers. Surveys are launched each month, and allow multiple brands to join at the same time for a cost-effective solution to getting the most up-to-date information on Chinese travelers. To help explain further, we've put together a helpful list of FAQs – please fill in our simple registration form to join the next survey, or get in touch with us directly with any additional queries.

What kind of information can I learn from joining a Market Monitor survey? What are the best kind of questions to ask?
Different from a bespoke study, the Market Monitor allows you to ask a limited number of the most relevant questions to your business on a recurring basis. This type of survey is best suited for perception questions. During the pandemic, safety perception and intention to travel are highly dynamic, and brands would benefit from keeping a closer eye on the changing perceptions and sentiments. Additionally, brands that are planning for marketing could use this chance to test their advertising for quick response from the target market. Of course, we will work with you to craft questions that will get you the findings that are most relevant to your business objectives.
What kinds of brands or companies is the Market Monitor survey best suited to?
Survey participants are all Chinese who have traveled overseas beyond Greater China since 2015, so the survey is ideal for any outbound travel brand or business – including destinations, hotels, retailers, attractions, airlines, and cruise lines. The survey is also well suited to any premium consumer brand that targets the kind of Chinese consumer who travels abroad.
Will it affect the quality of the survey to have questions from brands that could be very different from each other?
We will take several precautions to avoid fatigue, confusion and bias from responses. The introduction of the survey will include a short description of the survey's purpose. To decrease apprehension, the survey will follow a sectioned format to cover different topics. We are also limiting each survey to a maximum of 30 questions, so while question topics may vary, the survey will still feel cohesive for respondents. To make it smoother for respondents, we recommend avoiding open-ended questions.
How do you make sure the results are reliable?
We field our surveys via Wenjuanxing, which actively recruits and maintains a Chinese consumer panel containing more than 2.6 million samples. The Market Monitor will be fielded to respondents who fit a set list of criteria with quotas to form a nationally representative sample of Chinese outbound travelers. A two-process quality control is applied during and after fielding. First, platform-specific quality control includes preventing the same IP from answering the questionnaire more than once, filtering out invalid responses, incomplete responses, and responses that takes too little time to complete. Then, manual quality control is applied to detect bias in responses, such as those agreeing with all statements, selecting only the first or last response, and those giving socially desirable answers to questions.
Who gets to see the results of the survey? Will the other participants see the answers to my questions?
Only you will receive the survey data related to your own questions, and this data will then be entirely yours to share according to your own preferences. Responses are also anonymized to protect the identities of respondents.
Is there a minimum number of questions I ask in the survey?
Yes, the minimum number of questions you can include in any one survey is four. Please note that for matrix questions – which typically ask respondents to answer multiple rows of items, using a consistent set of column choices – each row will be counted as a separate question.
How long does it take to get the results?
The whole process takes around one month, from the time you submit your draft questions to the delivery of data tables. Surveys are launched on the 15th day of each month, with results delivered from the first week of the following month.
Is this intended to be a one-off survey for participating brands?
You can choose to participate in the survey as many times as you like based on your goals. Especially after participating in one survey, you might decide to ask the same questions again at a later date to see if consumer sentiment has changed over time. This could help you to make informed decisions about when to launch a promotion to Chinese consumers based on their readiness to travel, for example, or to assess the results of a marketing campaign with before-and-after surveys. You may also decide to ask additional questions in a later survey to find out more information.
What kind of data will I receive when the survey is over?
You will receive data tables containing anonymized responses to your questions, cross-tabulated to allow you to easily filter the findings according to respondents' age, location, gender, income, and marital status. Additionally, we offer the option to deliver a summary report based on your data in PPT and PDF formats. The summary report will look into demographic differences for your data, supported by statistical tests to show significant findings.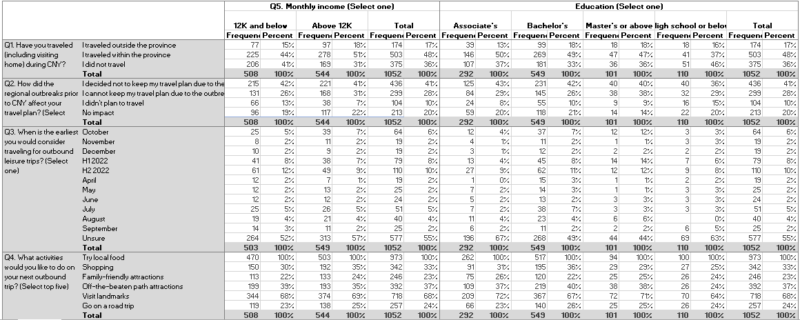 Example data table
How much does it cost?
The Market Monitor survey costs US$599 per question. Please talk to us about subscriptions to monitor data over the long-term, with package rates available.
What if I want to do a customized survey or deeper market research project?
If you decide you'd like to go further with your market research, Dragon Trail Research can make this possible. We've already worked with leading tourism brands including the Singapore Tourism Board, Macao Government Tourism Office, and Turespaña to provide bespoke surveys and market reports. In addition to research, surveys, and data analysis, we can also conduct interviews and focus groups for more in-depth insights from Chinese travel professionals and/or consumers.