To help navigate this unprecedented and uncertain period for world travel, Dragon Trail Interactive's experienced Research & Strategy team has launched a new customized research service. The service is aimed at guiding international travel brands to adjust their China market strategies and reach their target audience in the most efficient and cost-effective way.
Recent survey data shows us that COVID-19 has and will continue to impact Chinese traveler characteristics, consumption habits and intent. Being aware of these changes in the market is essential to building a recovery strategy and communicating effectively with the target audience.
Some of the changes observed in recent months include:
– Preference for nearby domestic destinations, over long-haul domestic or international travel.
– Rise in car rentals, purchases, and self-driving trips, while use of public transportation and air travel has not yet recovered to pre-COVID levels.
– Leisure travel is dominated by younger travelers, born in the 1990s or later.
– Preference for high-end accommodation, smaller hotels, and properties in scenic areas.
– Interest in nature and national parks over shopping-focused city breaks.
– Decline in interest in group travel, replaced by self-guided tours and travel with family or friends.
Dragon Trail Research – What's Unique?
What kind of insights could Dragon Trail Research help you to uncover? Our March 2020 Chinese traveler sentiment survey stands out for its in-depth questions and analysis about how the virus outbreak has changed the way Chinese travelers think about what activities they want to do, what kinds of destinations they want to visit, and their priorities and values.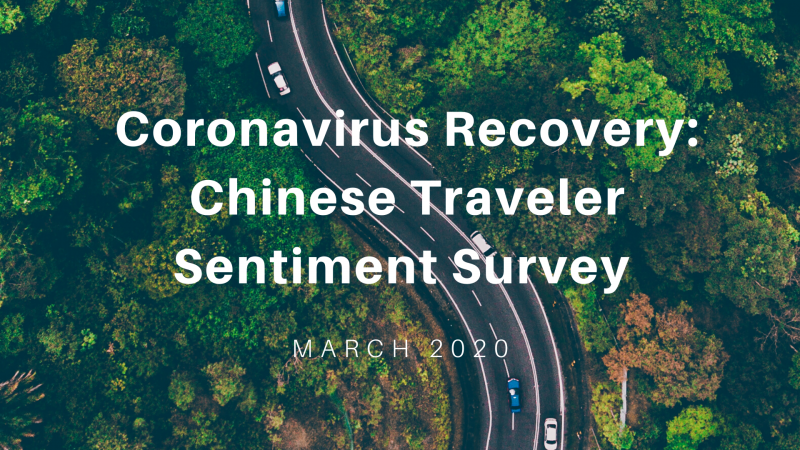 While other market research at that time was based primarily on projections about when China's travel market might recover – based on consumer or industry responses – our report went deeper and unearthed more practical information for travel marketers. The timing of market recovery is at best a guess that will be affected by numerous external factors, such as government policy and the behavior of the virus itself. But delving into travelers' attitudes about travel and priorities provides us with a solid foundation upon which to build future marketing strategies for travel products and destinations.
Among the findings from our research, we revealed that travelers born in the 1990s were the most optimistic about when recovery will happen, and likely to travel sooner than older respondents. Post-80s and post-70s generations showed increased interest in wellness tourism compared to before the crisis. We also found that the crisis has changed travel priorities, and there is now increased appeal for less populated areas, with high interest in nature tourism, small towns, and self-driving. Fears about health and safety stood out as the most significant reasons preventing Chinese from traveling in the future, indicating that post-crisis marketing will need to put forth a strong message about health and sanitation to convince travelers it is safe to visit.
What We Can Do for You
Our survey product will cover the following areas to support the review and optimization of your marketing strategy in the post-pandemic travel market:
– Brand awareness
– Old vs new trends (products, style of travel, priorities, communication channels, etc.)
– Travel plans in the post-pandemic reality
– Comparison with competitors
– Sentiment report
We'll help you to formulate your goals and scope of the research, set long- and short-term objectives, define your target audience, and create a pool of specific questions. Based on this, we will collect and analyze the data, monitor quality, and provide the results in a report. In addition to the findings and analysis, our service also includes suggestions for marketing strategies according to the results.
We offer a choice of basic and advanced packages, depending on the depth of the survey research and number of respondents.
Get Started
For pricing and inquiries about the customized research that Dragon Trail can help you to conduct, please contact us at info@dragontrail.com.