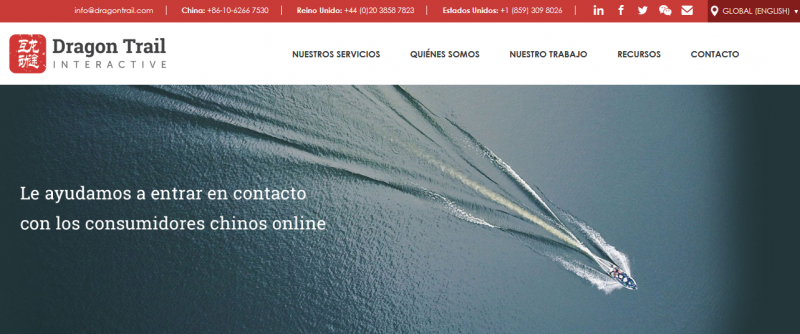 November 5, 2019 – Dragon Trail Interactive has launched a Spanish-language website, es.dragontrail.com. The website provides Spanish speakers with information on Dragon Trail's services, including market entry, B2C marketing to Chinese consumers, and B2B solutions to connect travel brands to the Chinese travel trade. Visitors to the website will also find introductions to Dragon Trail Interactive and its leadership team, and detailed case studies of past and current work, including the creation of a Chinese website for Turespaña, and B2B and B2C campaigns with PromPerú.
"Dragon Trail Interactive is proud to expand our presence in Spanish-language countries," said Matt Grayson, Dragon Trail Interactive's President, Americas. "Central and South America are now part of the outbound travel wave from China. We are committed to serving these dynamic travel destinations and putting our experience and expertise to work for them as they service the evolving Chinese outbound tourism market."
The new website is just part of Dragon Trail's commitment to and strong relationship with Spanish-speaking tourism markets. Earlier in 2019, the company exhibited and spoke at WTM Latin America, presented a Spanish-language webinar on Chinese outbound tourism and travel marketing, and released a Spanish-subtitled version of the China Outbound Travel Pulse video, "Destination South America." The Dragon Trail Interactive team includes native and fluent Spanish speakers in our Business Development, Account Management, and Partnership Marketing teams to provide Spanish-language services.
As of 2019, Dragon Trail works with clients in Argentina, Chile, the Dominican Republic, Panama, Peru, and Spain, helping them to attract affluent Chinese tourists through digital marketing initiatives including travel agent training, influencer marketing, video marketing, Chinese websites, WeChat-based pop-up stores, media buy, and Chinese social media platforms WeChat, Weibo, and Douyin.
In addition to a full program of B2B and B2C marketing, Dragon Trail's work with PromPerú has also included market research, a series of Spanish-language webinars for the Peruvian travel trade, and a Spanish-language handbook on the Chinese outbound travel market, created exclusively for selected tourism suppliers. In 2019, Peru won the China Tourist Welcome (CTW) Gold Award for marketing at ITB China.
Around the world, Chinese outbound tourism to Spanish-speaking countries is growing. Chinese tourists are the leading Asian tourism market for Spain, and the country's highest-spending tourists. There are more than 40 direct flights per week between Spain and China, and there has been sustained double-digit growth in Chinese arrivals for many years.
Latin America is a niche destination for Chinese tourists, and is especially attractive for experienced travelers and the luxury market. Both Peru and Argentina were included in the 2019 Weibo Top 10 Most Promising Destinations at the Sina Weibo V-Influence Summit. Visa reforms and diplomatic developments have helped to make Latin America more accessible to the Chinese market in recent years. Compared to 2015 arrivals, Argentina saw an increase of 74% in Chinese travelers in 2017, and Chile doubled its Chinese arrivals. Peru's Chinese arrivals grew by 112% from 2015 to 2018, and Panama tripled its number of Chinese travelers in the same period.
Dragon Trail Interactive lanza su página oficial en español dedicada al marketing turístico para el mercado emisor chino
5 de Noviembre, 2019 –  La agencia de marketing digital especializada en turismo chino, Dragon Trail Interactive, ha lanzado su página web en español, es.dragontrail.com. Esta página web tiene como objetivo proporcionar al público hispanohablante toda la información relevante acerca de los servicios de la agencia, desde asesoría para una estrategia de penetración en el mercado chino, a acciones digitales B2C y B2B para conectar con los consumidores y agentes de viajes del país. La web cuenta, además, con la presentación del equipo directivo de Dragon Trail, así como con un gran número de casos de éxito, entre los que cabe destacar el portal oficial creado para Turespaña o las campañas digitales B2B y B2C desarrolladas para PromPerú.
"Dragon Trail Interactive tiene el orgullo de poder expandir nuestra presencia en los países hispanohablantes", comenta Matt Grayson, Director de Dragon Trail para el continente americano. "Los países de Centro y Sudamérica ya se encuentran en el radar del mercado emisor turístico chino y es todo un honor poder poner a disposición nuestra experiencia en marketing digital para dar respuesta a las necesidades y preferencias del turista chino".
Esta nueva página web es reflejo del interés y compromiso de Dragon Trail con los mercados hispanohablantes. A principios de 2019, Dragon Trail estuvo presente y participó en las conferencias de WTM Latin America, emitió su primer webinar en español dedicado a las tendencias del turismo emisor chino y marketing turístico, y lanzó el vídeo "Destino Sudamérica" como parte de la serie China Outbound Travel Pulse. Además, Dragon Trail cuenta en su plantilla con hablantes nativos y con un nivel fluido de español en los departamentos de desarrollo de negocio, administración de cuentas y marketing B2B.
Dragon Trail trabaja actualmente con clientes de Argentina, Chile, República Dominicana, Panamá, Perú y España, contribuyendo a la promoción de estos destinos en el mercado chino a través de toda una serie iniciativas digitales: programas de capacitación online para los agentes de viajes, colaboración con líderes de opinión, campañas de video marketing, desarrollo de páginas web alojadas en servidores chinos, publicidad en medios digitales y gestión de redes sociales como WeChat, Weibo y Douyin.
Además de las iniciativas digitales de promoción realizadas para PromPerú, Dragon Trail también ha contribuido en la capacitación de la industria turística peruana a través de informes de estudio de mercado, emisiones de webinars y un manual sobe el turismo chino exclusivo para los socios locales de PromPerú. En la edición de ITB China 2019, PromPerú recibió el oro en la categoría Marketing de los premios Chinese Tourist Welcome (CTW).
Existe una tendencia general de crecimiento en las llegadas de turistas procedentes a países hispano hablantes. El turismo chino representa el mayor mercado asiático en España, siendo además el que realiza el mayor gasto turístico internacional en este país. Actualmente existen más de 40 vuelos directos semanales entre España y China, lo que ha contribuido al exponencial crecimiento de las llegadas de turistas chinos al país.
América Latina es un destino nicho para el turismo chino, siendo especialmente atractivo para aquellos turistas experimentados y para el mercado de lujo. Perú y Argentina fueron elegidos dentro del Top 10 de los destinos más prometedores por la popular red social Weibo. La relajación de las políticas de visados y los avances diplomáticos han contribuido a que la región sea más accesible al turismo chino. Argentina ha registrado un crecimiento de llegadas de turistas chinos de un 74% desde 2015, mientras que Chile duplicó sus datos en el año 2017. Las llegadas de turistas chinos a Perú crecieron un 112% entre 2015 y 2018, y Panamá triplicó sus cifras en ese mismo período.
For information about this release please contact/Si desea recibir más información, póngase en contacto con:
Ms. Sienna Parulis-Cook
Associate Director of Communications, Dragon Trail Interactive
Tel. + 44 (0)7472 335524
Email: sienna.pc@dragontrail.com
About Dragon Trail Interactive/Sobre Dragon Trail Interactive
Founded in 2009, Dragon Trail Interactive is an award-winning digital marketing agency and travel technology company that helps global travel and tourism organizations reach and connect with Chinese travelers and consumers online. In addition to providing integrated consumer marketing services, Dragon Trail continuously develops proprietary technology applications and platforms through its team of in-house engineers, including B2B travel marketing platforms for mobile channels. We help international travel businesses connect with the Chinese travel trade on China's premier social media, WeChat. The company is headquartered in Beijing and has offices in Shanghai, Xi'an, London, and Lexington, KY.