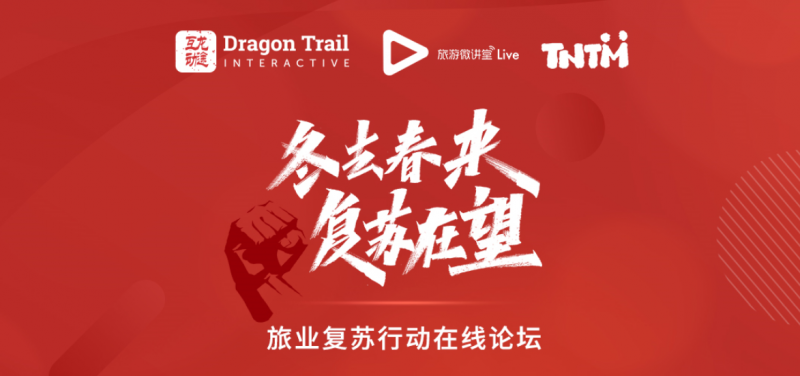 On 21 February, 2020, Dragon Trail Interactive held the Tourism Recovery Action Online Summit. This Chinese-language online event was organized to help attendees navigate the coronavirus crisis with insights and advice from leading travel industry professionals. The four-part summit had more than 4,700 views online, with a maximum cumulative audience of more than 1,800 for a single session.
Opening Remarks
"As a technology company in the travel industry, since the outbreak, we have been thinking about what we can do for the recovery of the industry," said George Cao, the CEO and co-founder of Dragon Trail Interactive, organizer of the summit. After the resumption of work following the Chinese New Year holiday, Dragon Trail opened its CTA Live online training and presentation platform to travel agencies free of charge, hoping to help the industry with product upgrades and post-recovery marketing activities. This online summit was organized with just one week's planning, and the strong lineup of travel experts as speakers is evidence of the tourism industry's solidarity during this crisis. "I hope that through this summit, we can bring more strategic thinking to the industry's response to the outbreak and the recovery," Cao said. (Listen to the recording here)
In 2020, the sudden outbreak of coronavirus has not only brought unprecedented damage to the tourism industry, but also disrupted the industry's original rhythm and pace. The tourism enterprises are facing a test of survival from halted cash flow and many other challenges. How can we survive this harsh winter? Will the government's policies help? How can we achieve self-help? How long will it take for tourism to recover? This online summit took on the industry's most important concerns with four sessions:
– "Looking back at SARS, how they passed through the crisis"
– "What can we do to get through the suspension of group travel?"
– "Lifting the travel ban: who will emerge as a dark horse?"
– "Responding to the crisis: Success stories from other countries"
The summit brought together 23 speakers, including entrepreneurs, travel experts from tourism boards, cruise lines, travel agencies, OTAs, industry associations, and academies, in order to help and work with the industry to overcome current difficulties.
"Looking back at SARS, how they passed through the crisis"
People in the travel industry who experienced SARS went through the major industry survival test of that time. Seventeen years later, in the face of the coronavirus, how do they understand and judge the current industry dilemma?
Wei Xiao'an, Chief Expert of World Tourism Cities Federation (WTCF), who worked through the SARS epidemic, said in his keynote speech that China's tourism industry in the past 40 years has experienced 10 shocks, an average of once every four years. Crisis is a normal and usual thing in this industry, he said, and we need to look at this epidemic in perspective. China's tourism industry has been strengthened after SARS. The industry is full of ups and downs, and adjustments are inevitable. China now has 40,000 travel agencies, and it would not be surprising if the outbreak forced the elimination of thousands. He pointed out that tourism after the outbreak will focus more on health and safety. These adjustments will cost money, but "high-quality low-cost" tour packages are also against the law, so enterprises will need to make changes that affect products, operations, and employees. (Listen to the recording here)
UTour Group and Caissa Travel are two leading travel agencies that experienced SARS, and after 17 years, they have become the industry models. Feng Bin, founder and chairman of UTour Group, believes that enterprises in the tourism industry need to have a certain degree of risk resistance and psychological strength. (Listen to the recording of his talk here) UTour Group will stand with their employees no matter what happens, as the turning point exists when the team works together. Chen Jie, president of Caissa Tongsheng Travel (Group) Co., Ltd., believes that "the danger that everyone faces is not really a danger." Caissa Travel will enter a phase of company transformation and upgrading in 2020. Although key business is temporarily suspended, they can use this time to adjust their own pace and position. (Listen to a recording of his talk here)
What can we do to get through the suspension of group tourism?
This session included three themed panel discussions: Policy, outbound tourism, and cruises.
In the policy panel discussion, moderator Zhong Hui, chairman of Shangyouhui Culture and Travel, conducted an in-depth discussion with WTCF Deputy Secretary General, Yan Han; Secretary General of the China Travel Agents Association, Sun Guizhen; Director of the Tourism Research Center at the Chinese Academy of Social Sciences, Song Rui; and Director of the Resource Development Department of the Beijing Municipal Bureau of Culture and Tourism, Zhang Jing. The conversation focused on the effects of policies related to the coronavirus, and subsequent policies to help the industry. (Listen to a recording of the session here)
Song said that there are several major characteristics of the government's various policies that will help save the market. First, policies were implemented faster than during the 2003 SARS outbreak, almost at the same time as efforts to control the outbreak. Second, policies have been released comprehensively from the Ministry of Finance and the People's Bank of China. Third, these policies are well adapted to support small and medium-sized enterprises. Fourth, local governments can develop more flexible, more targeted policies that are based on financial strength, the extent of damage, industrial structure, and other factors.
The panel discussion on outbound tourism included CEO of HHtravel, Guo Ming; Kate Chang, Regional Director of China for the Los Angeles Tourism and Convention Board; Lynn Li, Chief Representative of Visit Sweden in China; and Gao Najia, Chairman of America Int'l Travel Services Inc. The speakers all said that they expect outbound tourism to bounce back in May. (Listen to a recording here)
The Los Angeles Tourism and Convention Board created a very touching music video for the Chinese market, "We Are with You," which got high praise at the online summit. Chang said that the crisis gives us unity and strength, and the goodness of people stands out as particularly precious. Greetings from the president and CEO of Los Angeles Tourism and Convention Board and the flexible policy of encouraging Los Angeles travel providers and partners to offer cancellations and refunds to Chinese tourists have all worked very well.
Guo said that during his many years engaged in the tourism industry, we have experienced a variety of difficulties, and these will pass – the most important thing is that enterprises should focus on strategy. HHtravel's biggest plan for 2020 is to build advanced production systems and achieve high-quality strategies. They will review and design their products and processes around the needs of people, taking into account all aspects, improving the efficiency of execution, and focusing on being closer to the user and the needs of clients. "In 2020, our plans will not change as a result of this crisis," he said.
Speakers on the cruise panel discussion were Chairman of WuSongKou International Cruise Terminal, Wang Younong; Dr. Liu Zinan, President of China and North Asia Pacific Region of Royal Caribbean International; Huang Ruiling, President of MSC Cruises China; and Shou Xiaoyuan, Founder of IMP Travel. (Listen to a recording here)
As China's largest home port, Shanghai's WuSongKou International Cruise Terminal has been praised by guests for its emergency response, cutting off the risk of an outbreak on a cruise ship in Shanghai, Wang said. Dr. Liu said that cruise lines, as market players, put the safety and health of tourists and crew first, both in terms of commercial interests and social responsibility. In response to this outbreak, Royal Caribbean Cruises quickly activated the highest level of emergency response for safety and hygiene on board. At the same time, it has also taken effective steps in the control of guest boarding, using the existing guest system to provide accurate data and screen passenger risk. These effective implementation measures have ensured the safe operation of cruise ships.
However, the recent outbreak of coronavirus onboard the Diamond Princess cruise ship has been rapidly fermenting in the media, casting a shadow over the cruise industry's recovery. In this regard, Shou said he firmly believes that the cruise companies are actually more stringent about health and safety, and have higher prevention and control capabilities than any other means of transport or tourism facilities. In fact, Princess Cruises responded rapidly after learning of the outbreak. The industry should tell consumers the truth, rather than let the media constantly amplify the event. He predicted that the recovery process in the cruise industry could begin from May or early June. Huang confirmed that the MSC Bellissima will arrive in China this year as scheduled, which also conveys the company's greatest confidence in this market, hoping to give China's cruise market assurance and help the travel industry out of the crisis as soon as possible.
Yan Xiangjun, President of Shandong College of Tourism & Hospitality, said that a surge in overtourism in China during the second half of 2020 is very unlikely. Some local cultural and tourism agencies are currently introducing regulations for the initial post-crisis management of scenic spots, whereby visitor capacity would be limited to 50%. This will lead to a wide range of domestic attractions needing to develop ticket reservations systems, speeding up the development of digital ticket sales and distribution systems. Consumer psychology regarding the choice of destination products will also have a profound impact. (Listen to the recording here)
Lifting the travel ban: who will emerge as a dark horse?
Travel brands are eager to get back into the market following the resolution of the crisis and lifting of the ban on group tourism. What can we expect from the competitive environment in the second half of 2020? Who will emerge as a dark horse? (Listen to the session recording here)
He Yong, CEO of HCG Travel Group, says he believes that business leaders should step back from this situation and be aware that the market will not rebound the same way it did after SARS, as the cost of enterprises has changed dramatically. The fundamental law of a commercial economy is still a value-oriented, he said. If a business cannot create value for its customers, but focuses instead on price wars, it is doomed. Only if every single company in this industry is healthy, can the entire industry be healthy. (Listen to a recording here)
Wu Zhixiang, Founder and Chairman of OTA LY.com, shared 12 ideas to address the crisis, as well as six solutions for the cash flow problem. He said he believes a crisis can make teams braver, calmer, and more cohesive. (Listen to a recording here)
Cai Yun, Co-founder of Unique Way, also said that behind each crisis is a once-in-a-lifetime opportunity for rebirth, and this crisis will create opportunities for independent travel and small group trips. After the crisis, consumers will be very sensitive to hygiene standards and security, and more likely to prefer small-scale family tours and self-driving tours. She said the crisis will accelerate the transition from group travel to FIT. The key point in emerging as a dark horse is strengthening one's position in the industry and absorbing high-quality resources to be more competitive.
Responding to the crisis: Success stories from other countries
Tourism marketing professionals from three different destinations – Iceland, Israel, and South Africa – all shared their experiences of crisis management and advice for the Chinese travel industry.
Sveinn Birkir Björnsson, Director of Communications for Íslandsstofa – Promote Iceland, spoke about how Icelandic tourism businesses and government agencies came together to combat negative effects of the 2010 volcanic explosion. As soon as the eruption happened, he explained, "cancellations were streaming in," and projections for arrivals to Iceland that summer suddenly plummeted from a 5% increase to a 20% decrease. This prompted the city of Reykjavik, the Iceland tourism board, and local stakeholders to join up to launch the "Inspired by Iceland" campaign – the results of which were a 6% increase in arrivals in the summer of 2010, and a tourism boom for Iceland in the years that followed. "The best thing that can come out of a crisis like this is that people can work together," said Birkir Björnsson, and by doing so, "you can be a lot louder and make much more use of your campaign budget." (Watch the video here)
"Israel is really experienced in dealing with crises," said Roy Kriezman, Consul, Tourism Affairs, China, for the Israel Ministry of Tourism. He cited security situations in both 2009 and 2015 that led to many cancellations from visitors from around the world. "There are two ways to deal with crises: passive and active. If you're passive, you stay quiet and sweat until the situation goes through, then act after. If you're active, you monitor the situation and make new plans all the time. This is riskier. You might make mistakes, or spend budget in the wrong way, but the market feels that you stick with them." During the current coronavirus crisis, he said, the Israel Ministry of Tourism has decided to take an active approach with industry partners both in China and in Israel to support them through this period. He shared four specific methods used by Israel for tourism marketing in a crisis scenario. First, by targeting markets that will be least affected, like business travelers, those visitors will come first and can then communicate with other potential visitors within their own networks. Second, target an audience that has already been to Israel, to entice them to return and to help get the word out about what the country is really like. Third, collaborations between government and the tourism industry are the best way to spearhead positive publicity by inviting media and KOLs. And fourth, focus on "product matching" to determine what part of the country can be promoted as the safest. "Never stop promoting, even if it's on a low scale," Kriezman advised. (Listen to the recording here)
Although South Africa was actually very far away from the outbreak, the Ebola crisis of 2014 resulted in a significant decrease in arrivals from all over the world, explained Mansoor Mohamed, Hub Head Asia Pacific for South African Tourism. Based on his experience, there is reason to stay optimistic about recovery after the coronavirus crisis: "The minute it is over, things return back to normal very quickly," he said. Mohamed said he expected a "bumper period" for Chinese tourism to South African after the coronavirus crisis, and that the tourism industry can find opportunities during this period for training and improving relationships. (Listen to the recording here)