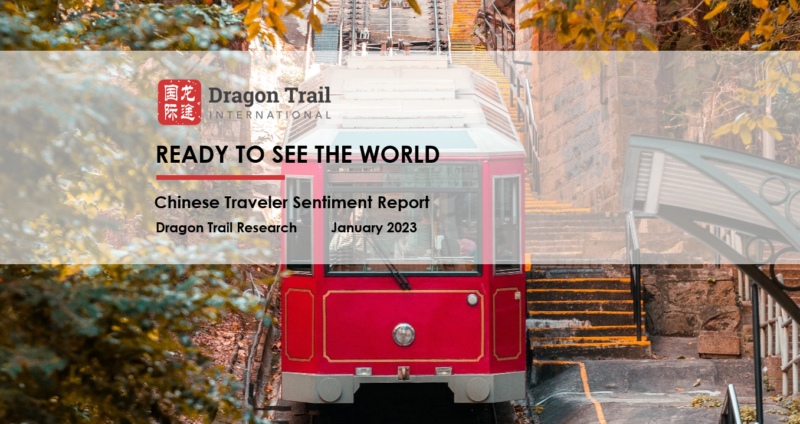 In the days leading up to China's reopening for international travel (3-7 January), Dragon Trail Research surveyed more than 1,058 mainland Chinese travelers about their plans for 2023. The results give us a snapshot of Chinese consumer sentiment around outbound travel on the eve of the country's reopening, with findings to guide tourism destinations and businesses during this first year of recovery
Click here to view and download the full report
"Let's go", "waited for too long", "feels happy", and "enjoy the freedom" were just some of the overwhelmingly positive sentiments shared by the 60.4% of survey respondents who said they wanted to travel outside of mainland China in 2023. While recovery will pick up gradually throughout the first sixth months of the year, we expect a strong comeback to start from July, along with a bumper 8-day Golden Week holiday for Mid-Autumn Festival and China's National Day (29 Sep-6 Oct).
The big winners will include Hong Kong and Macao, as well as Thailand and other Asian destinations. Destination preferences will likely be similar to before the pandemic, though the early days of reopening may set the stage for trends to follow in the rest of the year. As of mid-January, Thailand is standing out for its warm welcome to Chinese travelers, while numerous restrictions and border control policies are making South Korea and Japan look decidedly less friendly and accessible.
2023 is sure to bring some surprises and bumps in the road for China's reopening. While outbound travel for tourism is now allowed once more, outbound group and package travel has still not officially resumed. But the long-awaited recovery of the world's largest outbound tourism market has already begun, and Chinese travelers are ready and eager to see the world once more.
These are our 6 top takeaways from the report:
1) Chinese travelers are ready to go
More than 60% of survey respondents said they wanted to travel outside of mainland China in 2023. This group expressed high expectations about the freedom of cross-border travel this year. Survey respondents said they were excited to relax, as well as to experience scenery, food, culture, and shopping overseas.
2) Hong Kong, Macao, and Thailand are the most popular destinations
The top 7 outbound destinations that Chinese consumers plan to travel to in 2023 are all in Asia. Hong Kong leads the way, chosen by more than 20% of respondents. With 11.1%, Thailand is by far the most popular foreign country.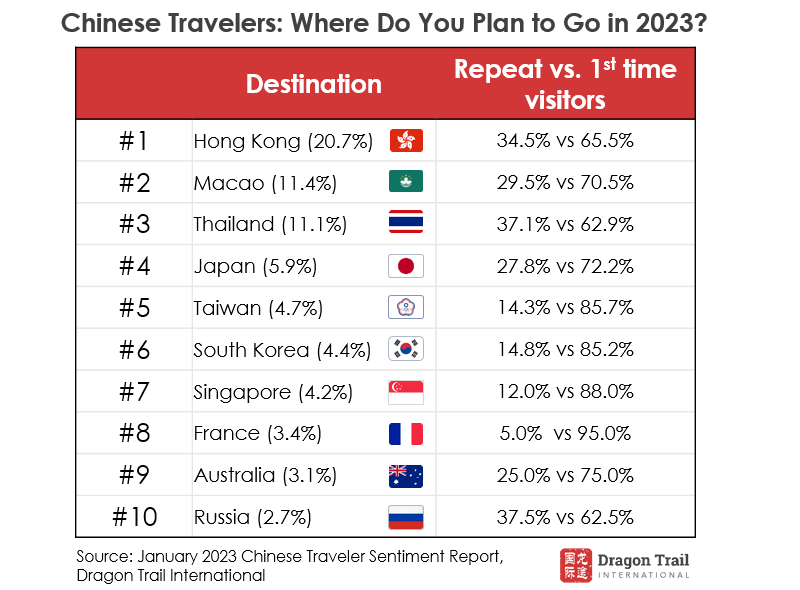 3) Expect market recovery to really get going in summer
While nearly 40% of respondents said they planned to travel outbound in the first six months of 2023, it's clear that recovery will really start to pick up in the second half of the year. 42% said they would travel outbound in July and August, with 32% planning an autumn Golden Week getaway outside mainland China.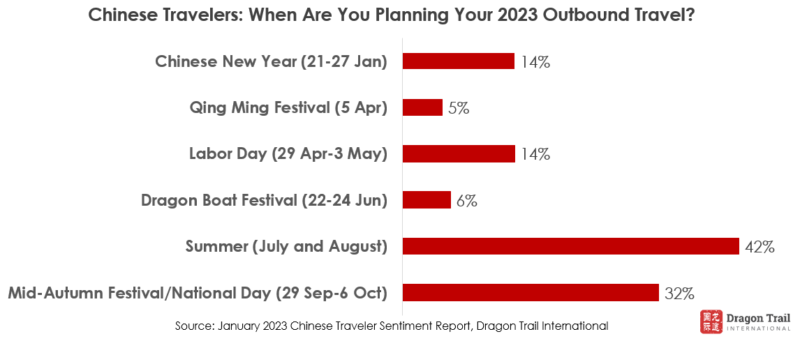 4) Family travel will dominate
With nearly half (48%) of consumers choosing to travel with family, travel destinations and products that cater and appeal to married couples, families with children, and families traveling with elderly parents will best meet market demands. From product design to service and advertising, keeping the family traveler in mind will help stand out in 2023.
5) COVID will have a negative impact
Among the 39.6% of survey respondents who said they will not travel outside of mainland China in 2023, the pandemic was the leading reason. 54.9% cited financial constraints related to COVID, and more that half (52-54.2%) worried about risks to their own health and the health of their families. The inconvenience of applying for travel documents (33.9%), busy schedules at work (37.7%) and destination safety (30.5%) also factored into travelers' decisions to stay at home.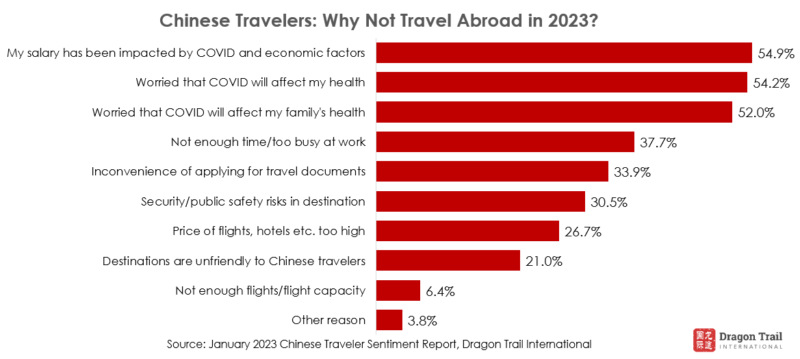 6) OTAs stand out for travel planning, but don't underestimate Xiaohongshu
OTAs (57.9%) like Ctrip and Qunar are unsurprisingly the leading tool for outbound trip planning. But Xiaohongshu's top billing (36%) among social media platforms is a new development. This result highlights how the aspirational travel app (also known as Little Red Book, or Red) has become increasingly important not just for travel inspiration, but for planning, too. Travel brands wanting to establish a presence on the app can consider two options: opening an account, and/or working with travel KOLs who already have a sizeable following.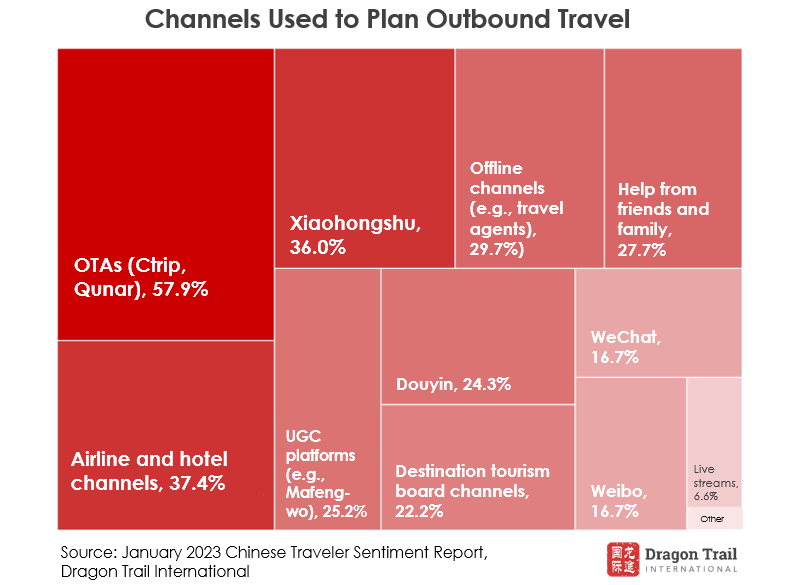 About this report
The January 2023 Chinese Traveler Sentiment Report is published by Dragon Trail Research (a division of Dragon Trail International), based on our own survey of 1,058 Chinese travelers in first-tier, new first-tier, and second-tier cities throughout China. In addition to these reports, Dragon Trail Research also offers a number of services to travel brands and businesses, including our China Travel Market Monitor, bespoke consumer and trade surveys, focus groups and more. Please click here or contact us for more information on how we can help you get the information you need on China's travel market.
About Dragon Trail
Dragon Trail Research is a division of Dragon Trail International, an award-winning marketing solutions company with roots in China and extensive experience in the global travel and MICE sectors. Since 2009, our international team of digital solutions and marketing specialists has been helping leading brands around the world to become more globally connected and competitive. Our clients span the travel, MICE, education, and trade sectors, including national and regional destination marketing organizations, event organizers, international organizations, hotels, airlines, cruise lines, attractions, retailers and more.