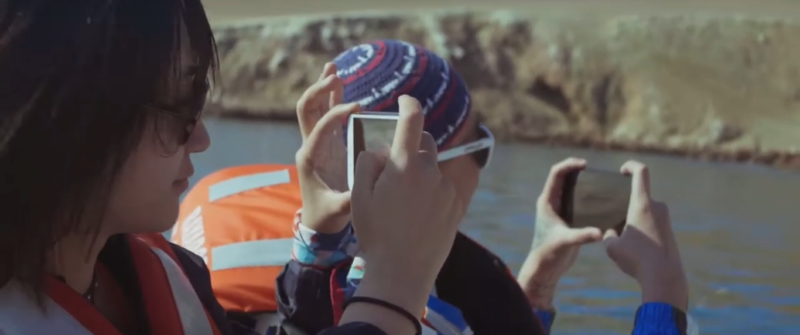 Online video is a huge and still-growing trend in China. It's increasingly popular for sharing and consuming travel-related content, and an essential element of any tourism marketing strategy. In 2021, video offers tourism marketers outside of China the chance to inspire future trips, instill confidence in your destination or product, and inform consumers and the travel trade about itineraries, visa rules, COVID-19 protocols and more.
This article includes 7 vital questions to guide your video marketing strategy, with options to consider and tips to ensure the highest impact from your video campaigns.
This article is based on Dragon Trail's April 2021 webinar on video marketing for Chinese tourism. Click here to view, and contact us to request the presentation slides
1. Why do video marketing for China?
According to the China Internet Network Information Center (CNNIC), as of the end of 2020, 94% of Chinese internet users watch video online, and 88% watch short video – both larger percentages than the Chinese population that shops online. Online video viewership grew substantially in 2020, not just in general, but specifically for travel-related content, too. Short video platform Douyin saw a 143% increase in travel-related videos in 2020.
In 2021, destinations should use video to:
– Incubate future demand for travel and be first-of-mind when travel resumes
– Reposition destination selling points in line with post-COVID market demands – such as health and wellness, countryside getaways, self-drive travel
– Instill confidence that your destination is safe and travel-ready
2. Do you need to create marketing videos especially for Chinese viewers?
On a most basic level, you can share your general marketing videos that are not in Chinese and not created expressly for a Chinese audience – this can work well for videos that do not have any voice-overs or too much written content in the original version. For example, videos of landscapes or cute local animals with a nice musical background. For videos with substantial spoken or written language, make these more effective and user-friendly with Chinese subtitles or voice-overs. You can also adapt and repurpose existing video footage to make content that's more targeted to the Chinese market in terms of activities, places, or people featured in the video are other steps you can take. Finally, if you have the resources, consider creating content from scratch, specifically for the Chinese market, including shooting the video and working with Chinese KOLs or actors.

Watch a video created by KOLs Xiao Mo and A-Hou about their trip to Argentina, organized by Dragon Trail
3. What if you don't have any existing video content?
There are two ways that you can use video shot and produced by other people. The first is to work with KOLs who specialize in video, and can create and share their own video content featuring your destination or business. Depending on your agreement with them and budget, you may also be able to re-edit their footage to create additional video resources for later use. A low- to no-budget option to source video content suitable for Chinese tourism marketing is through UGC (user-generated content). You can encourage this through giveaways, hashtags, and requests for content, and share by re-posting, or (with permission) adding UGC to your WeChat posts. If you have the resources to track what Chinese travelers are posting about you on open platforms like Weibo or Xiaohongshu, for example, you can also encourage UGC by liking, commenting on, and reposting good video content shared by users.
4. Beyond your existing followers, how can you broaden the reach of your video content?
As with any content on Chinese social media platforms, advertising is available for video content, with lots of options for targeting specific audiences and/or demographics. If you are working with KOLs, whether or not they shoot the video themselves, they can help to share any videos where they are featured, attracting new viewers to your content. Although video is generally discussed in terms of B2C marketing, it can also be part of your B2B strategy – share both inspirational and informative video content with the Chinese travel agents you work with, to help them better understand your product, and so they can share these videos with their clients.
5. How else can you use video for trade marketing?
In addition to inspirational and informative video content that can be used both for B2C and B2B marketing, you can also consider creating longer informative videos especially for the travel trade. A "video fam trip" can be created to give travel agents a tour of your property, attraction, cruise ship, or destination, with details about facilities, amenities, and services. This works especially well as a solution while international travel is still restricted, as well as a way to work with limited budgets that might not allow for a full in-person fam trip.

B2B virtual fam video to train agents on launch of Quark Expeditions' "World Explorer" Cruise to Antarctica
6. What kind of content or themes works best for Chinese tourism marketing?
You'll want to consider the goals of your marketing campaign to answer this question. For example, are you trying to reach as many people as possible, or to reach a specific target group, such as couples, families, nature enthusiasts, or history buffs? Short (one minute or less) videos with nice background music and themes like scenery, food, or cute animals will have the most mass-market appeal. A second question to ask is whether your goal is to inspire or to inform. While creating a showcase marketing video is a good idea, you may also want to offer videos that offer more detailed information about itineraries, venues, visa applications, COVID-19 policies etc.
7. How can Dragon Trail help?
Dragon Trail has a full video production team that can organize entire on-site filming trips, edit and localize pre-existing footage, create animation, help you to get set up on different platforms, and coordinate KOL campaigns. Please click here for more information about our video marketing and production services, or get in touch directly about specific video requests and questions that we can help with. Click here to learn more about our 2021 Chinese New Year video marketing campaign for PromPerú.