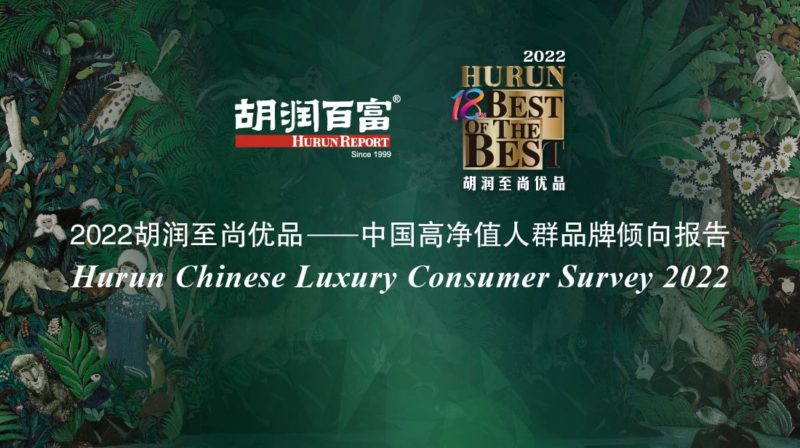 Released on 20 January 2022, the Hurun Chinese Luxury Consumer Survey 2022 includes data on a wide range of consumer preferences from 750 high net-worth (HNWI) Chinese. The survey respondents were equally divided between male and female, with an average age of 37. Respondents' average household net worth was RMB42 million, or US$6.6 million.
Click here to read the full original report (in Chinese) on the Hurun website. The following translation is a summary, focusing particularly on the parts of the report relating to travel.
Travel
Travel ranked as one of the top areas in which Chinese HNWIs plan to increase their spending in the next three years.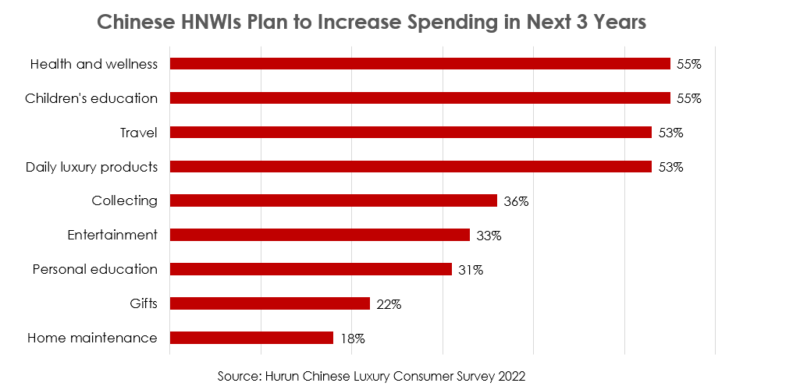 Travel was also the second most-popular leisure activity among Chinese HNWIs. On average, survey respondents had 23 days of vacation every year. 26% had 30 or more days of vacation each year.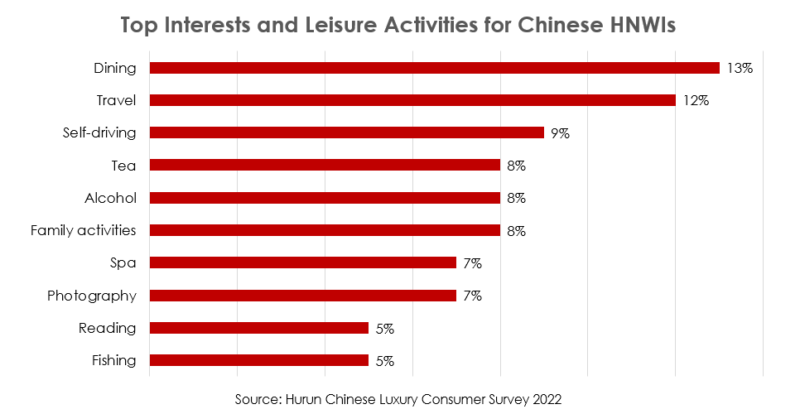 Interest in domestic tourism rose by 62% compared to last year, while interest in outbound tourism fell by 3%. Hainan was the no. 1 domestic destination for the 10th year running, chosen by 55% of respondents. Yunnan came in second place at 40%, followed by Tibet (32%). Compared to 2021, the Maldives gained in popularity as an international travel destination, moving past Japan into the no. 1 spot.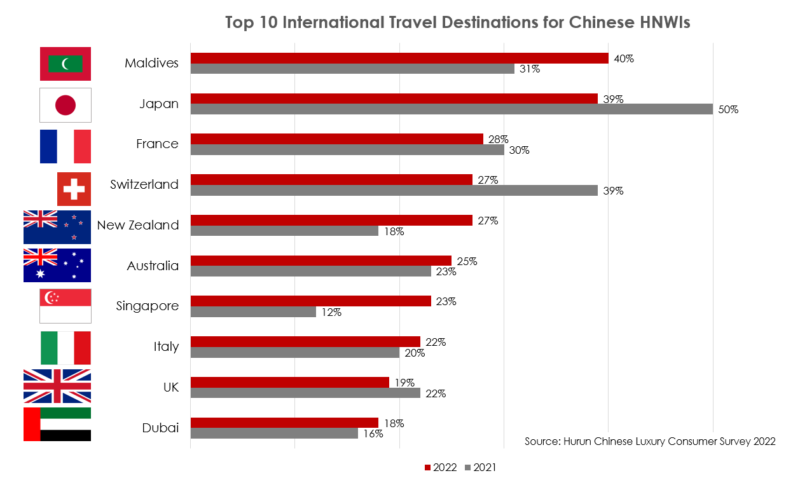 Campervan travel and surfing are the two activities that survey respondents want to try most in the next three years.
When it comes to travel themes, HNWIs aged 30 and under were more interested in active pursuits such as snow and ice sports, and water sports. Those aged 31-45 preferred cultural experiences like visiting cities and vineyards, as well as family activities. Respondents aged over 45 preferred relaxing holidays at resorts and visiting ancient villages.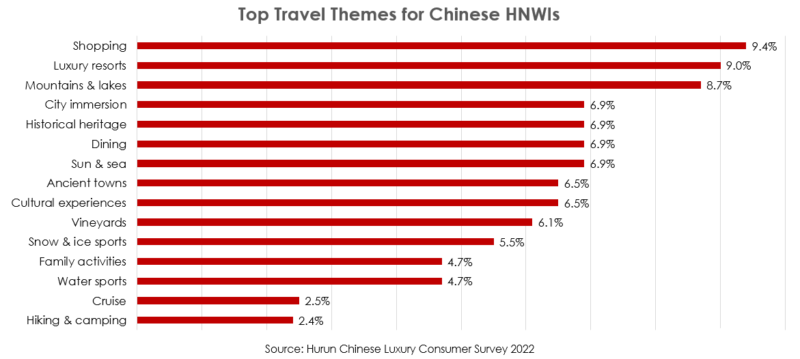 Food & Drink
98% of survey respondents said they consumed alcohol, with wine and whisky the most popular types.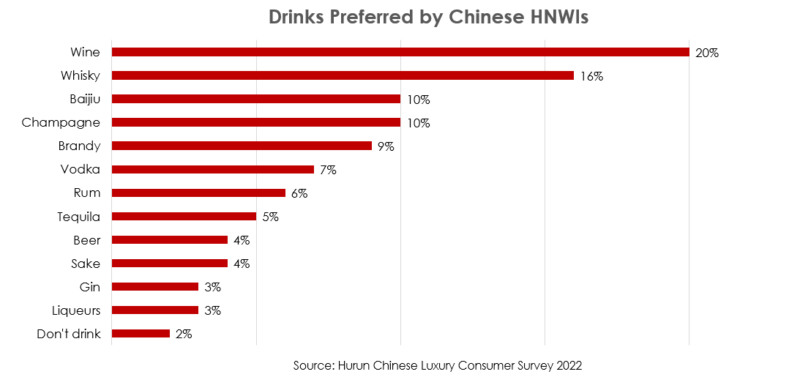 25% of survey respondents said they followed a vegetarian diet, with women more likely than men to practice vegetarianism. 27% said they followed a low-sugar diet, with the remaining 48% saying they had no dietary restrictions. While Chinese cuisines feature prominently on the list of preferred foods to eat when traveling, the diversity of the list shows that Chinese HNWIs have notably international palates.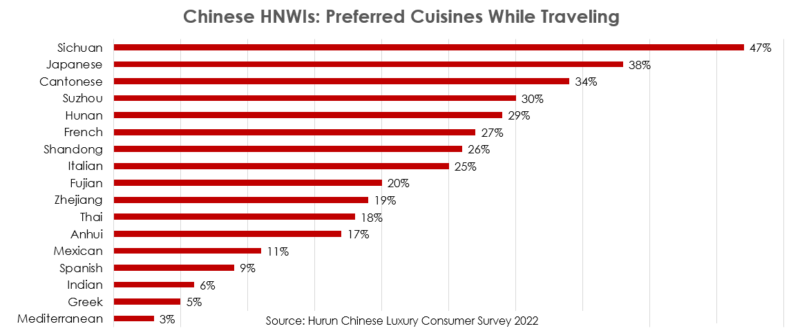 Education
The United Kingdom is strongly preferred as the top choice destination for study abroad. All of the top destination countries gained in popularity for study abroad in 2022 compared to 2021, except for the United States.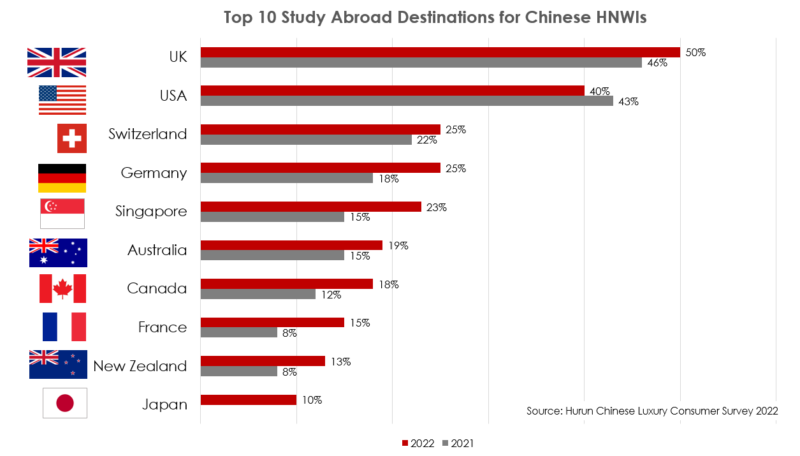 Additional Findings
68% of survey respondents said they cared about environmental protection, making it the top social issue of concern, above healthy living (65%), education equality (54%), gender equality (54%), and opposing racial discrimination (48%).
67% got information about new brands through social media, making it the top source of information, above e-commerce platforms (56%) and friends' recommendations (55%).
62% of survey respondents were not considering emigrating, while 32% were considering it, and 6% had already emigrated. Chinese HNWIs were more likely to be considering emigration in 2022 – up from just 18% considering it in 2021 – but numbers are still much lower than pre-pandemic. COVID has seen a drop in Chinese HNWIs thinking about emigrating and a rise in those saying they are not considering it.