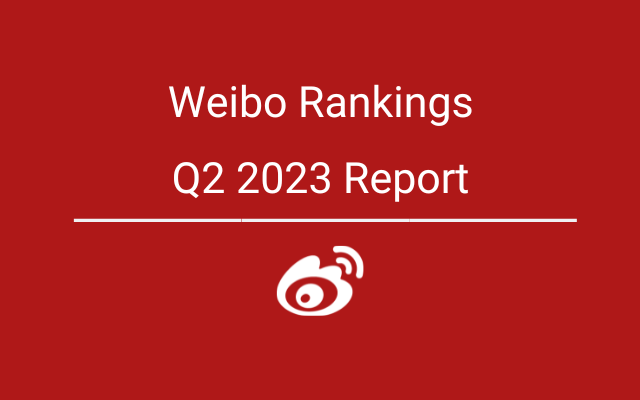 Dragon Trail International's Weibo Rankings Report tracks and analyzes performance for national tourism organizations (NTOs), destination marketing organizations (DMOs), airlines, cruise lines, museums & attractions, and hotels. Our quarterly Weibo reports build industry benchmarks and uncover best practices in digital marketing in the travel sector.
Q2 2023 saw major increases in engagement rates on Weibo across several categories of travel brands, influenced by celebrity content and promotional campaigns, as well as at least one major controversy. From comparing this quarter to last, we can also see which accounts are most consistent in their Weibo performance, and which see spikes of engagement on a short-term basis because of mentioning certain celebrities.
Engagement Rates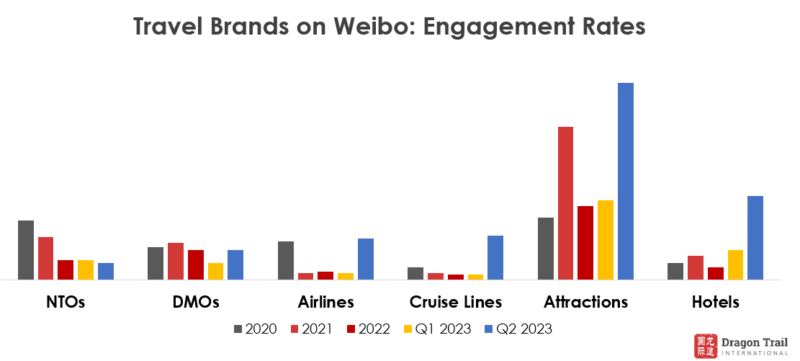 We calculate engagement rates for Weibo accounts on a weekly basis, by dividing total number of active engagements (likes, comments, and shares) by follower number. Because Dragon Trail started collecting weekly Weibo data in the last four months of 2019, we do not have a pre-pandemic baseline for comparison, but we can see how engagement rates have fluctuated over the past three and a half years since 2020 began.
Engagement rates on Weibo have picked up in Q2 2023 compared to the previous quarter for nearly all account categories, with very significant increases in the airline, attraction, and hotel categories. After a dip in Q1 2023, DMO and cruise line engagement has now recovered to at least 2022 levels. Similar to what we've seen with WeChat reading rates, NTOs have continued to see declining engagement rates on Weibo.
This quarter, the dramatic increases in engagement rates for airlines, attractions, and hotels, were each driven by just one or a few accounts. And while celebrity-related content is generally what leads to particularly high engagement numbers, engagement can also be impacted by advertising, and to an even more extreme degree by controversy – as we will see, this is especially the case for the airline category in Q2 2023.
NTOs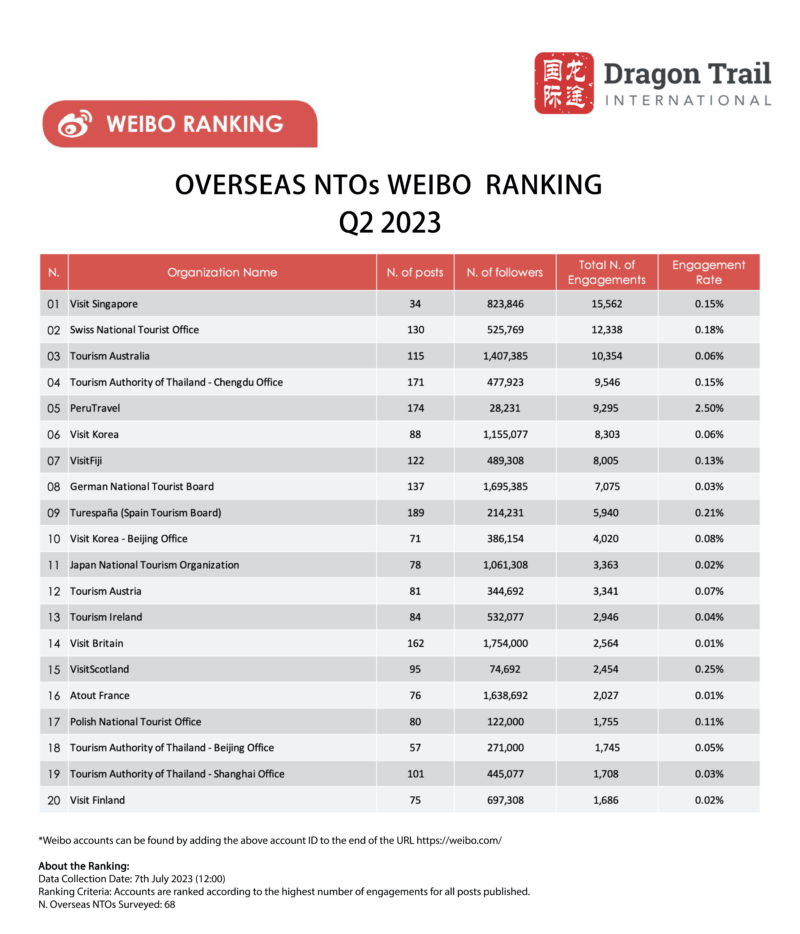 National tourism boards tend to see the biggest fluctuations in Weibo rankings, compared to other categories, and this is driven primarily by boosts from celebrity-related posts, although tourism marketing campaigns can also have an impact. In Q2, Visit Fiji was up from 39th place for total engagements in Q1 to 7th place, because of several posts featuring a Chinese celebrity holidaying on the island. Meanwhile, France and Finland, which respectively ranked 1st and 5th in Q1 because of content involving Chinese celebrities, were down to 16th and 20th place this quarter.
Tourism Australia moved from 11th place in Q1 to 3rd, boosted by an offline promotional event in Chengdu featuring Ruby the Kangaroo, and the global "Come and Say G'day" campaign. A post about the event received 3,684 likes the week it was published. PeruTravel rose from 13th to 5th, with photos showcasing the country's animals, landscapes, and traditional culture.

Popular Weibo posts from (left to right) Tourism Australia, PeruTravel, and Singapore Tourism Board
At the top of the rankings table, Singapore and Switzerland are both consistent high achievers on Weibo, with strong performance week after week. Singapore's top posts featured celebrity Jackson Wang, and Switzerland's was a video with Roger Federer and Trevor Noah. But on a regular basis, we also see consistent popularity for Singapore's posts featuring gardens and other attractions, and natural landscapes and outdoor experiences in Switzerland.
DMOs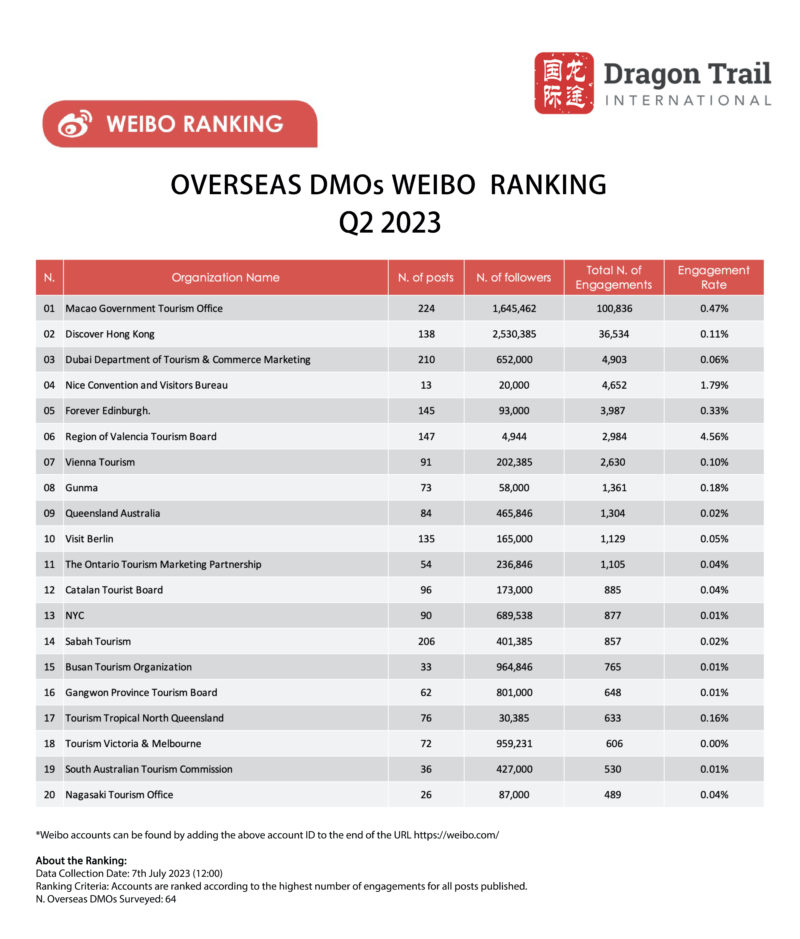 Top content in the DMO category this quarter tended to feature celebrities – particularly concerts with pop stars held in the destination. Macau hosted concerts by Kun and Jackson Wang, while Hong Kong welcomed TFBoys and Twins – as well as the popular giant inflatable ducks in Victoria Harbour, and numerous festivals. While the rankings table is quite consistent quarter-to-quarter, we did see Nice shooting up to 4th place compared to 33rd in Q1, because of brand ambassador Zhang Yuqi. Celebrity partnerships like these do delivery big returns and high visibility in the short term, though the longer-term impact on social media performance and destination popularity isn't so clear. This is especially in cases where there is just a one-off announcement about a new brand ambassador, rather than a consistent partnership such as the one between Jackson Wang and the Singapore Tourism Board, or figure skater Yuzuru Hanya with All Nippon Airways.
Rising up the rankings without celebrity content in Q2 are the Region of Valencia, which shared photos of the beaches of Benidorm and city of Altea; and Ontario, which released new promotional videos and a giveaway.
Airlines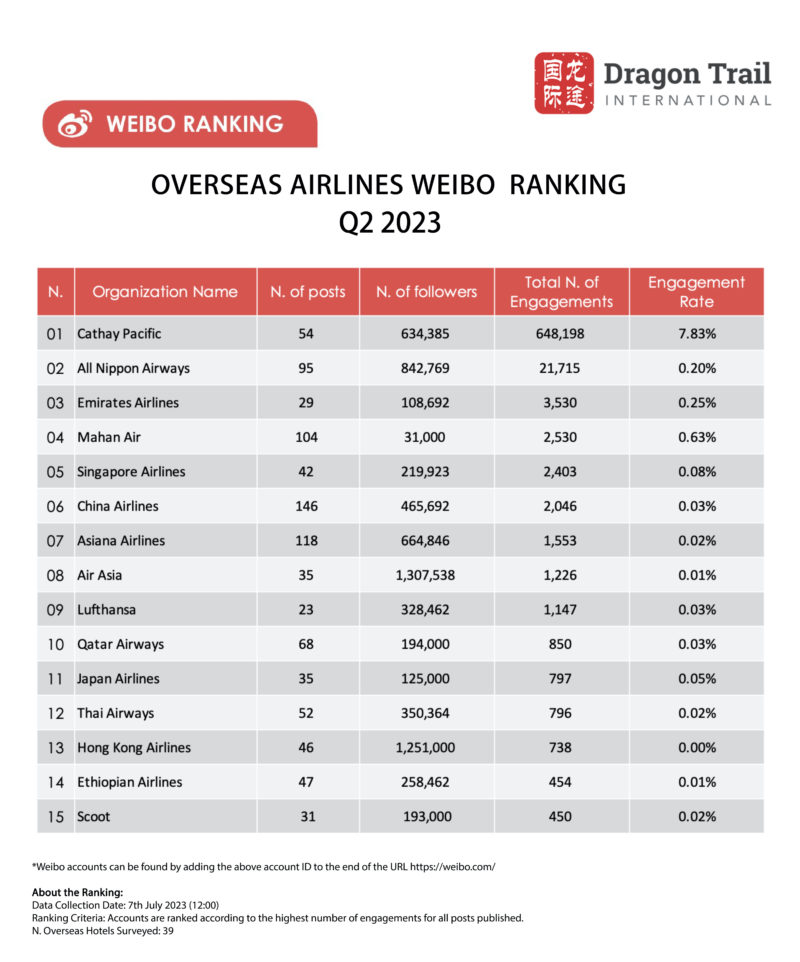 Cathay Pacific received the second-highest number of engagements of any tourism-related account on Weibo this quarter. More than half of these nearly 650,000 engagements were in response to one post, an official apology published on 23 May in response to an incident where Cathay Pacific flight attendants were recorded mocking a Chinese passenger for a mistake the passenger made in English when requesting a blanket. The topic went viral on Weibo, and the flight attendants were all fired.
Cathay Pacific also attracted positive engagement earlier in the quarter with their ticket giveaway in partnership with the Hong Kong Tourism Board. All Nippon Airways continued to benefit from their long-term partnership with Yuzuru Hanyu, and Singapore Airlines received high engagement numbers for a marketing video featuring a flight attendant and her travels around the world. Ranked in 3rd place is Emirates Airline, which received a positive response to the return of their A380 planes to Beijing.
Cruise Lines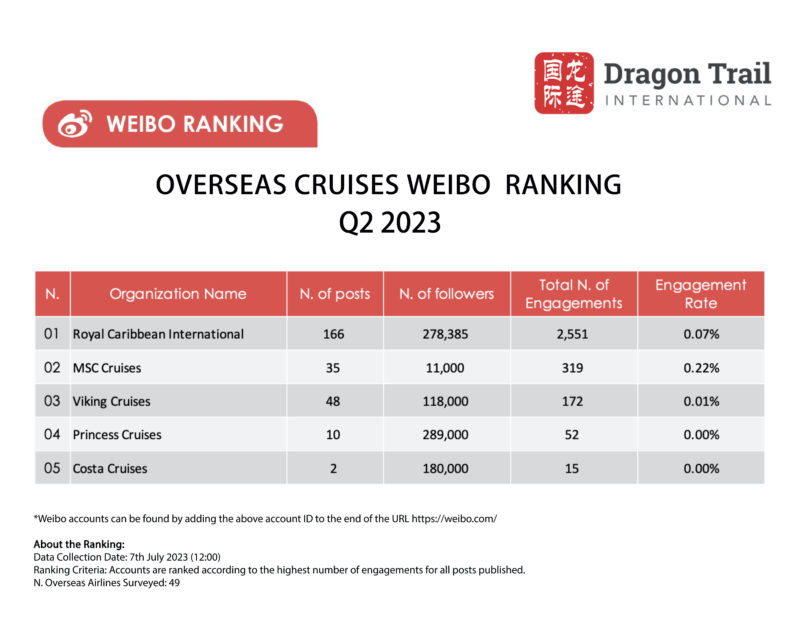 While cruise lines' engagement picked up very slightly compared to last quarter, this category is still not particularly active, with only six accounts posting at all. The most engaging posts all came from Royal Caribbean International, with a maximum of 60 likes for a simple text-based post saying they were awaiting an announcement about the return of international cruising from China. Their other top posts were a giveaway for Labor Day, and a short vlog about Wonder of the Seas.
Museums and Attractions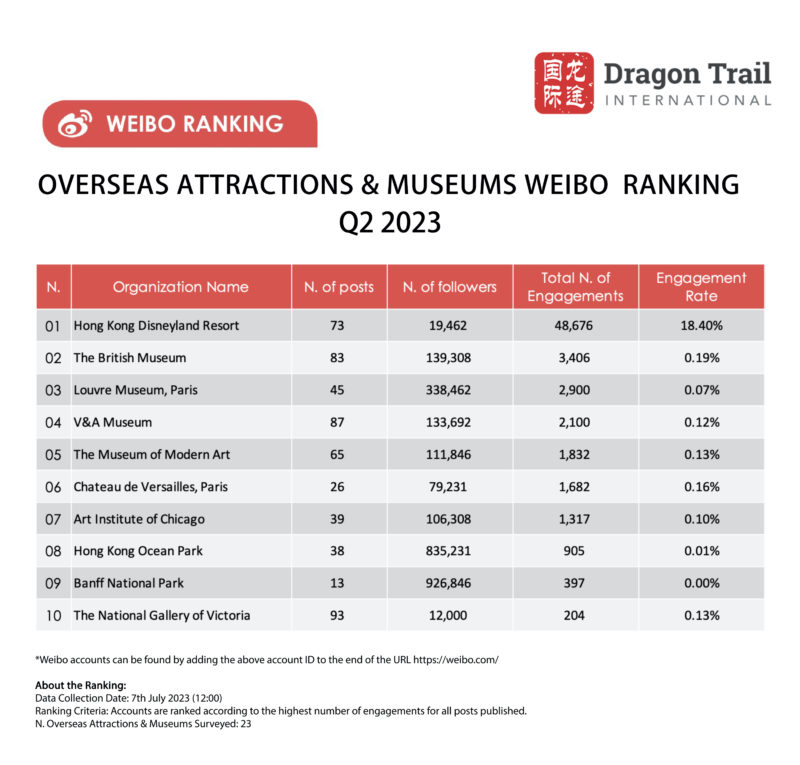 Hong Kong Disneyland has by far the highest number of engagements and engagement rate of any account in the attractions category. While some Disney characters – particularly in the Duffy and Friends range – are particularly popular in China, it may also be that Hong Kong Disneyland is promoting certain posts with paid campaigns. We say this because a handful of their posts this quarter received thousands of likes each, while most weeks the account's content got a total of around 100-200 likes. Those top posts were more than 10k likes each were a giveaway for the anniversary of Lilo and Stitch, and two posts featuring Duffy and Friends.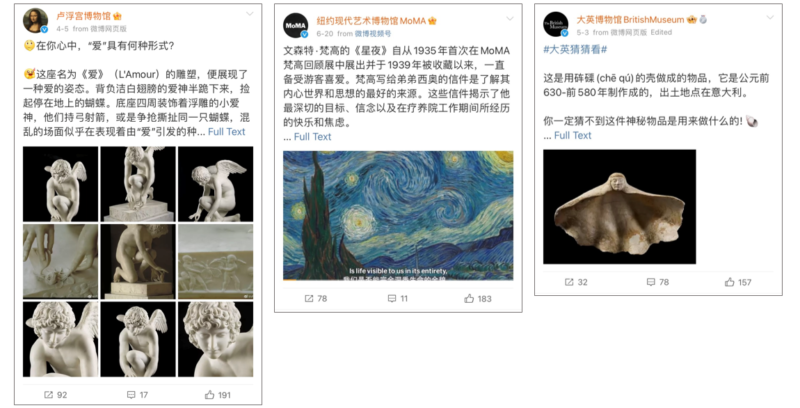 Top museum Weibo posts from Q2 2023. Left to right: Louvre Museum, Museum of Modern Art, British Museum
The two top museum posts were published by the Museum of Modern Art in NYC, featuring the famous paintings Christina's World and Starry Night. The Louvre received 172 likes for a post about love and a statue of Cupid; the British Museum got 150 likes for an engaging "mystery object" post about an ancient carved clam shell from Italy; and Chateau de Versailles got 147 likes for a video about Les Fêtes Galantes ball.
Hotels
At the top of the hotels list this quarter is newcomer Holiday Inn, which only posted once in the whole of 2022 and wasn't active at all in Q1 2023. The hotel chain's partnership with comedian Mao Buyi sent it straight to the top of the rankings in Q2. Conversely, the InterContinental Hotels Group (IHG) account stopped posting on Weibo in March, and so was not included in the Q2 rankings, after being in second place for engagements in Q1 2022. Holiday Inn is the biggest hotel brand under the IHG umbrella, so we can see a decision here to concentrate marketing efforts on that one brand rather than the whole portfolio.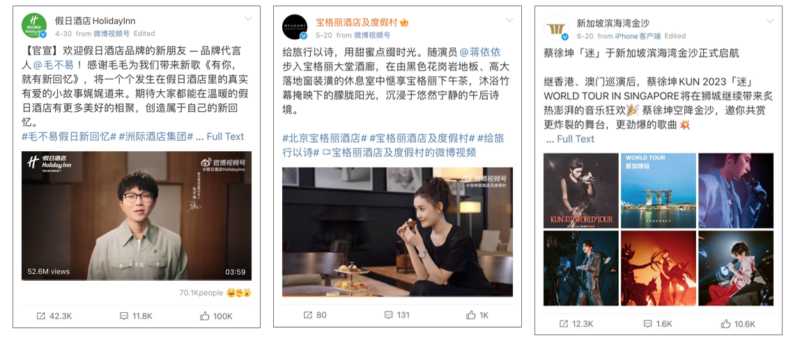 Celebrity promotions are the key to Weibo marketing for hotels. Left to right: Mao Buyi for Holiday Inn, Jiang Yiyi for Bulgari Hotels, and Kun at Marina Bay Sands
The other top hotel content was also all celebrity-driven. Marina Bay Sands received more than 10k likes in one week for a post about the Kun world tour – also the topic of the most-liked Weibo post from the Macau Government Tourism Organization! Meanwhile, Bulgari let celebrities lead its marketing for properties around the world, with Chinese celebrities gathering at Bulgari Hotel Beijing for fashionable events, a Japanese singer featured in a video about the new Bulgari Hotel Tokyo, and a collection of western stars such as Zendaya attending the opening of Bulgari Hotel Roma.