Edinburgh is home to six arts and culture festivals each August. Photo courtesy of VisitScotland
2022 marks the 75th anniversary for three of Edinburgh's six annual August festivals: Edinburgh International Festival, Edinburgh Festival Fringe, and the Edinburgh International Film Festival. On 11 August, VisitScotland and the Edinburgh Tourism Action Group (ETAG) teamed up to take Chinese viewers straight into the excitement of Edinburgh's August festival season with a two-hour live streaming on Weibo. The event attracted 400k live viewers and was simultaneously streamed across five Weibo accounts thanks to multistreaming distribution support from Dragon Trail.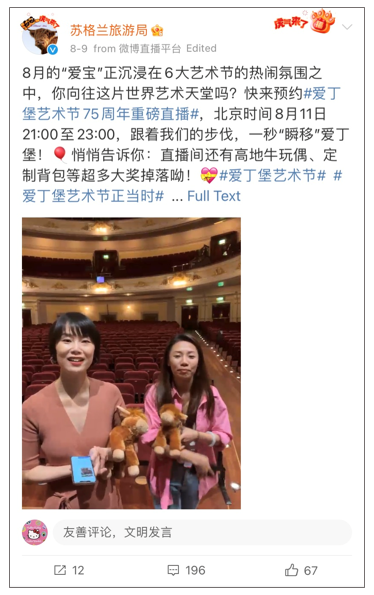 The live streaming was co-hosted by ETAG's Alice He (left) and VisitScotland's Rita Dong (right)

Co-hosted by VisitScotland's Rita Dong and ETAG's Alice He, the live stream began at Usher Hall concert hall, continuing up to outside Edinburgh Castle and down the Royal Mile. Along the way, viewers got an introduction to Scotland and Edinburgh, a history of the city's festivals, and lots of cultural tidbits. Most importantly, Weibo users were immersed in the festival atmosphere, with the live streamed tour passing by performances including bagpipes, rock, folk music, magic shows, comedy, and dance. With street performances one of the top activities for young Chinese, according to an August 2022 report by travel website Mafengwo, this content is ideal for attracting the future Chinese Gen-Z visitor.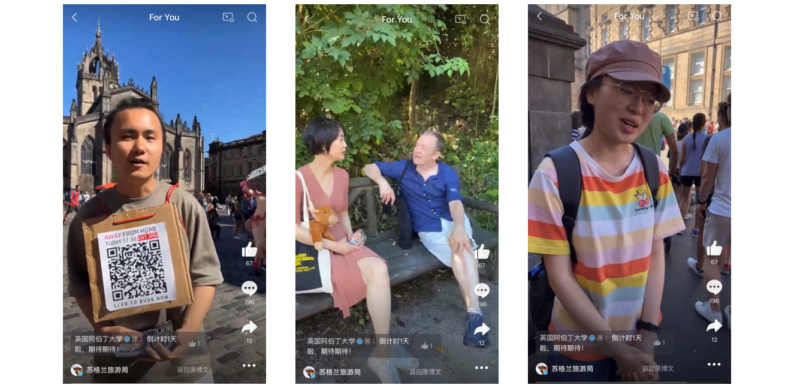 The live stream included a meeting with Festivals Edinburgh's James McVeigh (center), as well as impromptu interviews with a Chinese artist (left) and students (right)
As well as a planned meeting with James McVeigh, Head of Innovation and Marketing at Festivals Edinburgh, in a secret garden near Edinburgh Castle, the live stream offered impromptu interviews with several young Chinese festival goers. These included a performer from a contemporary dance group, whose work spoke to the experience of being a Chinese student in the UK.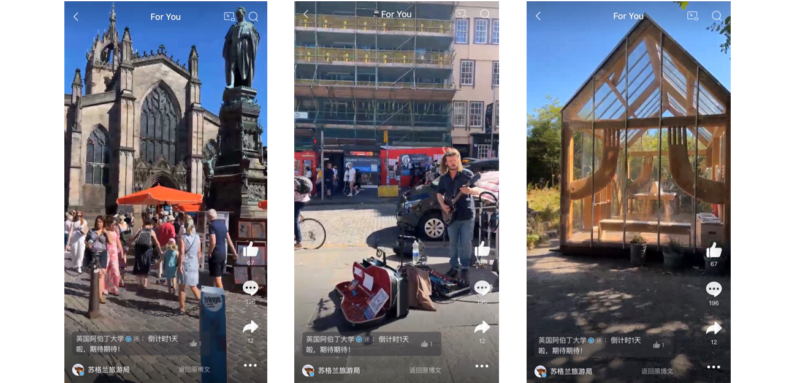 Over two hours, the live stream brought viewers down the Royal Mile, included a variety of live performances, and visited two secret gardens
The online event was broadcast live across five Weibo accounts: VisitScotland, Forever Edinburgh, VisitBritain, Scottish Development International, and Discover Scotland (the Weibo account of the Scottish Government Beijing Office). This was possible with tech support from Dragon Trail to enable multistreaming and coordinate the five accounts, allowing simultaneous broadcasting. Our multistreaming distribution solution can also be used to live stream across different social media platforms at the same time. Additionally, Dragon Trail provided the event poster design and helped to coordinate promotion.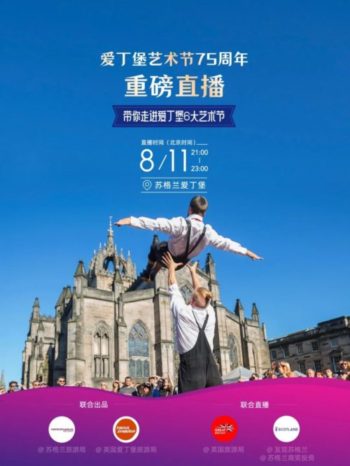 VisitScotland and Forever Edinburgh's festival live stream was also supported by related accounts on Weibo including British Airways, the University of Aberdeen, and LNER (London North Eastern Railway) – making this a best practice case for how various institutions, companies, and industries can work together to amplify promotion to the Chinese market.
Interested in running your own live stream for the Chinese market? From planning and promotion, to hosting and tech support, Dragon Trail can help make it happen. Contact us today to discuss your plans.