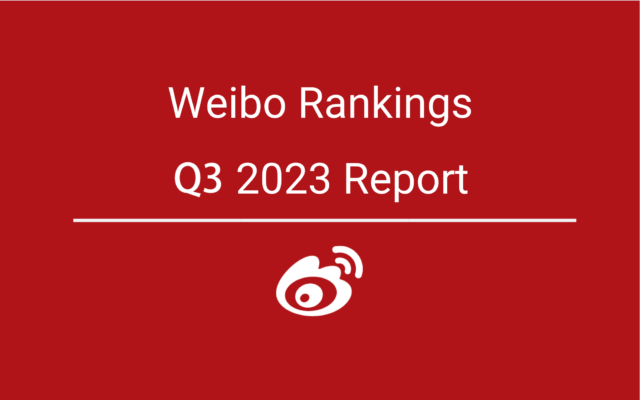 Dragon Trail International's Weibo Rankings Report tracks and analyzes performance for national tourism organizations (NTOs), destination marketing organizations (DMOs), airlines, cruise lines, museums & attractions, and hotels. Our quarterly Weibo reports build industry benchmarks and uncover best practices in digital marketing in the travel sector.
Engagement Rates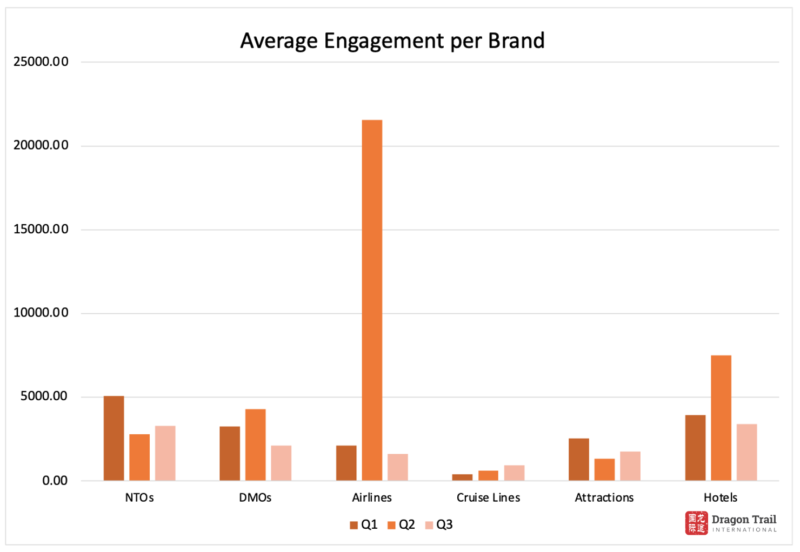 Notable trends and standout content include NTOs experiencing strong engagement in Q1, a decline in Q2, and a partial recovery in Q3 with Visit Korea's success due to a partnership with "Boy Story." DMOs saw a peak in Q2 but experienced a decrease in Q3, with Macao and Discover Hong Kong driving engagement. Airlines like ANA led with giveaways and promotional content, while Hong Kong Airlines rose through visually stunning posts. Cruise lines remained less active, with Royal Caribbean's posts on Spectrum of the Seas and Viking Cruises' cruise route standing out. Museums and attractions were led by Hong Kong Disneyland Resort. Holiday Inn excelled in the hotels category due to its sponsorship of the Time Music Concert.
NTOs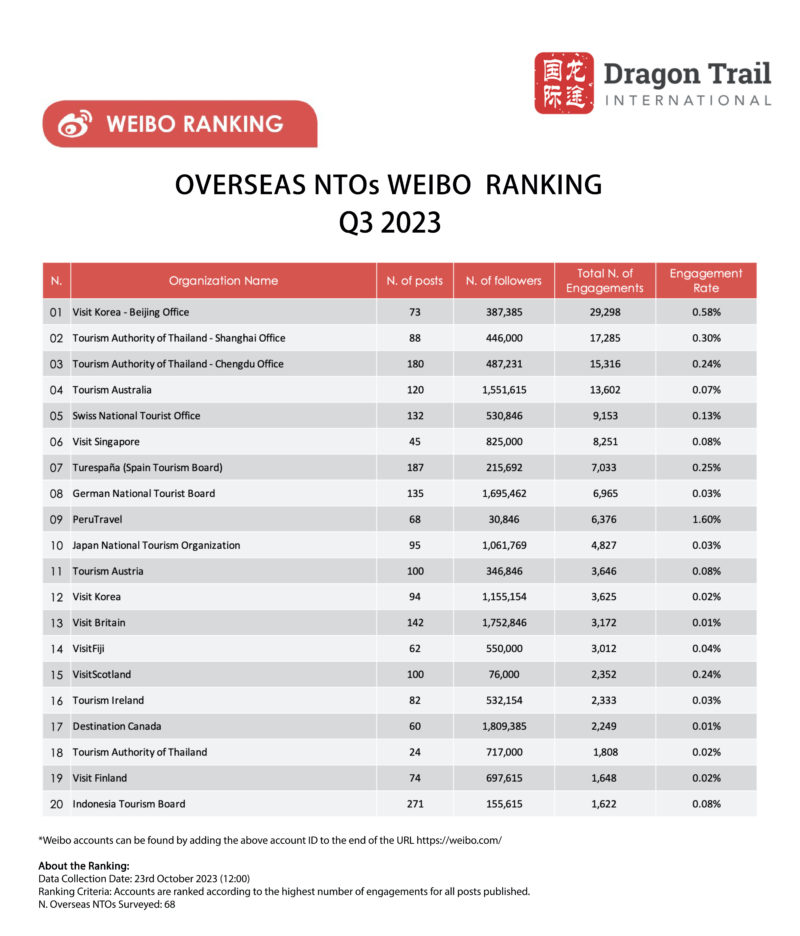 In Q1, NTOs demonstrated robust performance with an average engagement of 5,062. However, Q2 witnessed a decline of 45.19%. In Q3, there was a noticeable but partial recovery, indicating an 18.34% increase, resulting in an average engagement of 3,283.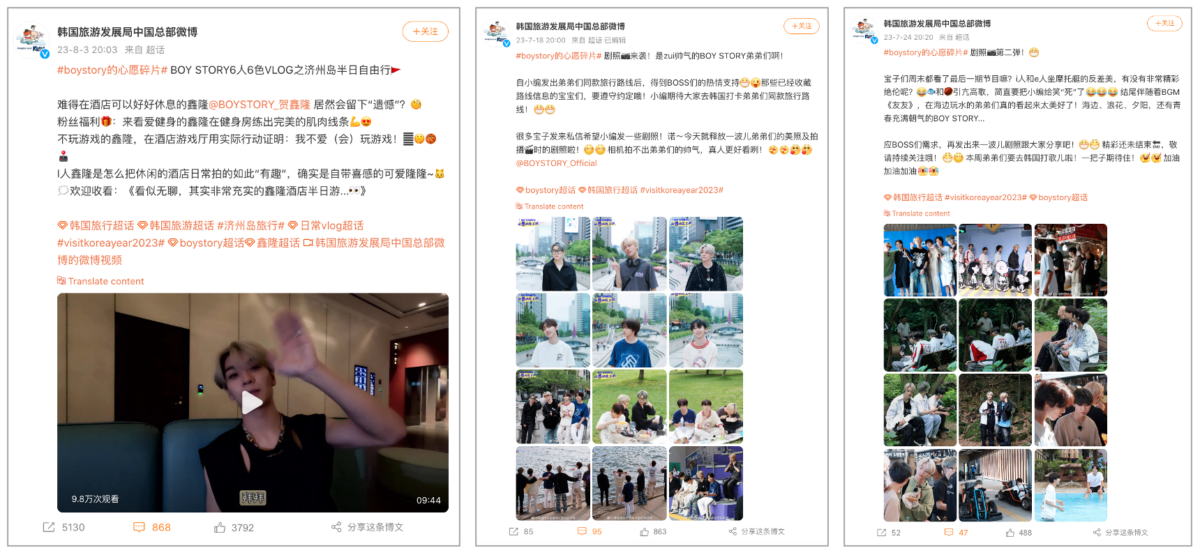 (Left to right) Boy Story's Jeju vlog, Photos from Boy Story Wish Fragment.zip, and more photos from Wish Fragment.zip
Visit Korea – Beijing Office claimed the top position in the ranking with a total engagement of 29,298, a substantial leap from its 15th place ranking in the previous quarter. This achievement was attributed to the tourism board's successful partnership with the Chinese boy band "Boy Story", featured in multiple promotional videos showcasing Korean destinations.
Other popular posts were mostly associated with celebrities, such as Mistine's 35th-anniversary celebration featuring renowned Thai celebrities PP Krit and Billkin, explore Singapore with Ai Re, and Boy Story's Jeju half-day vlog.
Tourism Authority of Thailand – Shanghai Office and Tourism Authority of Thailand – Chengdu Office consistently maintained strong rankings, securing the 2nd and 3rd positions, respectively. Their popular content encompassed topics like Thailand's visa-free policy for Chinese tourists, Chinese celebrities spending vacations in Thailand, Pattaya's Mayor Wu Liechen introducing local delicacies and scenic beauty on "Keep Running" (a popular Chinese reality TV show), and the Thai edition of "Keep Running".
DMOs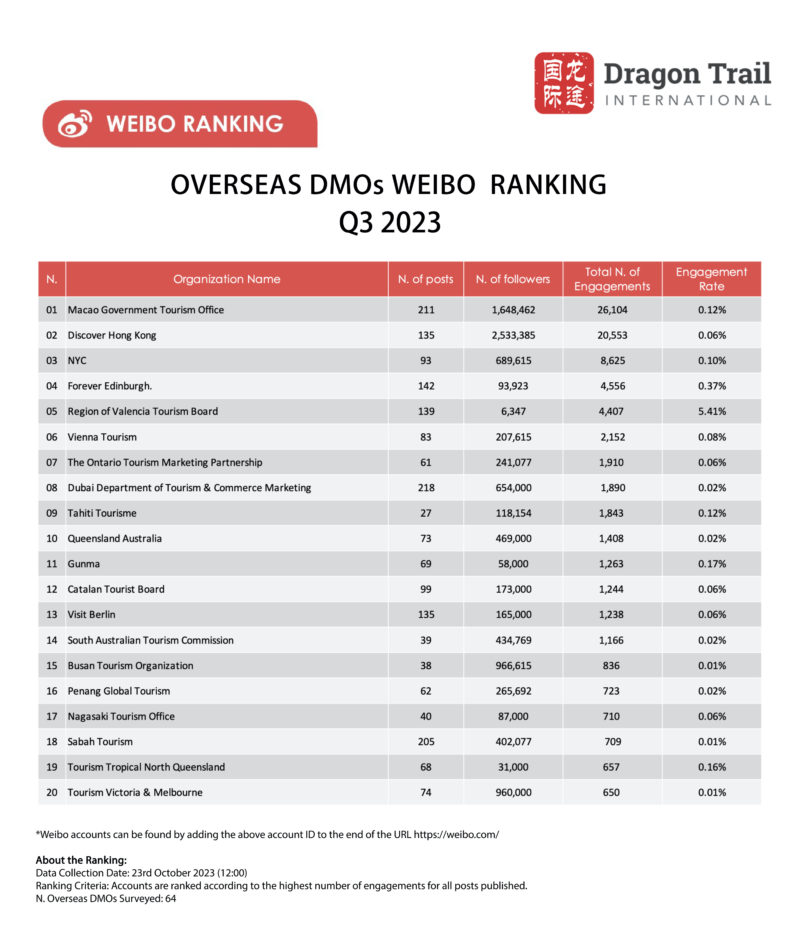 DMOs commenced with an average engagement of 3,250 in Q1, followed by a 32.00% increase in Q2. In Q3, however, the sector experienced a notable average engagement decrease of 49.26% compared to Q2, resulting in a level of 2,116.
The content that significantly bolstered the engagement rate predominantly originated from Macao Government Tourism Office and Discover Hong Kong, jointly accounting for 53.75% of the sector's total engagement. Of particular note, Discover Hong Kong's post regarding the passing of the prestigious Chinese-American singer Coco Lee in Hong Kong garnered remarkable attention.
It is worth highlighting that NYC ascended to the third position in the ranking from its 12th place standing, accumulating a total of 8,625 engagements in Q3, which marked an almost ten-fold increase in comparison to the previous quarter. One particularly outstanding post was centered around a 7-day NYC travel package giveaway, amassing a total of 7,384 engagements.
Airlines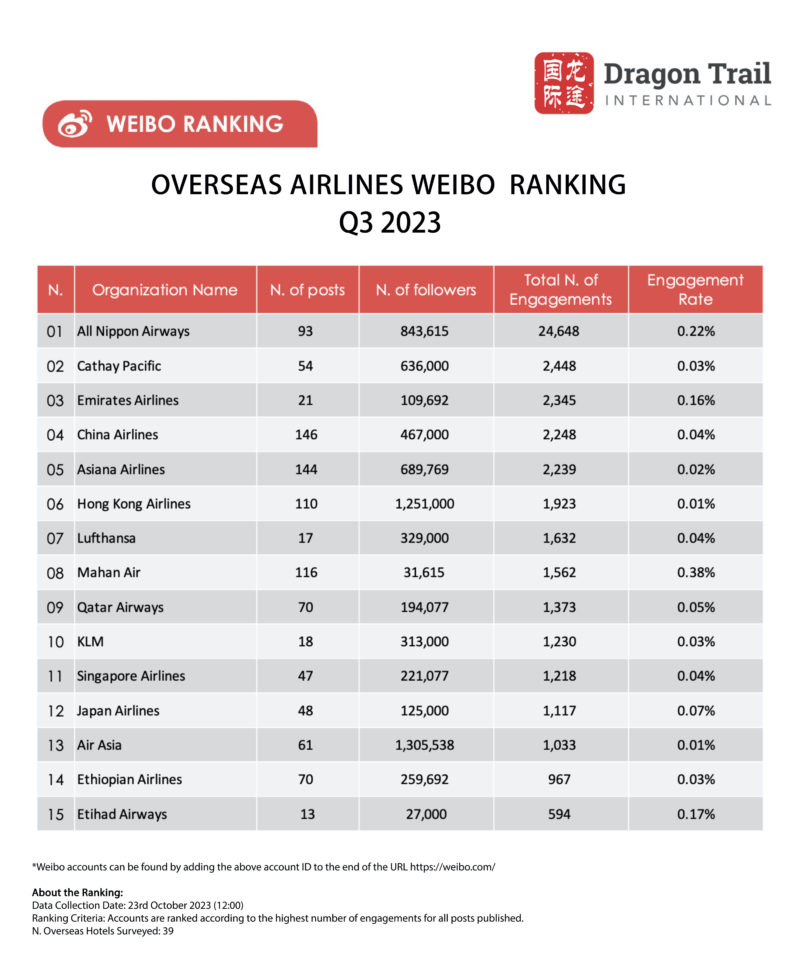 All Nippon Airways (ANA) has reclaimed its position at the top of the airlines list for this quarter. ANA's posts featuring giveaways have garnered substantial engagement. Moreover, ANA has successfully generated audience interaction through its promotional content, including limited-time discounts and the sharing of aerial photographs.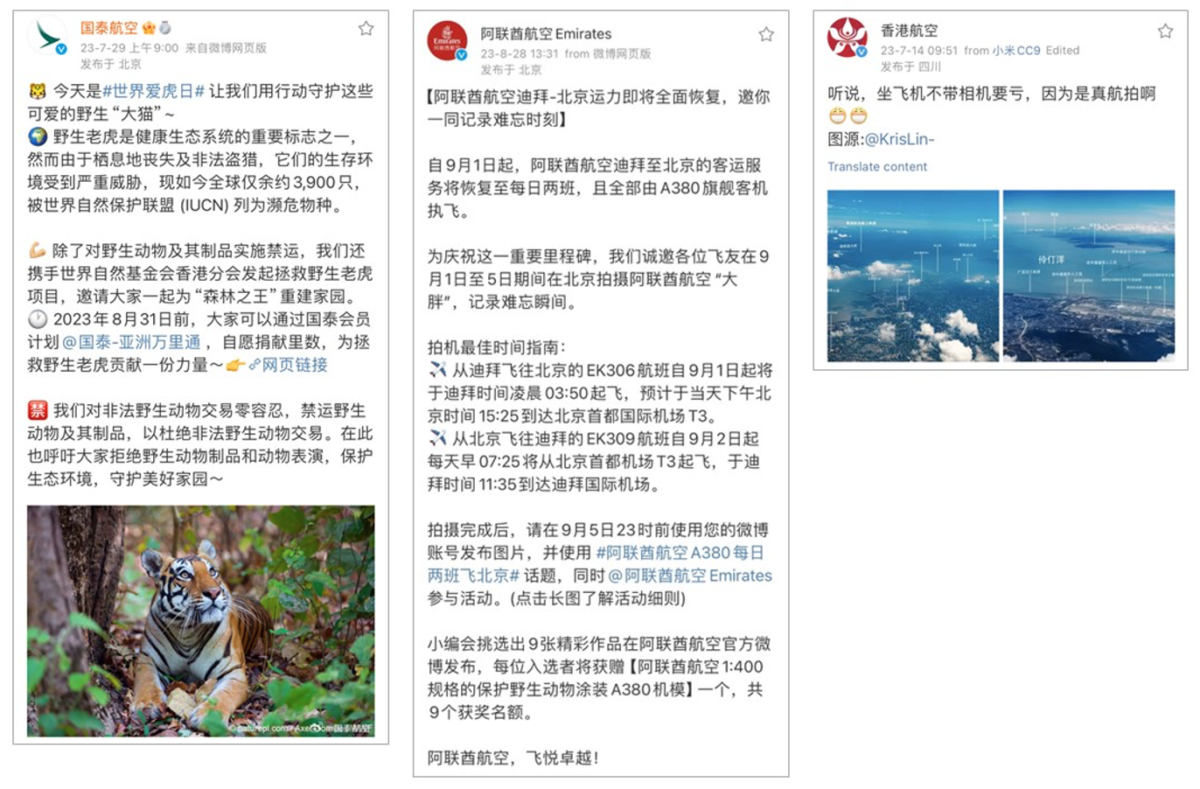 Popular Weibo posts from (Left to right) Cathay Pacific, Emirates Airlines, and Hong Kong Airlines
Cathay Pacific and Emirates Airlines have consistently maintained their standing among the top three accounts in the airline rankings. Cathay Pacific witnessed a notable level of engagement with 595 likes for their campaign related to International Tiger Day. Meanwhile, Emirates Airlines' post announcing the full restoration of capacity on the Dubai-Beijing route, along with a call for followers to capture images of Emirates aircraft for a chance to win A380 models, received 173 likes.
Hong Kong Airlines moved from the 13th position to the 6th. This ascent can be largely attributed to a post that featured an aerial imagery showcasing the vistas of Hong Kong, Macau, and Shenzhen form an airplane. This post garnered 307 likes, underscoring the effectiveness of pretty visuals in driving engagement.
Cruise Lines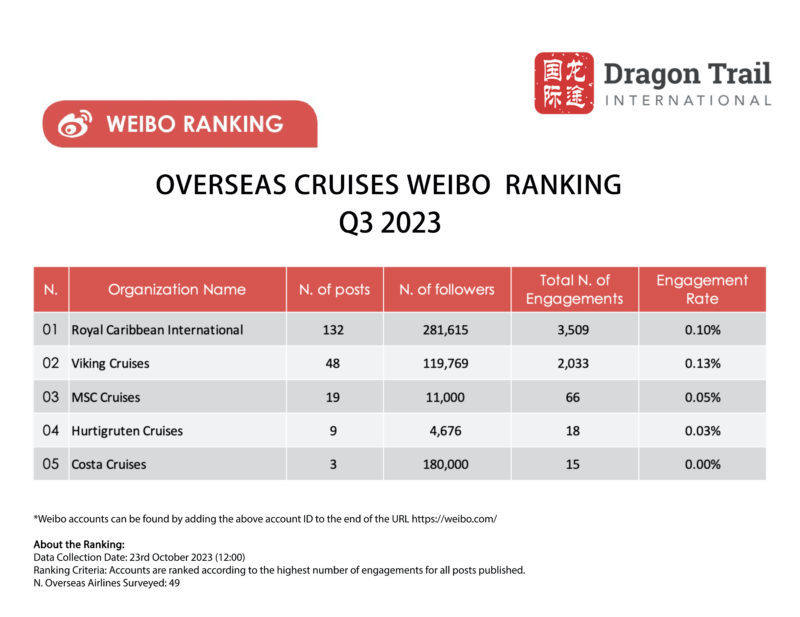 The cruise line category remains relatively less active in the third quarter, with only six accounts maintaining their activity. Notably, Viking Cruises has experienced a significant increase in both the number of posts and levels of engagement. Royal Caribbean International continues to hold the top position on the list in terms of engagement, despite having fewer posts compared to the previous quarter. Conversely, accounts such as MSC Cruises and Hurtigruten Cruises have become less active.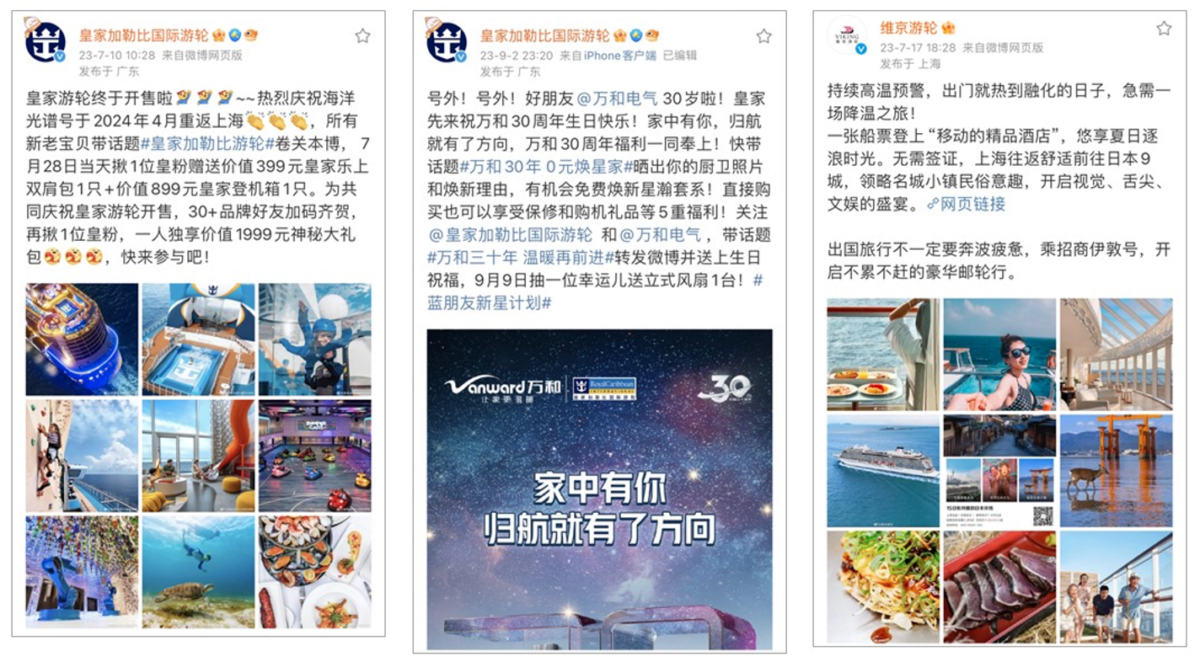 Top Weibo posts from (left to right) Royal Caribbean International and Viking Cruises
The most engaged post within the category was shared by Royal Caribbean. The post announced that its cruise ship, Spectrum of the Seas, would return to Shanghai in April 2024 and was now available for booking. This post garnered wide attention, with 1,685 shares and 137 comments. The most popular post, with 1,628 likes, was published by Viking Cruises. It featured a promotional post about a 15-day cruise route from Shanghai to Japan on Chinese-flagged ship "CM-Yidun" under a joint-venture with China Merchants Shekou. Additionally, most other popular posts were all published by Royal Caribbean, which included a giveaway of electric fans to celebrate the company's anniversary, a brief vlog showcasing the Blue Grotto in Italy, and the resumption of booking sales in China at the end of June.
Museums and Attractions
Hong Kong Disneyland Resort claimed the top spot in the attractions category, boasting the highest number of engagements and engagement rate in Q3. Even when excluding the popular posts, its engagement rate continued to outshine other accounts by a significant margin.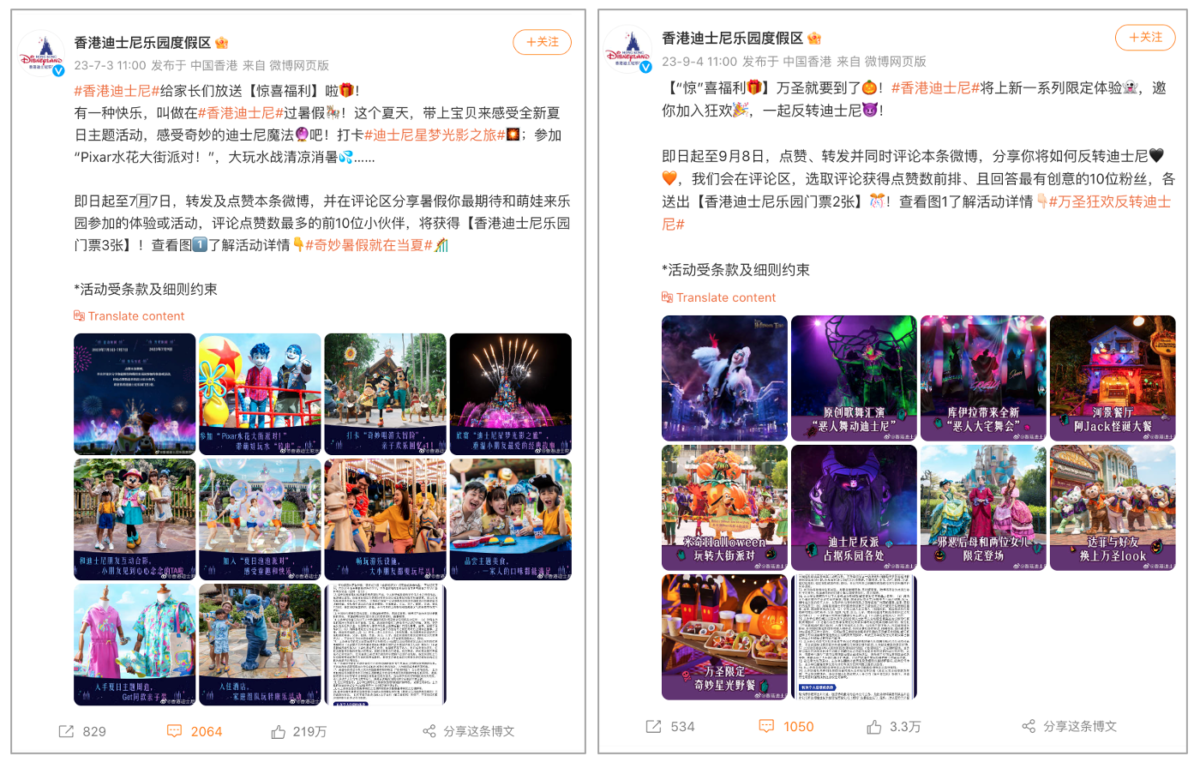 (Left to right) Lucky draw activities for summer holiday, and Lucky draw activities for Halloween
What strategies contributed to these results? Firstly, the resort organized promotional lucky draw activities in anticipation of specific holidays and festivals, successfully capturing the attention of a substantial fan base. Fans participated by sharing, commenting, and liking posts to enter these engaging activities.
In addition, Hong Kong Disneyland nurtured fan loyalty through a consistent Weibo campaign. Throughout July to September, they hosted a themed event named "Friendversary" to celebrate the anniversaries of various characters joining the Hong Kong Disneyland family. During each character's dedicated week-long celebration, Hong Kong Disneyland would feature an array of content related to the featured character, including event videos, character phone wallpapers, and merchandise.
Notably, Hong Kong Ocean Park's total engagement ranking rose from 8 to 2, even though their posting frequency remained largely unchanged from Q2. The post that garnered the highest engagement was centered around the playful theme of the Arctic fox during the summer season. The opening sentence of the post, "What? Isn't this cute fox from Tushan Family?" was cleverly linked to a popular Chinese TV drama at that time, "Lost You Forever," harnessing the appeal of television intellectual properties to augment its interactive impact.
Hotels
Holiday Inn emerged as the hotel account with the highest engagement rate. Despite posting only seven times in September, it secured first place in engagement rate and second place in total engagements. This success was attributed to Holiday Inn's sponsorship of the Time Music Concert, where they invited musician Kelly Yu to participate in activities in their brand's live room. The announcement post for this event received 13,000 likes, constituting 86% of the brands total interactions in Q3.